Arch Enemy Band: Best Songs, Discography & Their Lead Singer
The Arch Enemy band is one of the few Swedish death metal bands that have grown in popularity and has become world famous.  Starting out as a supergroup from the town of Halmstad, the Arch Enemy band was formed in the year of 1995. What makes the Arch Enemy band so special is that the members of the group have been involved with very successful bands that of which include, Armageddon, Mercyful Fate, Carcass, Carnage, Nevermore, Eucharist, and Spiritual Beggars.  
Originally founded by the lead guitarist of Carcass, Michael Amot, who partnered with Johan Liva, were originally both from the death metal band Carnage.  Having released a total of ten studio albums, they have also released three different live albums, three video albums, and a total of four EPs.
Being originally put together by Johan Liva, he would eventually end up being replaced for another lead vocalist, Angela Gossow, back in the year 2000.  Gossow would only be with the band for fourteen years, and would end up leaving them in March of 2014, eventually being replaced by a Canadian Singer, Alissa White-Gluz.  However, Gossow would still be hanging around the band, as she would ultimately end up being the manager of the entire group.
The History of the Arch Enemy Band
Being the brainchild of the notorious Michael Amott (who was also involved with such bands as Spiritual Beggars, Carnage, and Carcass), he would go on to create the band, which was originally created after Amott would end up leaving his then band, Carcass.  Partnered with his little brother (Christopher from the band Armageddon), they would be joined by the very popular vocalist, Johan Liva (also from Carnage, as well as Devourment and Furbowl). To bring it all together, they would end up landing their lead drummer, Daniel Erlandsson of the band Eucharist.
Arch Enemy's debut album that was titled Black Earth, was recorded and released by what is the now defunct record label, Wrong Again Records back in 1996.  After their debut album was released, it would go on to receive some success in Japan, even reaching the amount of fame that would get hem into an MTV rotation because of their very first single, 'Bury Me an Angel'.  The album would then go on to receive moderate success throughout Sweden as well. While there are many loyal followers that believe this was the bands most aggressive album to date, this 'edge' would eventually start to soften with the release of their future albums.
Stigmata, Gossow, and Burning Bridges
After releasing their successful album, Black Earth, they would then go on to switch their label, signing with Century Media.  After signing with their new label, they would release their next album in 1998, entitled Stigmata. What makes this album extra significant, is that the band added both Peter Wildoer, the new drummer, as well as Martin Bengtsson who would become the lead bassist.  The addition of the new band members would pay off, as their album would start to attract a much wider audience, as well as more popularity within America and Europe. On top of that, this would be the first album that the Arch Enemy band would release that would end up going worldwide.  
Once 1999 came around, the band would switch it's bassist to the talents of Sharlee D'Angelo, and once again, Daniel Erlandsson would be recruited to become the band's drummer.  The band would go on to release their very successful album, Burning Bridges. After the release of their Burning Bridges album, they would create and release their next album, Burning Japan Live 1999.  The most interesting thing about this particular album was that it was originally only supposed to be released in Japan, but was such a successful album, that the release would later be spread to worldwide distribution.  The reason that the album was spread worldwide was because the Arch Enemy Band fans demanded that it was released.
What makes the Arch Enemy Band story even more interesting is that while the band was touring for their Burning Bridges tour, D'Angelo was replaced two separate times: the first time by Dick Lovgren, and then the second time by Roger Nisson.
Unfortunately for the band, during November of 2000, their lead vocalist, Johan Liva, ended up leaving them and was eventually replaced by the German death metal vocalist, Angela Gossow.  
Wages of Sin and Anthems of Rebellion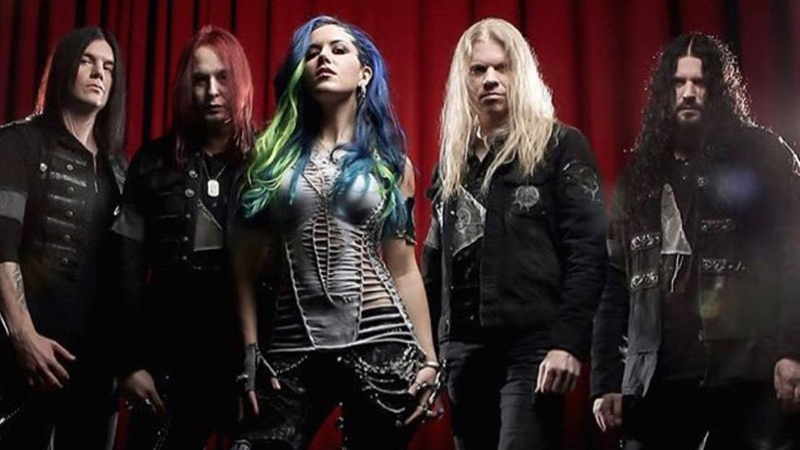 Once Gossow joined the group, they were able to create an amazing first album that included hits such as 'Wages of Sin', which was released in 2001.  What is significant about this particular album is that it was the bands very first album that they used C tuning on. What makes this extremely significant is that the band has also used C tuning for all of their albums to this day.  
During December of 2001, they would be invited to and partake in 'Japan's Beast Feast 2002' concert, which would put them on stage next to the likes of bands that would include Motorhead and Slayer.
In 2003, the band would go on to release their album, Anthems of Rebellion, which would deliver successful tracks including, 'End of the Line', and 'Dehumanization'.  The following November, the band would go on to release EP Dead Eyes See No Form, and EP, which would feature several live recordings, along with several different covers which included Megadeth, Carcass, and Manowar.
Doomsday Machine
June of 2005 would be one of the Arch Enemy Band's greatest years.  They would go on to finish and release their sixth studio album, which was named 'Doomsday Machine.'  Later that year, one of the lead guitarists, Christopher Amott, would end up leaving the band so that he would be able to focus more on his own personal life.  Gus G, who had played with Ozzy Osbourne, as well as Firewind, would soon replace him.
Christopher would eventually return to the group, playing on a more permanent basis in the year of 2007.  His timing could not have been better as the group had created their next studio album with the help of producer Fredirik Nordtrom.  What makes this significant is that this producer had worked with the likes of the Arch Enemy band but on their very first four albums.  
Rise of the Tyrant
Having grown I popularity, Arch Enemy would release their seventh studio album, which was titled, 'Rise of the Tyrant'.  It was released on September 24th of 2007 all across Europe, and September 25th of 2007 throughout the United States.  The album was so good that it ended up reaching number 84 on the Billboard 200.  This success would easily surpass their previous Doomsday Machine success. In fact, this particular single would elevate the band to the most popular that they have ever been.
The reason for this particular album's success according to Gossow was that this particular album had more emotion than any of the other albums that the band had released.  On top of that, on this particular album, they had also had less vocal processing, as well as double vocals; which would end up giving the band a completely new sound, and raw sound.
Not being stopped by anything, Arch Enemy would go on to play at the Bloodstock Open Air Festival, which was back in August of 2007.  They would continue on and perform on what was called the Black Crusade tour, which ended during the later month of 2007.
On the particular date of March 8th, 2008, Arch Enemy would be able to record their own live show, which took place in Tokyo, Japan.  This was for their live DVD that was titled Tyrants of the Rising Sun. It was this year that Arch Enemy would also be offered the opportunity to co-headline such performances that included 'Defenders of the Faith, which was in April of 2008, and then the 'Tyranny and Bloodshred' tour that took place in May of 2008.  
Root of All Evil
The Root of All Evil, being a compilation album, would end up being released on September 28th, 2009.  While it first debuted in Europe, it would quickly spread to Japan, as well as the United States.  This particular album featured 12 different songs, and was played live at the 'Dubai Desert Rock Festival'.  Using the momentum from their successful album, the band would go on to tour both Australia, as well as Asia.  They would even go on to tour in New Zealand. While the tour started in Japan, on October 17th, it would go on to sell out for most of the shows.
Khaos Legions and Christopher's Second Departure
One particular interview that took place in 2010 with Angela Gossow revealed that the entire band of the Arch Enemy was returning to the studio to produce their eighth album, appropriately titled Khaos Legions.  The release date was set for June of 2011.
Releasing the first single, 'Yesterday is Dead and Gone', the album dropped on May 31, 2011.  Just several months later, on December 12th, the band revealed that it was going to release a show that they would be filming in Cologne, which would be a prelude to their then titled DVD, 'World Khaos Tour'.  
While they would later go on and create many more albums and hit singles, the Arch Enemy band would be one of the few bands that would grow to a point where it had a dynamic effect on the world.  
The Discography of the Arch Enemy Band
Arch Enemy, being of a melodic death style of music, would be able to grow it's following to the hundreds of thousands.  With multiple successful albums, some of which included Black Earth, Stigmata, Burning Bridges, Wages of Sin, A Collection of Rare and Unreleased Songs From the Arch Enemy Vault, Burning Angel, Anthem of Rebellion, Doomsday Machine, Rise of the Tyrant, Khaos Legions, War Eternal, and Will to Power, the Arch Enemy band has a very significant history that has helped to shape the metal scene.
While the Arch Enemy band's style may not be the most mainstream of styles, it has still been able to build a loyal following that jumps when the band says to jump.  In fact, the band's unique style has even been classified as melodic death metal, which is exactly what they wanted. As Steve Huey, an AllMusic critic has once said about the band, 'it's a blend of progress and death metal influences.'  
Yes, the earlier work of the band is still classified as being a melodic death metal, the Arch Enemy band has grown and evolved to a more mainstream type of sound.  Oddly enough, the influences that the Arch Enemy band pulled form included the likes of Judas Priest, Iron Maiden, Manowar, Black Sabbath, Megadeath, Metallica, Testament, Slayer, Death, Pantera, Obituary, Mercyful Fate, King Diamond, and Carcass.  
While the band Arch Enemy has seen extreme growth over the past several years, they have not been without their troubles and turmoil.  Having to face several significant changes to their band, Arch Enemy has been able to roll with the punches and adapt to the changing times, as well as their tough situations.  Having grown to one of the largest heavy metal bands on the entire planet, Arch Enemy will continue to put out chart-topping hits, with no end being in site.
With such a colorful past, the Arch Enemy band has truly proved that it can withstand the test of time.  Having started many years ago, the members of the group, as well as the group as a whole, will continue to make sure that their unique sound will continue to live on, no matter what they have to face personally.  
In fact, with the success of this band, there is no guessing at what they are going to be able to accomplish moving into the future.  You might just want to say that the Arch Enemy band is one of the few bands that are here to stay. And if they can maintain their unique sound and keep producing chart-topping hits, there is no telling how far the Arch Enemy band is going to go.