Manic Street Preachers Band – Who They Are and Best Songs
Forming back in 1986, Manic Street Preachers originally decided to form in Blackwood, and are one of the Welsh bands that have been able to grow in popularity worldwide.  Consisting of their lead vocalist and guitar player (James Dean Bradfield), their drummer, soundscapes and percussionist (Sean Moore), as well as their lyricists and bass guitar player (Nicky Wire), Manic Street Preachers are more commonly referred to as 'the Maniacs'.  
Right after they were able to launch their debut single, named 'Suicide Alley', a rhythm guitarist and co-lyricist, Richey Edwards, would join them.  While originally, the band had more of a punk rock type of vibe, they would eventually evolve and broaden their sound to a more alternative rock genre.  However, they have always had, and still maintain a very leftist outlook politically within their music.
With their early work being a combination of lyrics centered around 'alienation, despair, culture and boredom', partnered with glam imagery, they have been able to grow an extremely loyal following of fans and some would even say that they have a cult status as well.
The Manic Street Preachers debut album, which was named Generation Terrorists, was self-proclaimed that it was the 'greatest rock album ever'.  On top of this very bold statement about their album, they would also go on to say that they were going to sell at least 16 million copies globally, and once this was accomplished, that the band had agreed to split up.  Unfortunately for the band, their prediction of selling over 16 million copies worldwide would not come to fruition and the band would continue to crate music for their loyal following.
During the month of February 1995, the group would go on to lose one of their members in Richey Edwards.  While you would think that a band of four who loses one of their musicians would create a big problem, the Manic Street Preachers would actually go on and gain both commercial and critical success I spite of missing a quarter of the original group.  Richie Edwards would later be 'presumed dead' legally later on in 2008.
Growing in popularity to such a level that they would eventually be able to headline such shows including T in the Park, Reading, V Festival, and Glastonbury, they would also go on to win eleven different NME Awards, Brit Awards four times, and an outstanding eight different Q Awards.  As if that weren't enough, in both 1996 and 1999, they were nominated for a Mercury Prize, and have even been nominated for the MTV Europe Music Awards.
Throughout their history, the Manic Street Preachers have held the number spot in the UK charts three different times.  Back in 1998 they hit the number 1 spot with their album 'This Is My Truth Tell Me Yours', with their hit single 'If You Tolerate This Your Children Will Be Next.'  They would top the charts and reach number 1 again a couple of years later in the year 2000 with the then hit single 'The Masses Against the Classes.' As of now, the Manic Street Preachers have sold over ten million albums across the globe.  While still short of their original prediction of sixteen million for their first album, selling over ten million albums is pretty significant.
The Early Years of Manic Street Preachers Band
Having originally formed in 1986 while attending Oakdale Comprehensive School, they would soon become one of Blackwood, South Wales, most successful bands of all time.  While all of the members of the brand did attend Oakdale Comprehensive School, they were not necessarily strangers. Moore and Bradfield were actually cousins who at one-point, shared bunk beds while in the Bradfield home, right after the Moore parents had gotten a divorce.
During the early years of the band, it was almost exclusively Bradfield and the slightly older More who wrote just about all of the music that they would play.  Wire, while not involved with writing the actual music, would spend all of his time writing the lyrics for most of the songs that they would play. While the actual origin of the name, the Manic Street Preachers, is still not known, the story that has been told the most and is believed to be true, is that Bradfield was in Cardiff one day busking, was in an altercation with a supposed homeless man, who would go on to ask 'What are you, boyo, some kind of manic street preacher?'  The name would then go on to stick and the band, the Manic Street Preachers was born.
In 1988, trouble would strike the band when the original bass player, Miles Woodward, would end up leaving the band due to his belief that they were starting to go in a different direction that was not the punk sound he originally signed up to play.  The band would continue on playing their music as a threesome and were able to manage by switching Wire from guitar player to bass player. Moving forwards, they would eventually release their very first hit single, which was named 'Suicide Alley.'
While their original single was not very good sound or recording quality, their punk ode to the youthful escape would go on to provide an insight into what Bradfield was able to do on the guitar, as well as Moore's live drumming ability.  Unfortunately, Moore's drumming would not be anywhere near their first LP.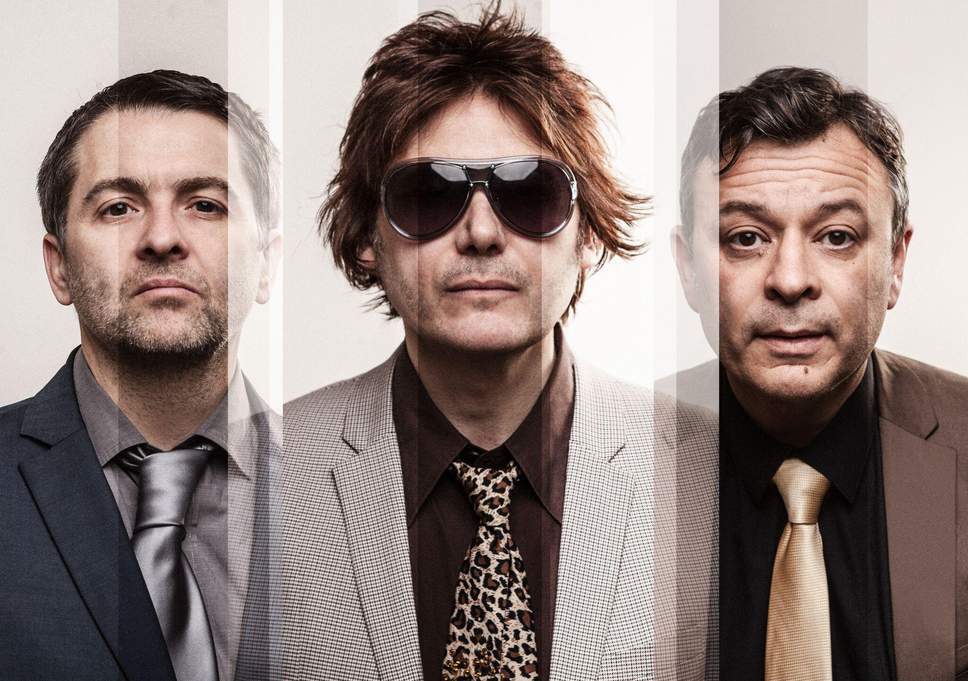 The entire focus of Manic Street Preachers was to restore the rock and roll scene in Britain, during a time when all of the most popular music that was coming out happened to be shoegaze or acid house.  Having very enthusiastic reviews from the NME, Suicide Alley would help to elevate the Manic Street Preachers to superstar status, and that would become just the beginning of their story.
After releasing their hit single, 'Suicide Alley,' Edwards would then join the rest of the band, playing the rhythm guitar, as well as helping to write the lyrics to their songs alongside of Wire.  On top of that, Edwards would also go on to design most of the artwork and record sleeves that would be used for their albums and would even drive the entire band and all of their equipment to all of their gigs and back home again.
Catching a big break in 1990, the Manic Street Preachers would eventually go on to sign a deal with the label that was called Damaged Goods Records, for at least one EP.  The EP, named 'New Art Riot E.P.' consisted of just four tracks and was able to attract more media interest than the band could have ever imagined. This is due to the fact that those four tracks were made to attack other musicians and the music that they produced.  
Moving forwards, the Manic Street Preachers would be helped by Hall or Nothing management to get signed to a new Indie record label, Heavenly Records.  They would go on to release their very first single under the new label that would be named 'Motown Junk'.
Their very next single, 'You Love Us,' would sample Krzysztof Penderecki's song, 'Threnody to the Victims of Hiroshima,' as well as that of Iggy Pop.  The video for that single would feature Nicky Wire, who would be dressed in drag, dressed as Marilyn Monroe. It would contain several different references to Aleister Crowley, and the popular film, Betty Blue.  Later, in an exclusive interview with the journalist Steve Lamacq, Edwards would go on to carve the phrase '4REAL' into one of his arms using a real razor blade. He would later admit that he did this to prove the amount of sincerity that they had.  After the interview, he would be taken straight to the nearest hospital, where he would then end up receiving seventeen stitches.
This stunt would go on to give the band a ton of publicity, as NME would run an entire page story on what had happened.  This included a phone interview, where Richey would reveal the true reason that he did what he did.
While some may question the controversial behavior, the Manic Street Preachers would use their publicity to quickly become one of the favorite bands of the British music press.  This was a huge deal, as it would help them to grow their following of dedicated, loyal fans. With all of their popularity, they would go on to sign a deal with Columbia Records of Sony Music UK.  As soon as this happened, they would then go to work on their newest and debut album under their new label.
Released in 1992, the Manic Street Preachers' debut album, Generation Terrorists, contained 18 songs and lasted over seventy minutes.  This is when they would start to incorporate politics into their music, releasing such hits as, 'the Clash' and ''Public Enemy'. The entire album would be a combination of critical focus on the amount of global capitalism, combined with personal struggles and despair of the youth.  At this time in their career, the sound that the band was playing was considered to be a combination of cock rock, anti-punk, glam, and romantic melodicism.
The album would go on and sell 250,000 copies, being surged by their award nominations and press that the band would receive.  They would also achieve their first top 10 chart hit with the single, 'Suicide Is Painless', which would end up peaking at the number 7 spot and last an entire 3 weeks in the top 10 on the UK charts.
Releasing a couple more albums over the next few years, it would be 1994 when Edwards' personal troubles would start to worsen and start to take its toll on the rest of the band.  Dealing with multiple problems, Edwards would be admitted into the Priority later in the year, eventually being able to overcome his troubles. The band would go on to play at several different festivals as a threesome to help pay for all of the treatment that was required.   
Their next album, The Holy Bible, received amazing reviews and acclaim but would end up selling very poorly.  However, in this album the band would change its sound once again, moving towards more of an alternative rock sound, that would incorporate sounds from other genres of music, which included British punk, hard rock, art rock, gothic rock, new wave, and industrial.  
Eventually going on to release several other albums that would do very well and help to build their loyal, cult-like following, the Manic Street Preachers would continue to change their sound as they would evolve and grow.  Having multiple hits that would land on the charts, they were able to not just grow as a band, but to inspire people, as well as other bands as well.
While the amount of music that the Manic Street Preacher's would put out diminished over the years, they would spring up every now and again with some surprising hits.  One song in particular, was a cover of the hit Rihanna song, 'Umbrella,' and would gain so much popularity that it would eventually be available for download on iTunes, starting March 5th of 2008.  While it was originally never released to be a single, it would climb the UK charts, eventually landing at the number 47 spot.  
In fact, that one particular hit would become so popular; that there would be two other versions created that would also become available for download on iTunes.  If that weren't enough, the three versions of the song would then become an album, entitled Umbrella EP.
There is no denying that the Manic Street Preachers have had a very successful career that has span over two decades. With their evolving sound and lyrics that would relay the message that they were trying to deliver, it is no surprise that they have sold multiple millions of albums.  And with all of their loyal followers standing right next to them ready to support their cause, the Manic Street Preachers have grown to become one of the greatest music bands of all time.