Best Guitar Compressor Pedal – Top Compressor Pedals for Guitars
When it comes to solid compression sounds for your guitar, you want something that delivers optimum quality, regardless of what method you use. However, with modern technology, digital is starting to truly be the better alternative, as it's had years to evolve and even be able to emulate analog sounds for those classic sound engineer enthusiasts. In this article, we're going to give you some good information about audio compression, as well as let you know what the best compressor pedal is. If you're a guitarist that is professional or even just a regular entrepreneur when it comes to performing, you probably already have some sort of mixing board that has compression, but when you're a guitarist, having a good compressor can make the world of difference by normalizing your sound so you can still stand out a little more, and at the same time, still be able to mix well with the other audio tracks in your live or studio rig.
Top 5 Guitar Compressor Pedals
What is Meant By Audio Compression?
Audio compression is also known as dynamic range compression (or DRC for short). When you hear a song being played in general, you're not going to play the song at the same consistent volume with every single stroke, and every single note. While this is preferred in some applications, most often, the quieter notes and sounds need to be pushed forward into the mix by increasing the gain, while the louder notes need to be brought down a notch often, so as to not over distort. This common effect is also similarly used when it comes to conjunction with distortion effects, because it delivers "hot" sounds while bringing you a generalized and normalized sound at lower volumes.
The two types of typical compression are downward compression, which lowers loud sounds that are over a certain threshold while the lower sounds remain the same volume, while upward compression increases the lower sounds. Most often, both upward and downward compression is used together to form a more normalized sound. Expansion is used to make quit sounds quieter by getting rid of sounds (lowering the volume) if they're below a certain threshold level. Expanding is also commonly known as noise gates and noise reduction effects.
Bring You the Best of 2019: Guitar Compressor Pedals
While many people still have a battling debate between which is better when it comes to audio effects for guitars (analog vs. digital), it's a digital world today, so you're probably going to see more of these on the market. The reason is because digital compressors can deliver a more optimized crisp compression level with a slightly cleaner sound (or a worse sound, as some bands like Korn, Slipknot, and many others with "guitar noise" have been known to integrate into their music). Here's the list of some of the best pedals in 2019.
---
①

Wampler Ego Compressor V2 Guitar Pedal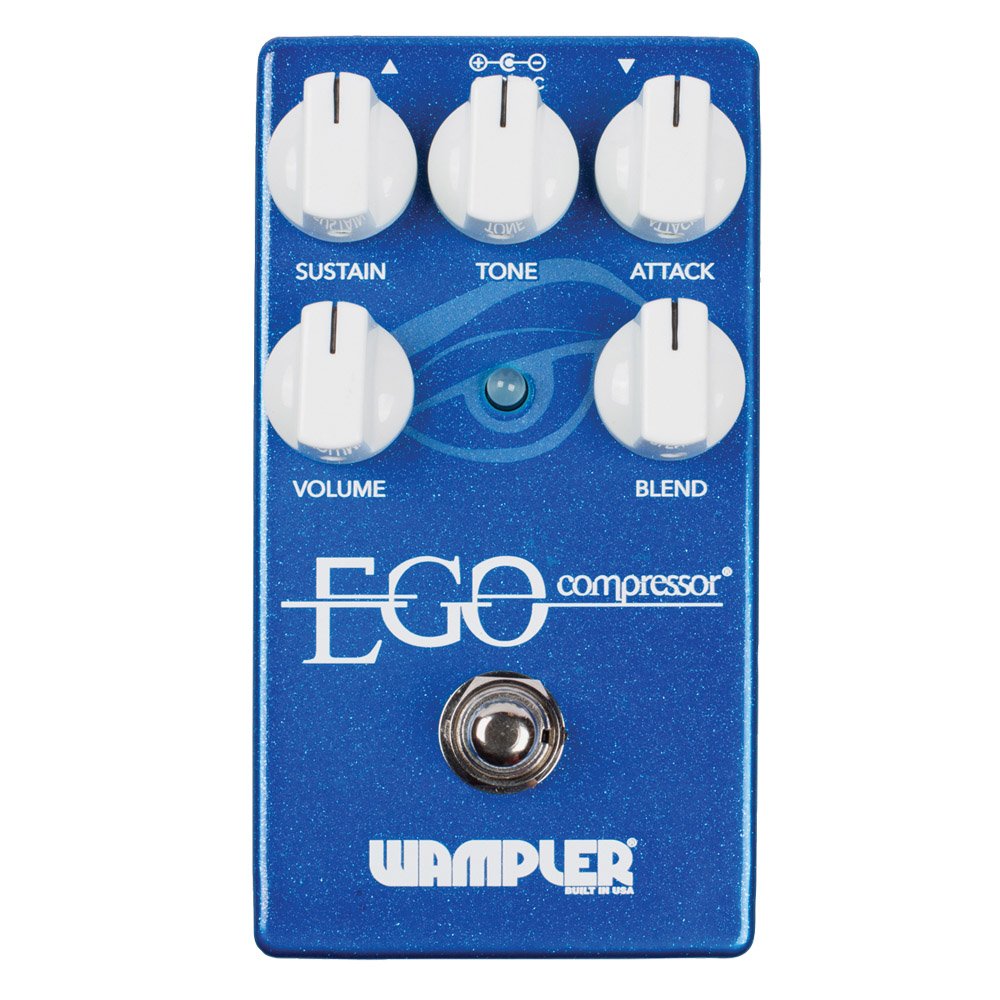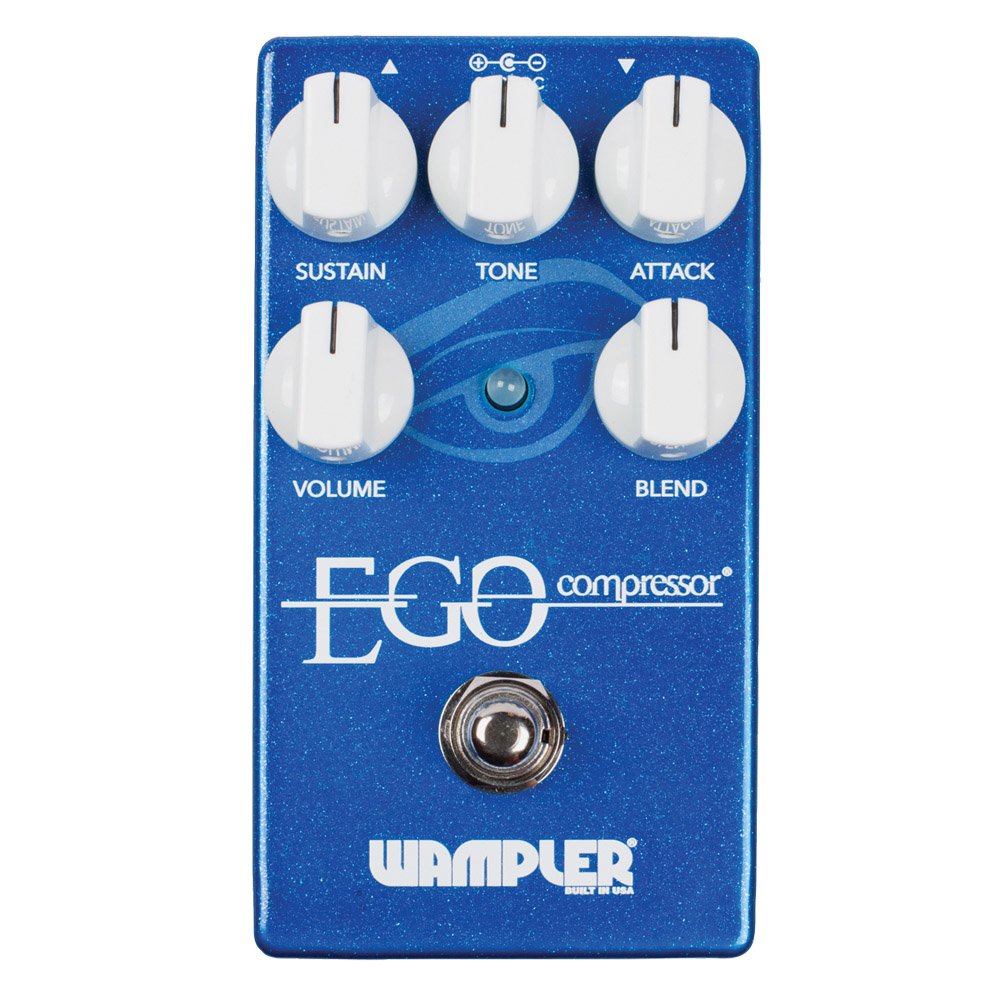 Effects Giants Wampler have come a long way over the years, which strangely make their compressor pedal even surpass the normally superior "Boss" of the effects pedal industries. With this pedal, you can get some truly beautiful effects to allow you to get the most out of your sound and guitar's tone, as well as act as a sustain pedal for your guitar. They even give you some suggested settings that are common with various genre sounds (of course you can make your own), and there are four convenient knobs to help you get the best. The compressor is a digital compressor, but can deliver optimal sound quality that even older analog compression effects can deliver.
Pros
Pros
The pedal is conveniently sized and has top mounted audio jacks.

Offers consistent compression to maintain your tone and your sound.

Can also be used as an effect (onboard bypass switch).

It's Made right here in the USA.

Can be powered by 9v power adapter or 9v battery.
Cons
Cons
Doesn't come with a 9v power adapter.

Must be placed in the right area of your mix or it can cause hot levels (overdrive).

If you use the 9V batteries, it can drain them really fast.

---
②

Boss CP-1X Compressor Pedal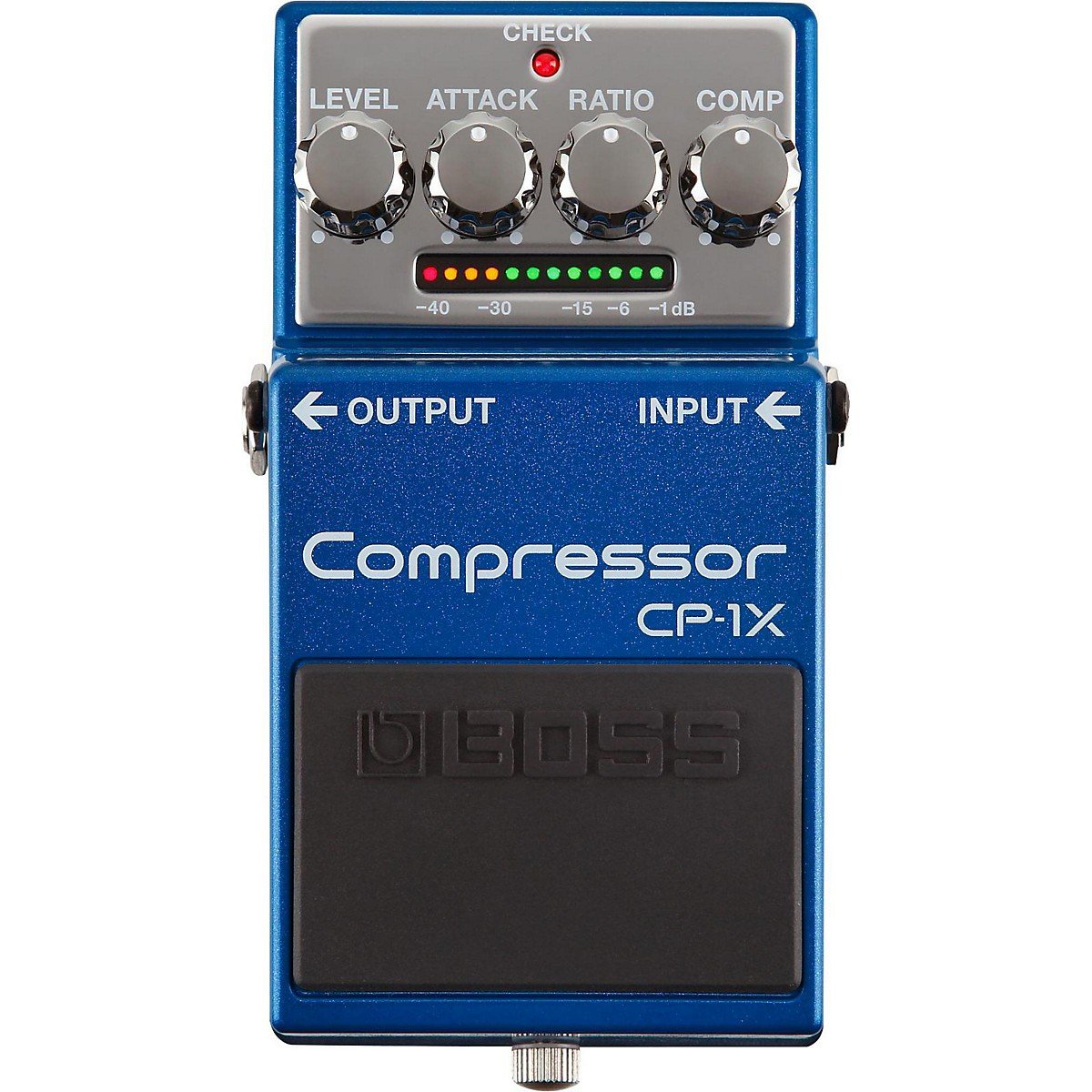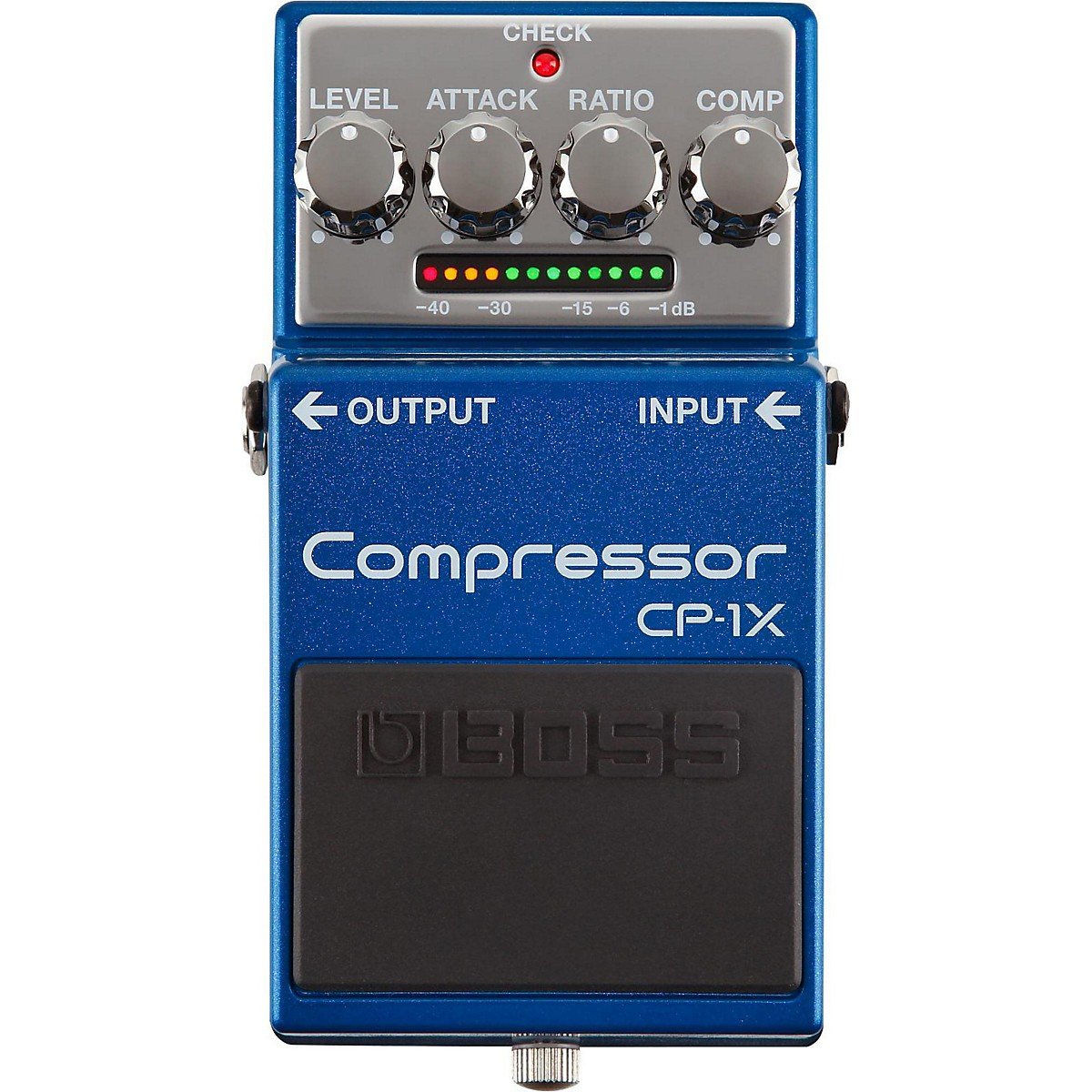 It's no surprise that Boss made it into our top five. These veteran giants of the music effects pedal industry have been offering high quality analog and digital effects for decades, and it doesn't look like they're going to stop anytime soon. While many effects pedal creators have had years to perfect making digital compressing effects and still have issues, this is not the case when it comes to Boss. Using special MDP technology, this compressor uses multiband features that allow you to get full control on your tone and not end up muddying out. Not only that, but this pedal is literally designed to work no matter what. You can use a 9v power adapter, or it even ships with a 9v battery.
Pros
Pros
Uses advanced technology for innovative preservation of guitar tone and sound.

Boss is one of the most reputable brands in the music industry.

Works with any type of guitar, and even seven and 8 string guitars to deliver full sound.

Comes with a five-year BOSS warranty.
Cons
Cons
Can darken some as you increase compression.

Can sometimes make the guitar sound too crisp on the high frequencies.

Sustains well, but can end up losing sound quality.

---
③

Xotic SP Compressor Pedal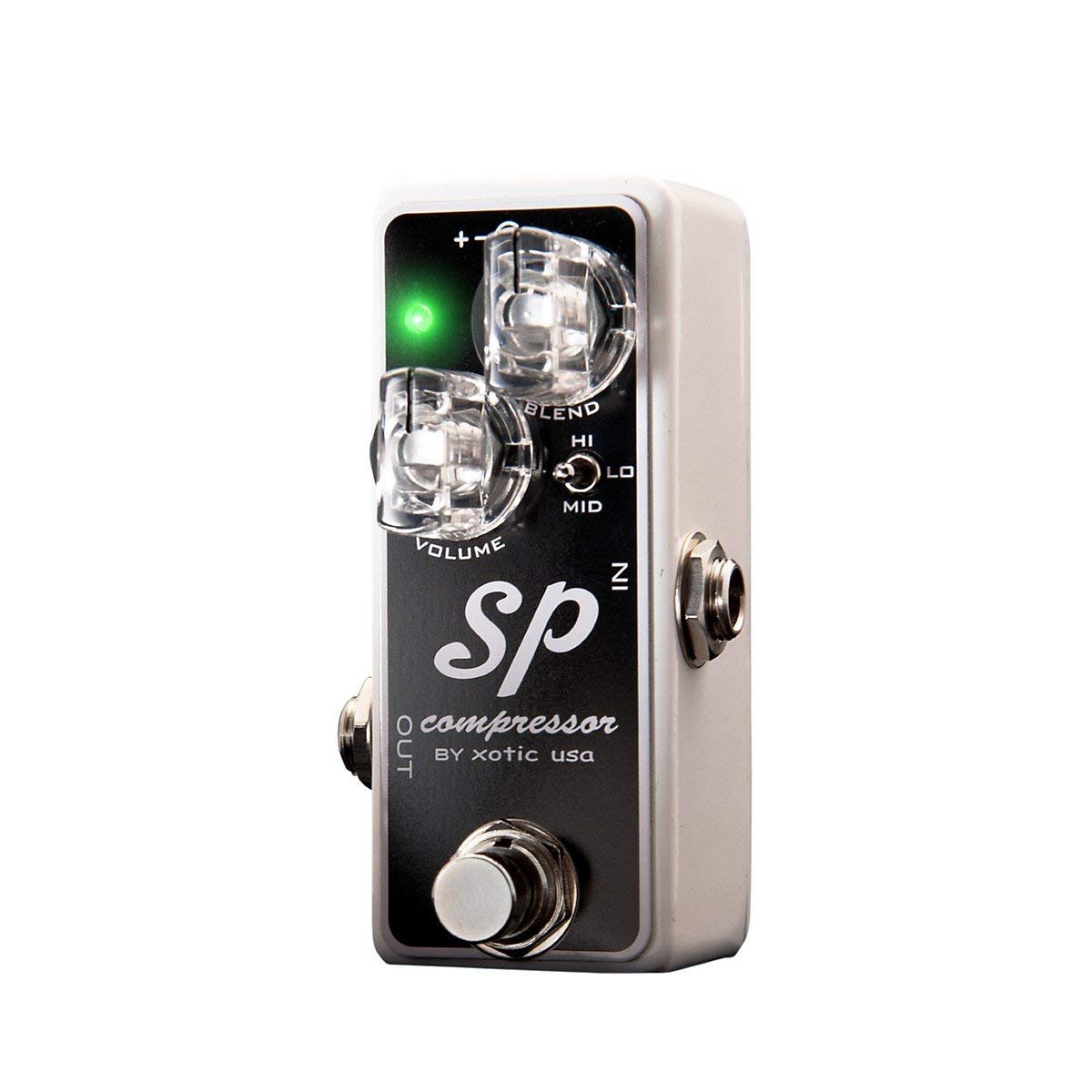 Xotic has been around for a little while now, and they've completely given it an overhaul to provide a nice clean sound that doesn't give your guitar too much color. You can tweak the effect to affect the middle, highs, and lows (or everything at once), and you can choose a wet/dry blend with very sleek translucent knobs. It has the standard (left and right) audio jacks popular so you can put it into your effects chain very easily. Also powered by a 9v battery, and it is built with an internal secret weapon – an internal dip switch set that allows you to perfectly tailor your guitar tone built right on the chip. You can also power it with a negative tipped 9VDC or 18VDC adapter.
Pros
Pros
Very compact design helps it fit better with almost all pedal boards.

Greatly enhances your tone based on how you set it.

Clear easy to grip knobs.

The secret tip switches inside the pedal itself adds to fully customize your sound.

Company is headquartered right here in the USA (California).
Cons
Cons
Has been known to occasionally cause feedback.

Can sometimes add background noise if improperly placed in the mix.

It is easy to cause over-compression of sound.

---
④

Empress Effects Compressor Analog Compression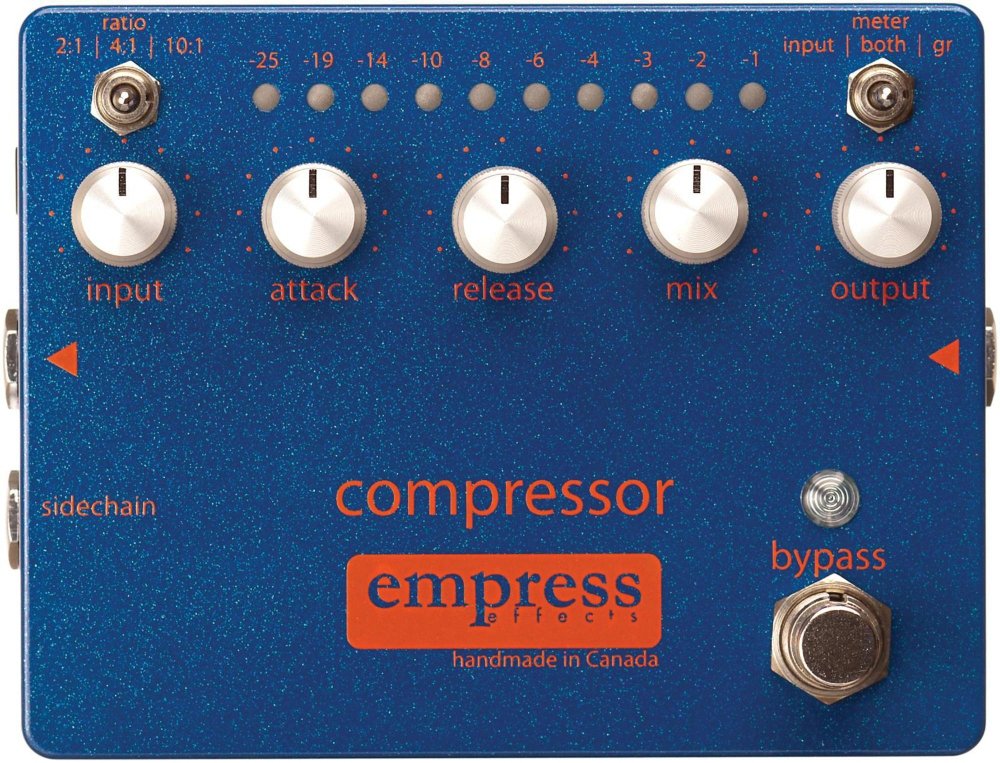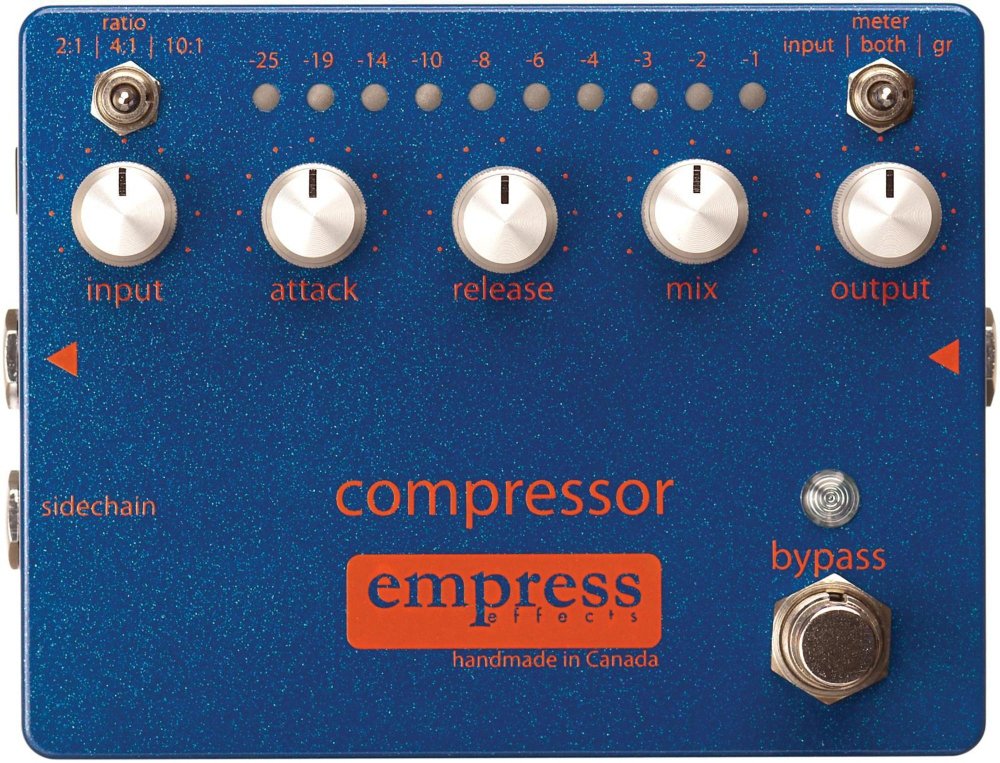 Empress Effects is a Canadian company that has been in the music industry in the electronic sound engineering for a long time. They've specialized in numerous effects to help fellow guitarists, and they offer a full-fledged ability to control every angle of your compression, from the input all the way to the output, and all of the mix in between. This effects pedal is fully analog and allows you to properly adjust the compression without altering the tone as much as possible with your instrument. You can choose three different compression ratios, and also choose to meter input, gain reduction, or both at the same time on LED lights. Not only that, but you can quick bypass it so you can play through your effects chain to kick it on and off seamlessly. You need a 9-18VDC adapter in order to provide the fullest frequency response possible.
Pros
Pros
Fully Analog compression in a convenient pedal box.

Allows you to have nearly complete control in order to enhance your compression.

Doesn't change the tone of your guitar.

Not a bad price for a high quality pedal.
Cons
Cons
Compression is often very subtle (some like it clearer to hear the compression).

There is no threshold knob where you can control and dial in-between settings.

Does not come with a power supply.

Can't be powered with a 9V battery.

Some users consider it bulky because of the size of the pedal.

---
⑤

Fender the Bends Compressor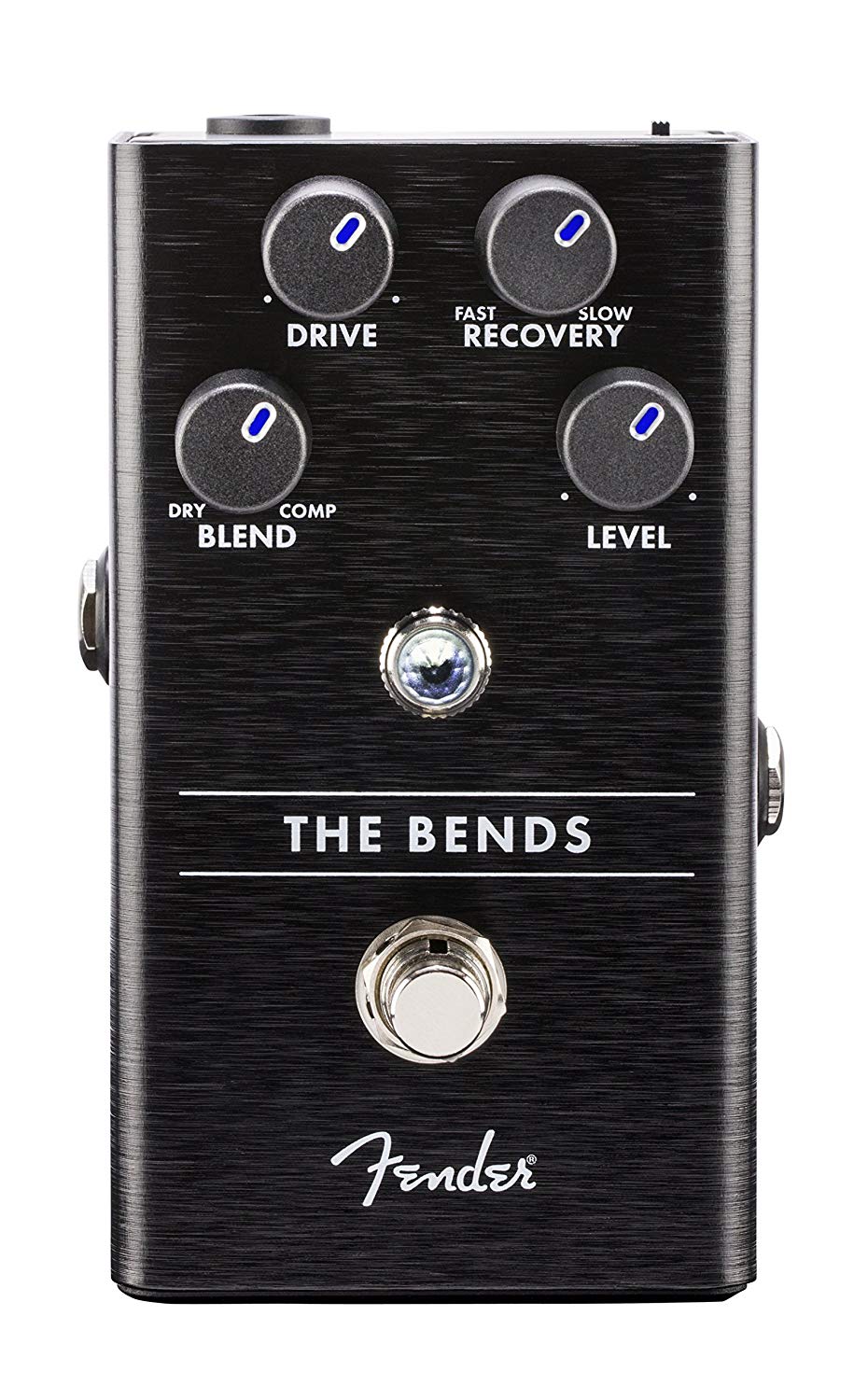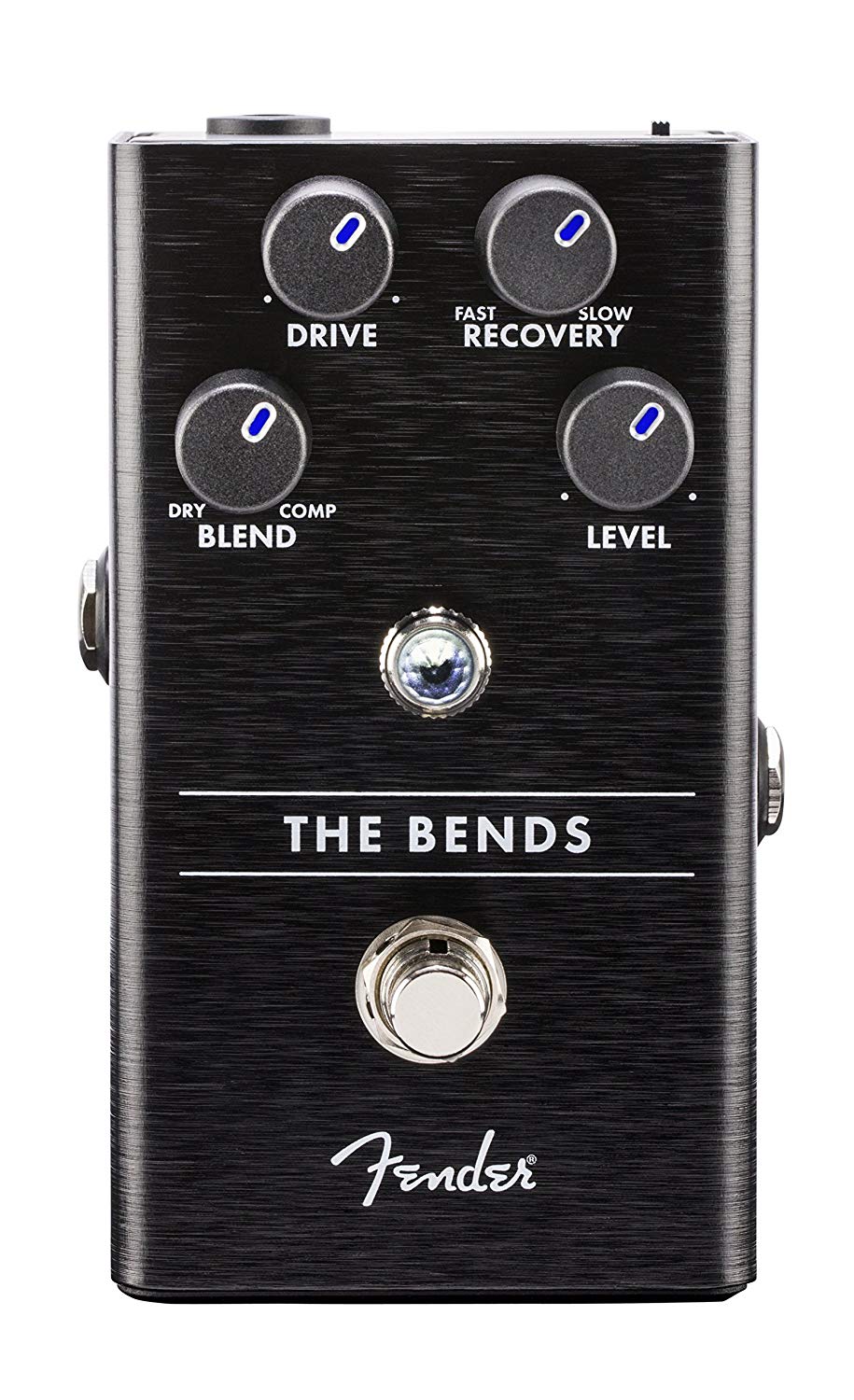 You know you can't have a Fender guitar without having Fender effects of some sort, right? Actually this is a different type of compressor compared to others. The knobs are backlit with LED lights (which can be turned on and off to save battery) so you can always see your settings, the box is nice and small. You can power it with a 9V DC in connector, and even use the magnetically latched 9V battery case for wireless use. It uses Dual Audio Paths to make sure that you don't get any extra background noise or hum. You can also fully blend the mix so you can put some natural sounds in there as well if needed. The Fender Bends uses a high current controller with a symmetrical path to allow it to shut down the volume if it spikes very quickly (almost at once). You can control using the special drive and recovery knobs.
Pros
Pros
Fender is a highly reputable brand that has been dedicated to guitarists for years.

Fender is headquartered in the USA.

You can power it with a battery or 9V DC power cord.

Can be used for bass and regular guitar.

Provides great quality digital quality.
Cons
Cons
Doesn't come with a power cord.

On off LED is very bright.

Customer support is hard to deal with at times.

---
⑥

TC Electronic EQ Effects Pedal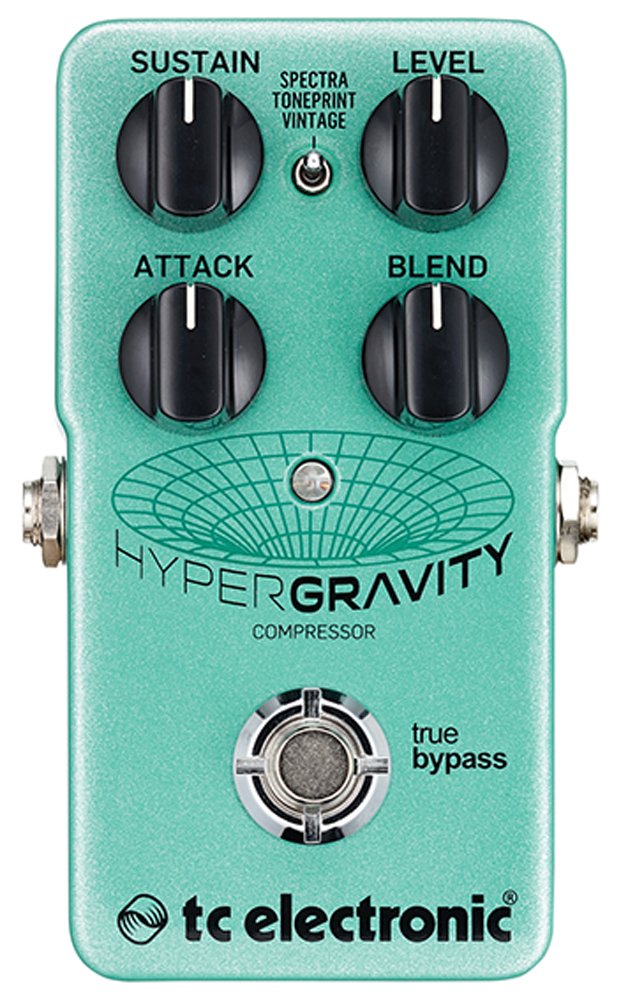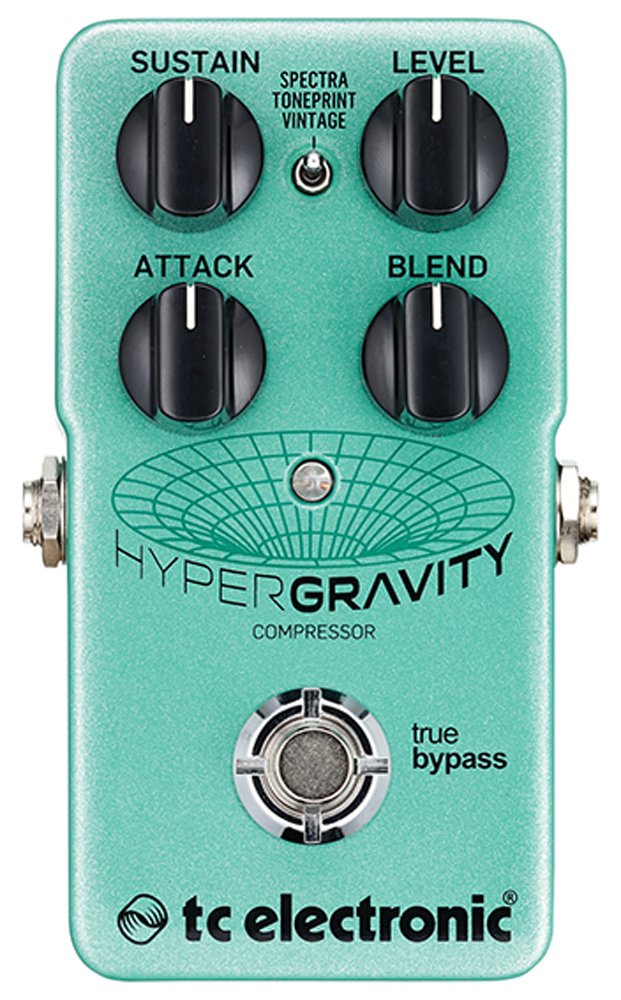 The TC Electronic EQ pedal is actually a standard sized multi-band compressor that allows vintage style stomp box abilities all in one small pedal. It even has a Spectra tone print switch that utilizes MD3 technology to enhance your classic tone to enhance your sound. This pedal allows you to go a step further by helping to extend the attack on strings smoothly to remove the "pop" that's common with a lot of other pedals. You can use either a mini version or the one listed here. If positioned correctly, it can greatly enhance the sound of your guitar on your pedal board without affecting the overall tone for a truly amazing sound. The pedal is powered by the
Pros
Pros
Offers a true bypass switch.

Clean and Crisp effects.

Tone Print allows you to use the free editor to program your own tone settings.
Cons
Cons
You need to take some time tweaking adjustments before you can get a good sound.

The Tone Print setting takes getting used to.

Must be placed correctly in your effects chain or it can cause sound issues.

---
Conclusion & What is the Best Compressor Pedal for Guitars
And in this corner, our winner here is definitely the Wampler Compressor (CHECK BEST PRICE HERE). It has the highest number of satisfied user reviews, and while they're not quite as giant of a company as Boss, they have been able to make a good quality compression pedal that offers excellent compression without sounding like it's too digital. The fact that you can take it on the road with you or play it portably makes a humongous difference as well. The fact that it's a stomp box with a real bypass switch allows it to be used more as a pedal board so you can crunch in those dynamic solos and be heard crystal clear, without being too overpowering (unless you are just that type of guitarist).
Of course it's no surprise that the Boss compressor pedal comes in at a close second, since they've mastered the art of building quality digital effects, and even turning them right around to be able to deliver analog sounds with them. The main and primary complaints that were on the reviews were due to user preference, or something not working right (this happens from time to time, and one bad customer experience out of thousands doesn't say they're bad pedals). They just might be what you're looking for, or they may not. If you want the best, then definitely go with the Wampler. Otherwise, depending on your sound, we've also provided the other five in order for you to decide for yourself.