Top Electronic Drums Kit – Best Electric Drum Set Brands Review
Electronic musical instruments have long gained wide recognition as not only viable but often superior alternatives to their acoustic counterparts. Not all of them, however, have the same popularity. While electric guitars and keyboards are known everywhere, electronic drum sets remain a mystery to many.
And yet, modern electronic drum kits of high quality are as aesthetically pleasing and as well-sounding as their acoustic equivalents. In fact, because of their other unique features, they often become a go-to choice of amateur and professional drummers alike. And for very good reasons.
For one thing, with a quality electronic drum set, you won't have to worry about driving your neighbors mad anymore. Whether you're a beginner or a professional, you will definitely appreciate being able to adjust the volume as you like.
You will also gain access to a variety of sounds. Even a low-budget electronic drum kit can offer a rather nice selection of sounds. And the range of sounds you can choose from in the top-quality sets can be stunning.
Choosing the best electronic drum set for all your aspirations in drumming, however, is far from being an easy task. Besides the sound generation functionality, you have many other features to consider, such as hardware toughness and sound editing capacity.
Our guide will help you find out more about the top ten electronic drum sets available on the market today. And discover which ones of them exemplify all the key features of the best electronic drum set to the fullest.
**Not exactly what you are looking for? Check out our Electronic Drum Pad resource here.
Best Electronic Drum Set List
①

Yamaha DTX532K Electronic Drum Set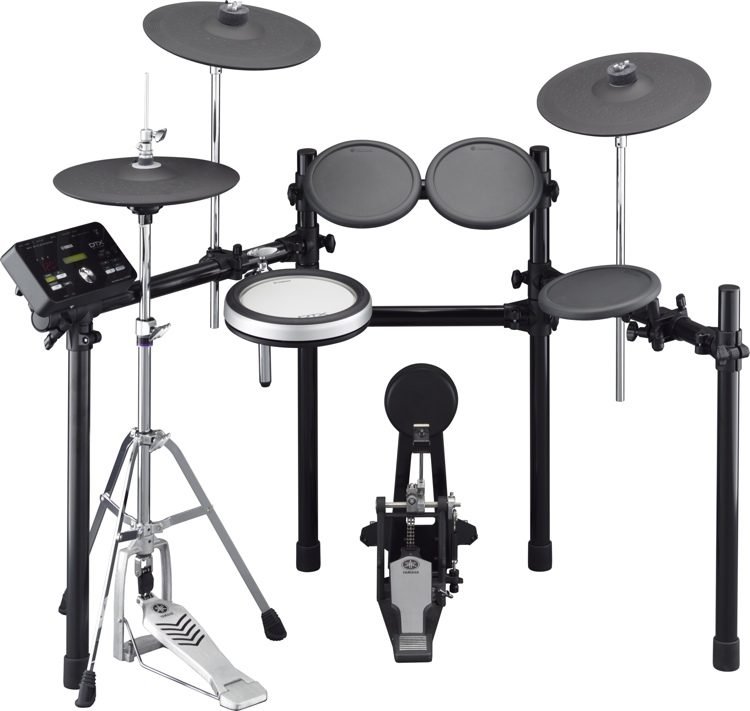 The DTX532K set by Yamaha features a real hi-hat system with a dual-zone trigger pad mountable to a hi-hat stand. Its flexible positioning helps you reach your ideal setup. And its unique design gives pedal action a realistic feel, allowing you to enjoy diverse styles of playing.
Among its many other features, the set has professional-grade 3-zone cymbal pads. Suitable for cup, bow, and edge sounds, they produce low acoustic noise and have a good stick feel. You can also mute the cymbals before striking.
The set's proprietary laser technology makes it responsive to every subtlety of you playing. And its advanced module includes 691 high-quality sounds, practice songs, training functions, and MIDI recording.
Pros
Pros
Natural feel and authentic sound.

Rich functionality for practice and performance.

Suitable for professional drummers.
Cons
Cons
Not a low-priced set.

Includes more functions and features than amateur drummers may need.

---
②

 Roland V-Compact Series Electronic Drum Kit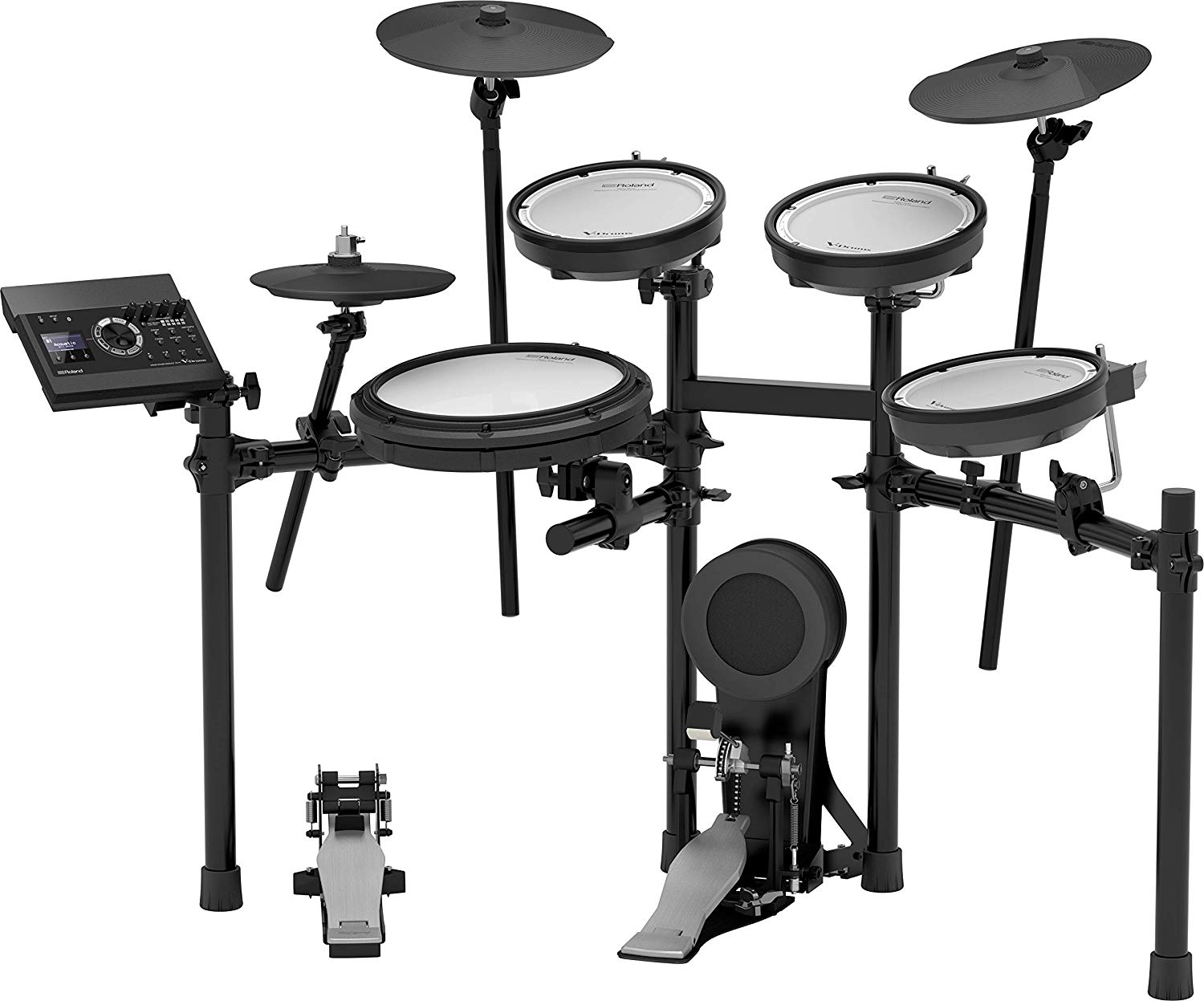 The TD-17 V-Compact Series of electronic drum kits by Roland features a special design that helps to master drumming faster. It does so by accurately reproducing the hand/foot control, physical movement, and stick coordination demands required while playing acoustic drums.
This line of electronic drum sets also features a variety of top-end expressive drum sounds that model the authentic ones. Besides this, the kits in the TD-17 V-Compact Series include a selection of integrated coaching functions.
The large 12-inch snare and mountable hi-hat ensure an authentic experience. And the ability to record yourself and play along your favorite tunes make practicing productive and fun.
Pros
Pros
Feels authentically close to playing acoustic drums.

A decent selection of training functions for practicing drumming skills.

Expandable by adding an extra crash cymbal or second snare.
Cons
Cons
A relatively high-priced kit.

Has less presets than some of its alternatives.

---
③

 KAT Percussion E-Drum Set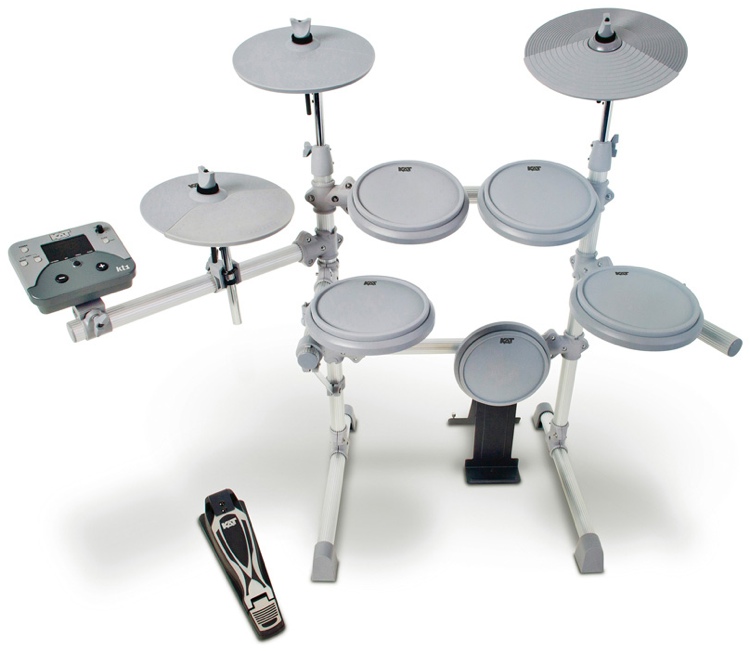 The KT4 is the most advanced electronic drum set of the E-Drums series from KAT Percussion. This  5-piece electronic drum kit can boast of having a built-in library consisting of 780 high-end drum and cymbal sounds.
The set includes four rack mounted 11-inch dual-zone drum pads and a drum kick tower with an 8-inch bass pad. It also features a movable three-zone 12-inch hi-hat cymbal pad that mounts to the DW3500 Hi-Hat Stand from Drum Workshop.
The kit also includes an extra-large 14-inch ride cymbal along with two choke-able 12-inch crash cymbals. All of them come with three programmable zones: bell, bow, and edge.
Pros
Pros
Realistic feel while playing and good control over the sound.

Can be upgraded to a 6-piece kit with an additional drum pad.

A professional-grade electronic drum set.
Cons
Cons
A relatively high-priced set.

Has more functionality than amateur players may use.

---
④

 Roland TD-11 K-S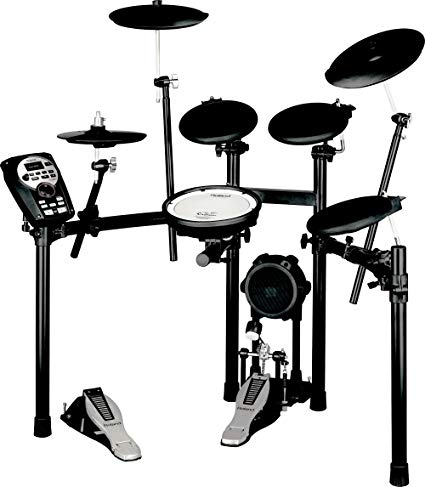 Part of the TD-11 V-Drums V-Compact Series, the TD-11 K-S electronic drum set features an innovative sound engine. Enhanced with Supernatural technology and Behavior Modeling function, it allows for a natural feel and expression while playing.
The kit's built-in sound library has a diverse selection of sounds that encompass a range of musical genres. And an integrated collection of professionally recorded backing songs that you can play along allows you to practice.
The set's practice features also include a unique COACH function that helps drummers of any level to improve their skill. At the same time, the kit's large LCD icon-driven interface makes it user-friendly and easy to enjoy.
Pros
Pros
Versatile and simple in use.

Works for drummers of any skill level.

Provides a realistic playing experience.
Cons
Cons
Does not include the kick pedal.

May not be the best solution for drummers with professional needs.

---
⑤

 Yamaha DTX522K 5-Piece Drum Set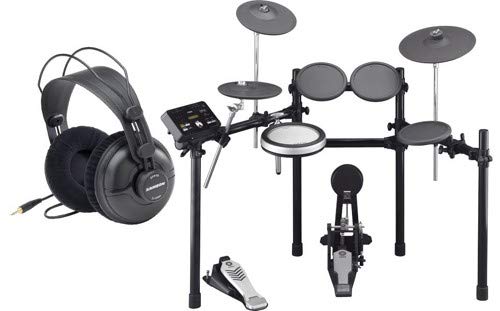 The DTX522K set by Yamaha is based on the Yamaha DTX502 Drum Module. Featuring over 690 sounds and over 400 wave ROM, this module is responsive and produces high-quality sound. Its diverse sound library encompasses virtually all musical genres.
The kit uses the solid RS502 Drum Rack that is easy to set up and transport. It also includes a bass drum pad, two cymbal pads, three tom pads, and a hi-hat pad with pedal controller. Furthermore, the kit also features a three-zone snare pad, designed to have a smooth feel and excellent rebound.
The DTX522K set also comes with Samson's SR950 Professional Studio References Headphones that provide an authentic studio experience.
Pros
Pros
Ideal for on-the-go musicians thanks to its portable and versatile design.

Authentic playing experience.

Suitable for professional drummers.
Cons
Cons
Not the lowest-priced set.

Some features and functions may feel unnecessary to amateur drummers.

---
⑥

Alesis Nitro Mesh Kit Best Budget Electronic Drum Set
The Nitro Mesh Kit by Alesis Drums features an exclusive 8-piece configuration. It includes an 8-inch dual-zone snare pad, three 8-inch tom pads, an 8-inch kick drum, and Kick and HiHat Pedals. It also contains three 10-inch cymbals: ride cymbal, hi-hat, and crash w/choke.
This kit also features a collapsible aluminum drum rack that is solid and portable. Being an out-of-the-box solution, the set has everything you need, from connection cables to drum sticks.
The set's Nitro Module features 60 built-in tracks to play along and a CD/MP3 aux input for your own tracks. It also includes 385 drum and cymbal sounds, 40 kits, sequencer, metronome, and recorder.
Pros
Pros
A low-budget set.

Produces a quiet authentic response and feel.

Suitable for beginners and amateur drummers.
Cons
Cons
The sound library is less diverse than in other similar kits.

May not have enough functionality for professional drummers.

---
⑦

Carlsbro CSD130 Realistic Drum Set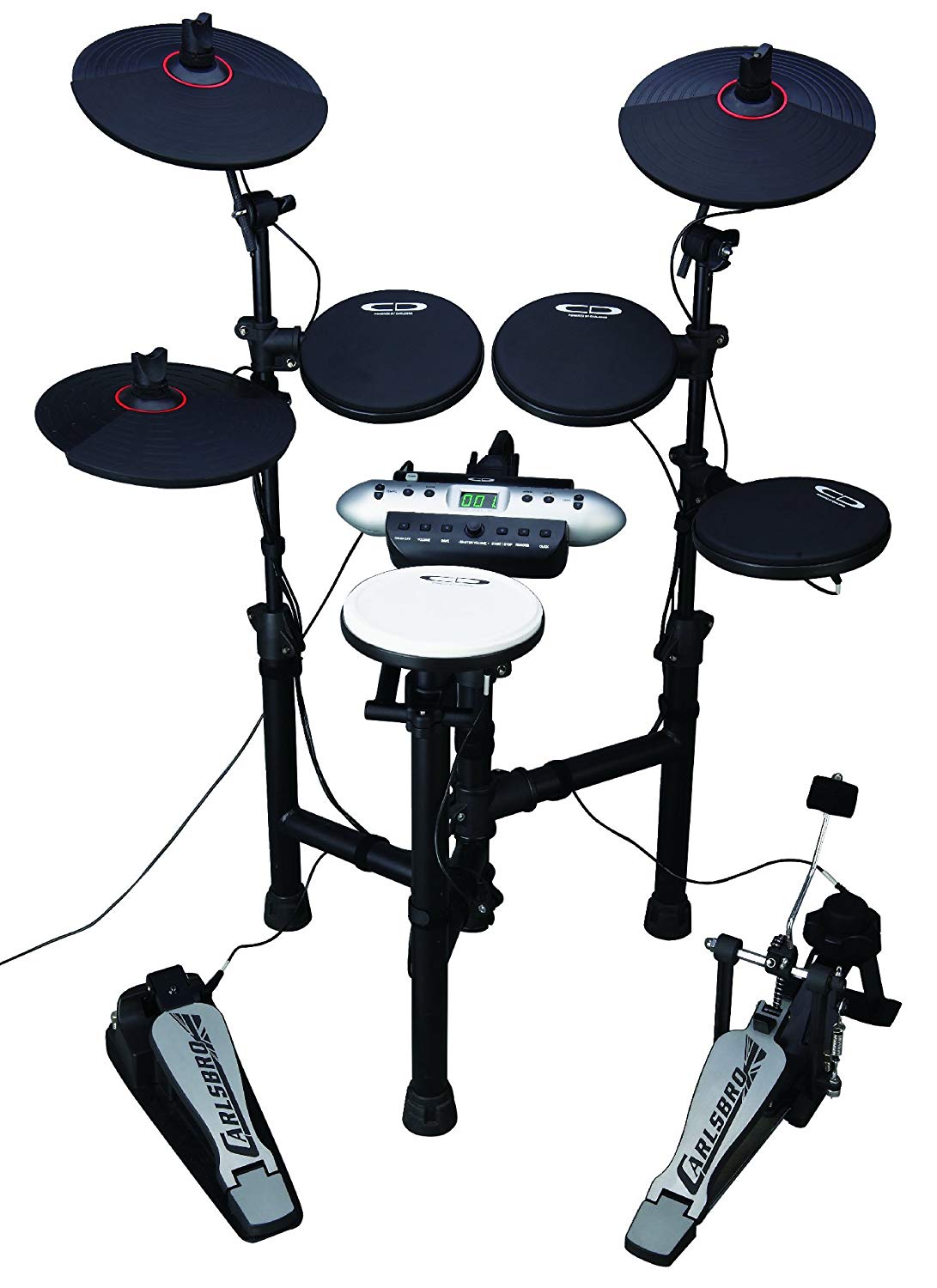 The CSD130 by Carlsbro is an 8-piece electronic drum set. It includes a 7.5-inch dual-zone snare pad, three 7.5-inch tom pads, and a 2-inch bass drum pad. It also features 10-inch choke-able crash and ride cymbals, a 10-inch hi-hat with controller pedal, and a professional kick pedal.
The set uses a 3-footed stand with collapsible design, being rather easy to assemble and transport. It also comes packed with power supply, drum sticks, and other accessories.
This kit features the Commander 120/130 drum module that contains 250 drum and percussion sounds, arranged into 20 preset kits. It also features 20 built-in tracks and allows for playing along your own favorite tracks via a CD/MP3 aux input.
Pros
Pros
A low-priced drum set.

Acoustic drums feel.

Perfect for on-the-go use
Cons
Cons
The sound library is limited when compared to its alternatives.

May not be suitable for professional musicians.

---
⑧

Alesis Command Mesh Drum Kit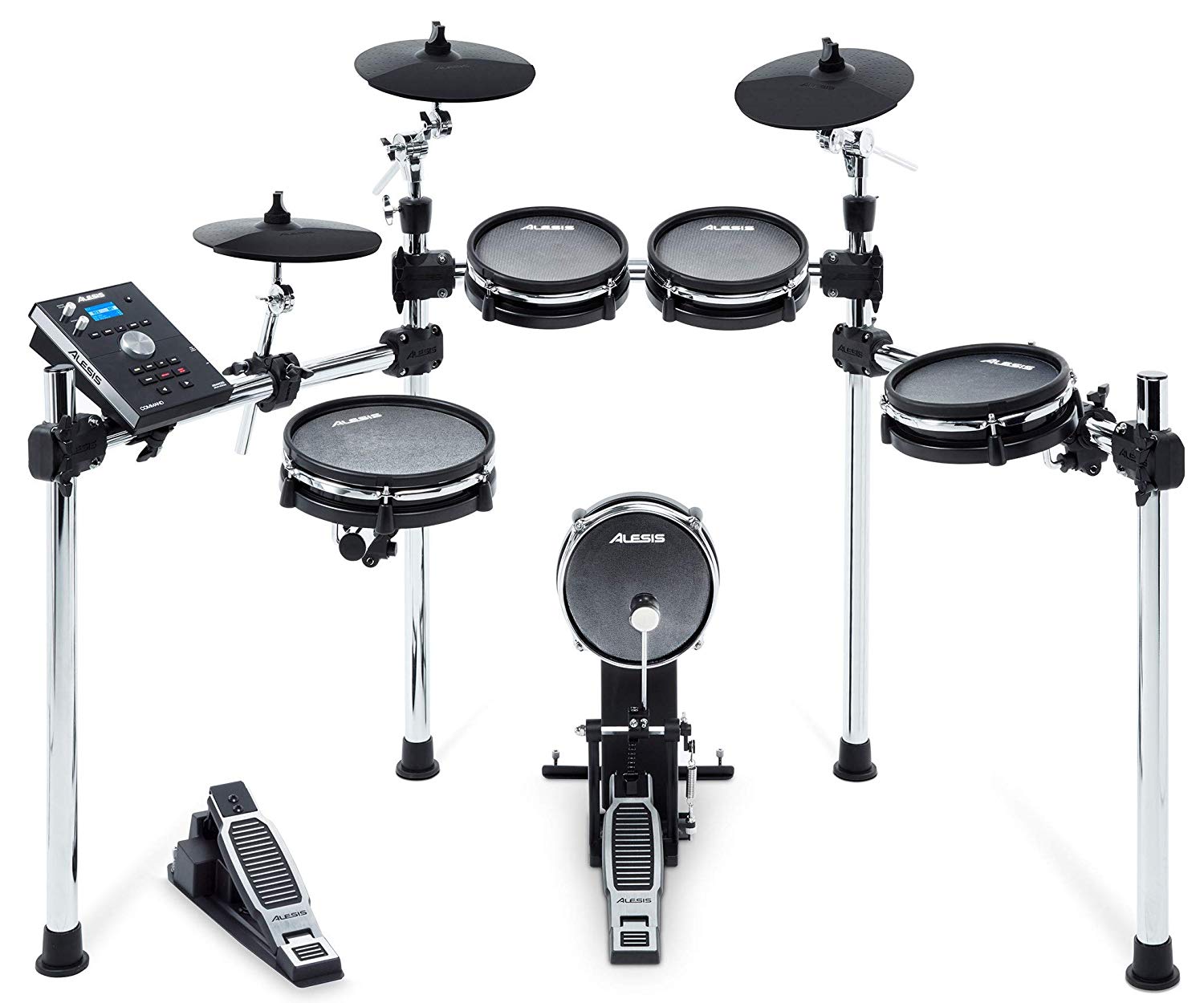 The Command Mesh Kit by Alesis Drums is an 8-piece electronic drum kit. It features 10-inch ride, crash, and hi-hat cymbals w/choke, and an 8-inch mesh kick drum tower with kick pedal. It also includes a 10-inch dual-zone mesh snare pad and three 8-inch dual-zone mesh tom pads.
The kit's Command Drum Module features 74 arranged drum kits, over 600 sounds, and 60 tracks for playing along. It also allows for custom sample and tracks loading via USB and MP3 aux inputs.
Built on a durable 4-post chrome rack with non-slip clamps, the kit is easy to set up and move around. It also comes with connection cables, drum key and sticks, and power supply available out-of-the-box.
Pros
Pros
Good control over samples.

Mesh pads deliver a realistic feel.

Diverse sound library.
Cons
Cons
Not the lowest-priced kit.

May not be a complete solution for professional drummers.

---
⑨

RockJam Mesh Head Drum Kit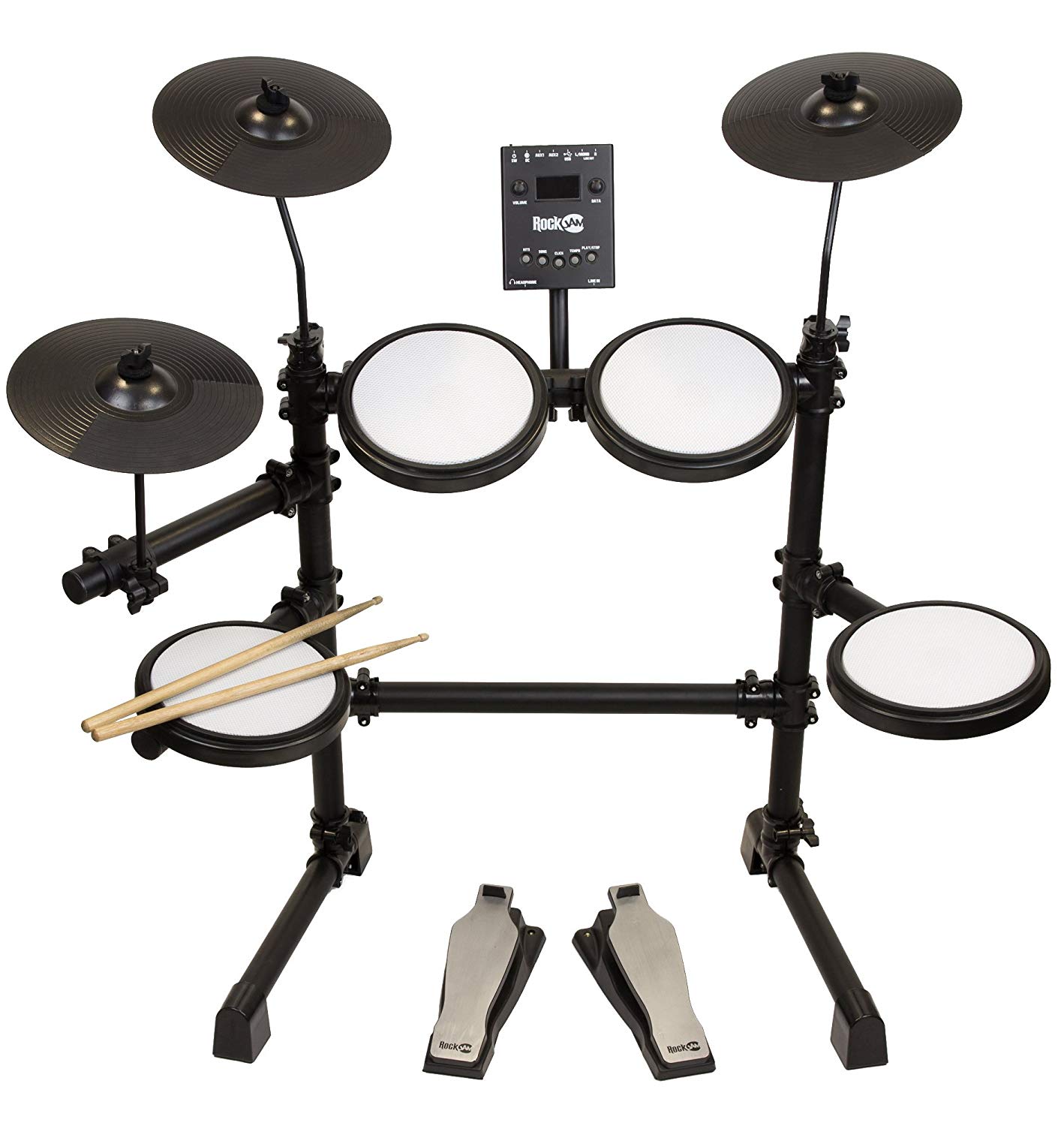 The Mesh Head Kit by RockJam features an 8-piece configuration. Namely, it includes three 9-inch mesh tom pads, one 9-inch mesh snare pad, and one 10-inch hi-hat with control pedal. It also has two 10-inch cymbals with choke and a hard-wearing pedal for bass.
The set's sound module features 30 authentic drum kit voices and multiple demo songs. It also allows for a USB to MIDI out, making it possible to connect the set to other music equipment. The kit has the support for aux and headphone input as well.
The Mesh Head Kit by RockJam is an out-of-the-box set. As such, it includes basic drumming accessories, like drum sticks and headphones.
Pros
Pros
An entry-level kit suitable for beginners.

A low-budget option.

Delivers a natural feel.
Cons
Cons
Has a very limited sound library with few on-board sound options.

May not be suitable for professional drummers.

---
⑩

Yamaha DTX950K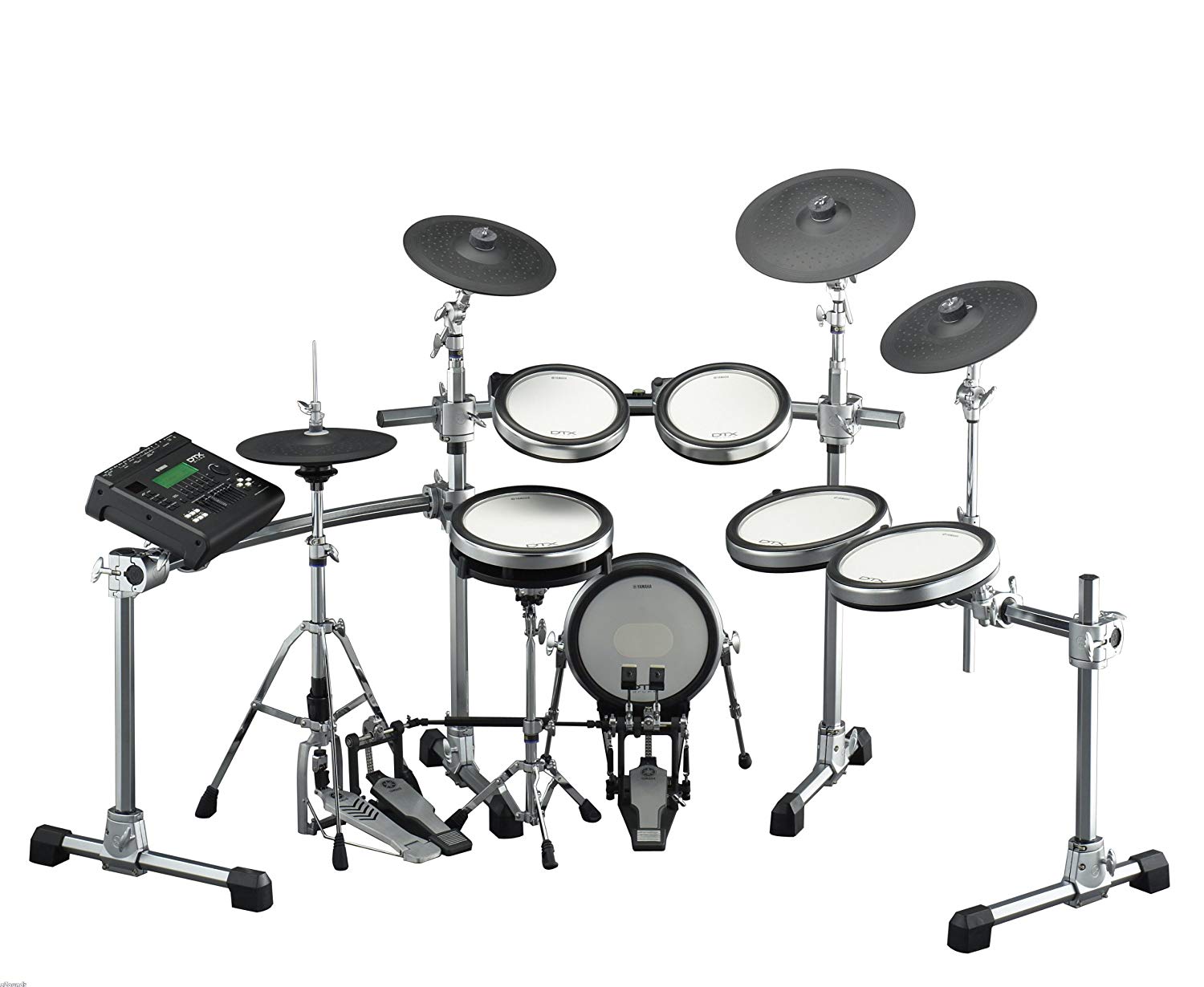 The DTX950K is a professional-grade electronic drum kit by Yamaha. It features two 10-inch tom pads, two 12-inch tom pads, a 12-inch snare pad, and a KP125W kick pad. It also includes a 15-inch cymbal pad, two 13-inch cymbal pads, and a RHH135 hi-hat pad.
The kit uses a steel drum rack with non-slip clamps – the solid HXR4LD Hex Rod DTXtreme III Curved Rack System. Its unique design coupled with some accessory hardware can make any custom configuration possible.
The set's innovative DTX900 Drum Trigger Module features 1,326 sounds. It also includes a rich selection of trigger features and training functions. The kit can interact with PCs and various other devices.
Pros
Pros
Authentic playing experience thanks to Yamaha's DTX-PAD innovative technology.

Rich selection of high-quality sounds, features, and functions.

Ideal for professional drummers.
Cons
Cons
A high-priced set.

The functionality may feel overwhelming to amateur drummers.

---
How Exactly Does an Electronic Drum Set Work?
At first glance, electronic drum kits resemble their acoustic counterparts a lot. The drum set arrangement looks very similar, and your skill level at drumming is just as important. Yet, the sound on an electronic drum kit occurs in a very distinct way.
Once you hit the pad with a drum stick, the sophisticated system of sensors receives the sound input. It then reads every subtlety of the vibrations you have produced with your drumming technique. Finally, it transfers this information to the drum module the electronic drum set contains.
The module then processes the sound input from the trigger sensors in the drum pads. It also transmutes this input into the specific sound effect that you have chosen before even hitting the drum pad. Afterwards, the module generates the sound output that you can hear in the headphones.
With the help of the drum module, the electronic drum set can also capture the sound output that it generates. This allows the drummer to manipulate the sound for further editing and use on both drum set and external devices. Such an opportunity is simply not present when acoustic drum kits are in use.
Despite its innovative nature, the above process of sound generation seems like a lot of hassle. For one thing, it involves the use of sophisticated technology and equipment. Why not just stick to basics and use the acoustic drums instead?
The Benefits of Using an Electronic Drum Kit
Using an electronic drum kit instead of an acoustic one has a number of benefits that every drummer can recognize. As such, it allows you to:
Practice in relative quiet

One of the biggest drawbacks of the acoustic drums is that they give you no control over the volume. This places constraints on where and when you can practice. With electronic drum sets, you adjust the volume as you like, practicing without limits.

Enjoy variety

High-quality electronic drum kits have drum modules that can transmute the sound input into hundreds of different sounds and tones. Unlike the acoustic drums that generate the same sound and tone, they offer you diverse sound libraries to choose from.

Experiment with various genres and styles

You may like alternating between various styles of playing and musical genres. Or you may be looking for the playing niche you can enjoy. The diversity that electronic drum sets offer allows you to explore drumming in every which way.

Use the kit wherever you want

Thanks to their portable design, high-quality electronic drum kits are relatively easy to assemble and move around as you need. Acoustic drum sets have much less portability. They are rather heavy and bulky, and require a more tedious assembly.

Constantly challenge your skills

Electronic drum sets of high quality contain a variety of built-in functions that can help you get better at drumming. With their help, you can challenge your drumming skills in a variety of creative ways and avoid boredom while practicing.

Record and edit what you play

Recording what you play on an acoustic drum set is a daunting task that requires specialized equipment and proper arrangement. Electronic drum sets require no special setup to capture clean sound output and edit it in a variety of ways.
You can enjoy these unique benefits by simply choosing an electronic drum set over the acoustic drums. Not every electronic drum kit, however, can be worthy of your expectations.
How to Spot the Best Electronic Drum Set
Doing your research before buying an electronic drum set goes a long way in ensuring you will enjoy your purchase. These criteria are essential to consider:
Drum pad material

This determines the feel you get while playing. Mesh heads have the most bounce and deliver the most authentically close feel to playing the acoustic drums. Rubber pads have a more durable surface and are ideal for drummers who enjoy vigorous styles of playing.

Functionality

High-quality sets contain modules that have rich functionality. They can boast of diverse sound libraries with a variety of samples and presets. And they include enough built-in training functions and on-board sound features to make practice challenging and playing fun.

Dimensions

Estimating how much space the electronic drum kit might take before you buy it is a good idea. Kits have varying degrees of portability. If your place has limited space, choose the sets that have compact design and include hardware that can be adjusted.

Weight

Electronic drum kits that have special design for on-the-go musicians are rather lightweight and lend themselves easy to frequent transportation. On the contrary, electronic drum sets that are designed with studio and home usage in mind can be much heavier.

Price

Going for a low-priced electronic drum set when your budget is limited may seem very tempting. But low-budget kits compromise on functionality and the quality of the materials used in their design. The best electronic drum sets offer great functionality at a reasonable price.

Contents

Some electronic drum sets may not be out-of-the-box solutions. They may not include kick pedals, drum thrones, drum sticks, and other important gear. While there's nothing wrong with buying some accessories separately, the best kits have you covered from the get-go.
Considering these criteria can be tedious but helps you zero in on the best electronic drum set for your needs. Do you have to go through all the hassle, though, if you're just an amateur or only a beginning drummer?
Every Drummer Can Enjoy a High-Quality Electronic Drum Set
Electronic drum kits are a lot more sophisticated than the acoustic drums and require more consideration before buying. But despite their seeming complexity, they represent a superior choice for professionals and beginners alike.
Professional drummers can enjoy rich functionality, challenge their skills, and record their sessions with studio quality. And beginning drummers and amateurs can explore drumming styles, practice without coach, and monitor their progress.
Choosing the best electronic drum set for your needs is well worth the effort. And luckily for you, our guide saves you much of this effort, having you covered with our top recommended choice.
Yamaha Electronic Drum Sets: Nothing Beats the Quality
Many factors come into play when you want to get the best electronic drum set that your budget can afford. But quality is perhaps the most important consideration to make. After all, who needs a set that sounds inauthentic, feels awkward, and lacks in functionality?
Every electronic drum kit that our guide has reviewed has its merits. From the low-budget Nitro Mesh Kit by Alesis to the higher-end TD-17 V-Compact Series by Roland, each offers something unique. Yet, only the kits by Yamaha represent everything that the best electronic drum set must include.
Yamaha's well-designed sets deliver an amazing blend of authentic sound, natural feel, and rich functionality that every drummer can appreciate. As such, the Yamaha sets reviewed in this guide offer solutions to drummers of any skill level, aspirations, and budget.