Top Electronic Drum Pad – Best Digital Sampling & Practice Pads for Drummers
Electronic drum practice pads have been paving the way for many years, and they've been used by many digital and analog musicians alike to bring custom experiences to the sound they create. While there are some great introductory drum pads, there are more options that are becoming prevalent than others in the recent years. Why? Because anymore, they're becoming more and more practical for both studio sessions, and even used frequently live rather than just using full-sized electronic drum kits. You may even notice that a pro drummer that belongs in a famous band has a drum pad attached to their live drumming rig. Even bands like Linkin Park have incorporated these pads in order to produce some extra sampling and extra drums into their tracks to provide a full-blown live experience.
**Not exactly what you are looking for?  Check the Electronic Drum Sets here.
Top 5 Electronic Drum Pads
What Makes the Best Drum Pads?
Drum pads are an excellent sampling source. When you're looking for the best drum pads, you want a drum pad that allows you to have the sounds of a full-on drum set. That means you at least need a drum pad that has pedals so you can emulate bass drums and hi-hats, as well as having cymbal pads (a ride, hi-hat, and crash are preferred), and the rest of the drums (a snare and at least 3 toms). Keep in mind that compared to a real drum kit, you have to step up your game, and they will differ greatly because the pad positioning on even electric drum kits will be positioned differently.
Do You Want Audio In and Out?
When it comes to finding the best drum pads, you need to be able to plug a device into an input or output. For digital studio recording, you want to have an audio out, whether it be a MIDI jack, or at least a regular audio out (to use a 1/16" to 1/16" audio cable or larger), as well as the fact that you can utilize a headphone jack. Not everyone wants to hear your electronic drumpad blaring at high volumes even if you do. Aside from this, some of the best drum pads also include audio-in jacks so you can hook things like your MP3 player and play along with them.
Programmable Sounds and Effects
When it comes to using an electronic drum practice pad, you want to ensure that you have a good range of programmable sounds on board. Some pads actually can allow you to load sample sounds into them, so you can literally program each and every single drum pad sound individually. This makes it a great utility for things like creating custom beats and still providing a live "feel" to the beat itself.
Professional Sound or Fake Sound?
While any electronic drum pad can have some synthetic sounds programmed into them, the sound quality should still be excellent. Some cheap drum pads sound terrible, because they have very low-bitrate sound samples programmed into them, so they sound like you're playing with an actual toy. That's not what we're going after in this article. Of course, there are some artists who occasionally incorporate poor sound quality on purpose into their music (Look into how trashy sounds in Korn's Follow the Leader Album were made for example), so the sound preference is mainly up to you.
Why These Kits are Recommended
Most people use these smaller kits for digital studio solutions (like recording on their home PC's), and most importantly, they are great for practice. The biggest thing to consider is that if you are just wanting to learn how to play the drums, practice drum sets like this can actually help you improve hand-eye coordination, as well as teach you rhythm, which while it comes naturally to some people, other people have to be able to train their ears and eyes for it. Therefore, these options are a viable solution in order to incorporate that. Using electronic drum pads are also a great way to incorporate some digital sounds into your music as well (like the Alesis which can be programmed to include random sounds of your own, including sound effects).
What Are We Covering Here?
In this guide, we're going to pit the 10 best drum pads against each other, and deliver the best of the best when it comes to sound range, sound quality, as well as the best user experience possible. We're going to cover all of the details mentioned above, as well as give you some custom details that make their interfaces unique. We'll show you also what the final verdict is, so you know what the best of the best is when it comes to drum pads as of 2019.
Best Electronic Percussion Practice Pads
Here's the big list. Let's see who the winner is:
---
①

Pyle Pro Electronic Drum Kit – PTED06
Pyle's pro electronic drum kit has 7 attached drum pads and comes with both a hi-hat and bass drum petal. This allows you to completely reproduce a full drum kit while being all conveniently located in one pad. With numerous effects presets, and 10 preloaded drum kits, you can also program over 300 cymbal sounds, plus use the drum trainer to help your learning experience. Not only this, but you can connect it to your computer (both MAC and PC) via a USB cable to operate as a MIDI controller, and you can plug in other devices, or even use your own headphones or amplifiers. Aside from this, there are stereo speakers to help you configure it, and you can even use a control center in the middle that allows you to create loops, record, and edit your beats accordingly. You can run it on 6 AC batteries, or use the AC adapter.
Pros
Pros
Fully customizable sounds.

Numerous effects. Can record, and edit onboard.

Can be mobile with batteries.

MIDI out and Audio in/out compatible.
Cons
Cons
Must have 6 "C" batteries for wireless use (no internal battery).

Some users complain about lack of customer support.

Sound volume inconsistency and pedal/pad-to-sound latency.

---
②

Alesis CompactKit 7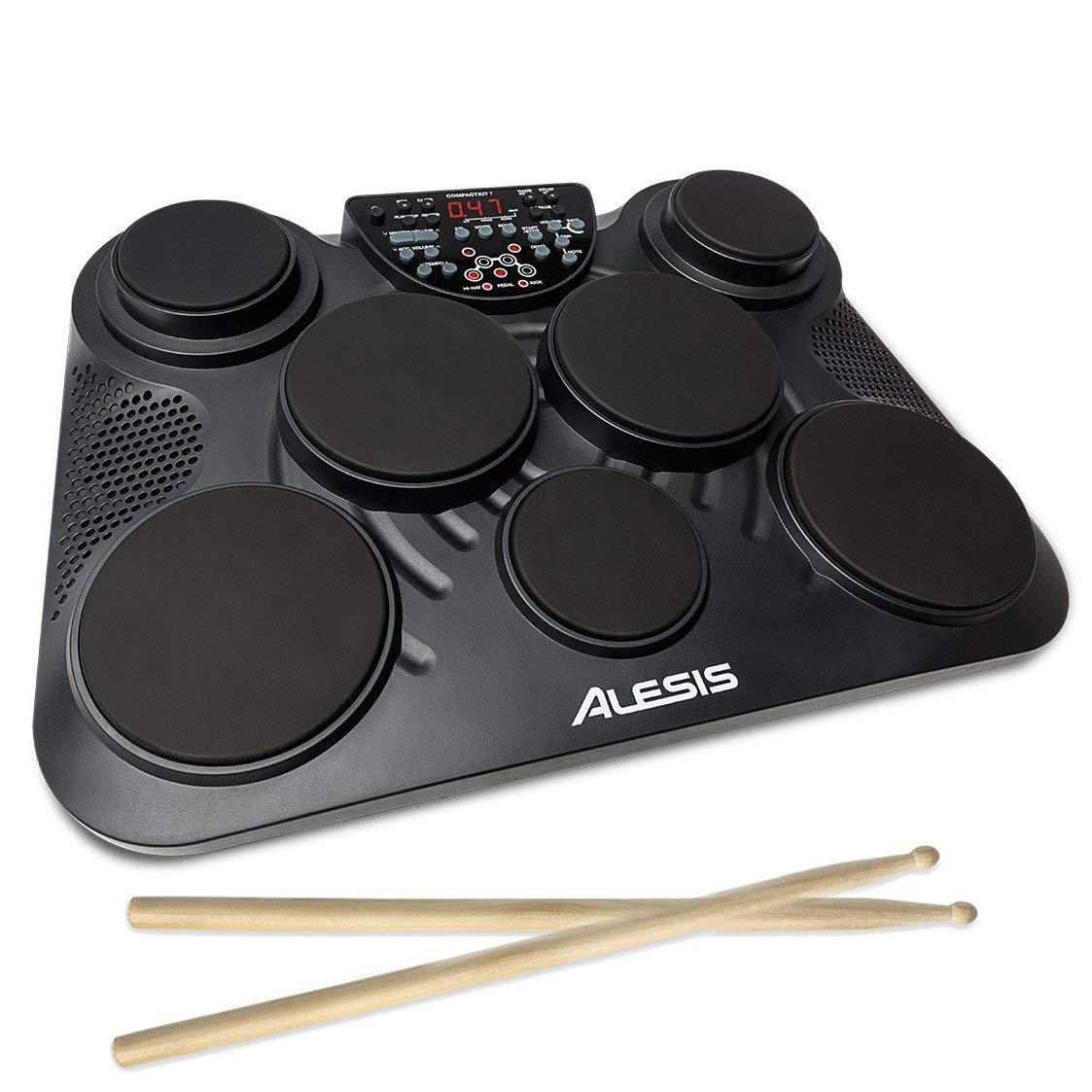 Alesis has been a digital effects giant for decades, and their CompactKit 7 is not shy of being able to produce quality results either. With 7 velocity-sensitive (fully responsive) drum pads and 2 pedals as well, this drum pad operates with 45 preset drum kits, and 5 fully programmable user kits, along with more than 265 percussion voice. There are 100 play-along songs to help you learn how to use it and also for practice purposes. You can play it easily with an AC adapter, or take it with you just like the Pyle's with 6 C batteries as well.
Pros
Pros
Alesis is a highly reputable brand.

Many drum sets and sounds to choose from.

Audio in and out jacks plus MIDI USB control

Fully sensitive drum pads.
Cons
Cons
Remote pedals are not as responsive as they could be.

No wireless capability without batteries.

Pedals sometimes double trigger.

Device inconsistency with extensive or heavy use.

---
③

Yamaha DTX-MULTI 12 Electronic Percussion Pad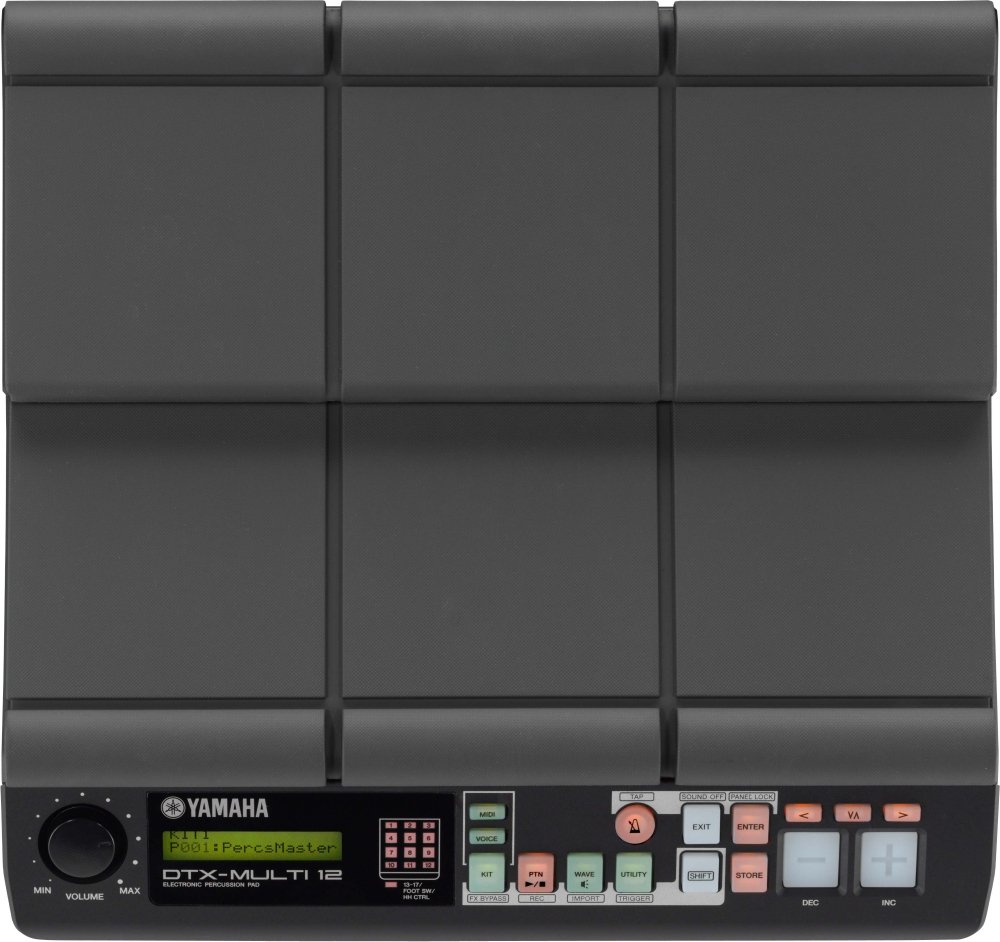 Yamaha has been another leader in the MIDI and digital audio field with years of percussion electronics as well as their keyboards and full-blown audio (they even have Yamaha digital guitars!). The DTX-12 has 12 fully customizable pads, and it has software that can actually be used with iPad! It's made to be played with just about anything, and you can program your kit, import up to 500 or your own original sound clips. It features 100 MB of internal ROM to give you over a thousand drum percussion and effects sounds, 216 MOTIF sounds, 5 different trigger inputs (yes, you can input your own triggers into it too), 2 pedal inputs, and of course it's MIDI capable. It includes the CUBASE AI for both Windows and Macintosh as well. Not only that, but it allows the ability to literally make your own sound with great sound effects as well. Great for practice or any digital studio!
Pros
Pros
We're talking about Yama here! Giant in the music industry of brands.

A plethora of sounds and customizability.

AC Adapter powered with 12V AC adapter.

Includes CUBASE AI software (Cubase can be rather expensive)

Can import from device or export as well.
Cons
Cons
Doesn't come with sticks.

Not powered wirelessly at all.

Not very compatible with other brands' drum triggers.

No pedals.

You need special adapters to use with iPad and other devices.

---
④

KAT Percussion KTMP1 Electronic Drum and Percussion Pad Sound Module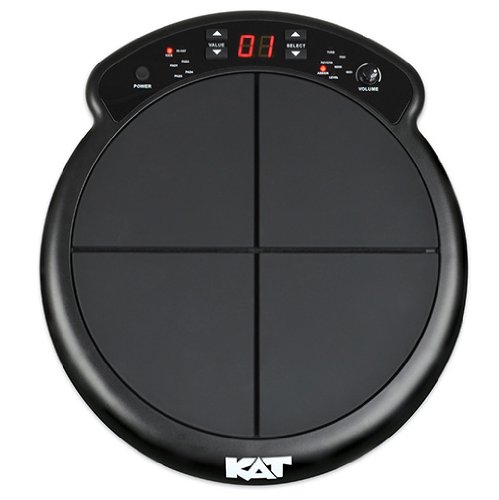 Kat's 4-pad percussion pad is a great little sound module for being able to have a compact practice solution, or even a great tool for things like songwriting, and more. You can use one of the 50 high quality drum and percussion sounds, use the USB/MIDI compatible connection, the fully sensitive drum pads (the harder you hit, the louder the sound, just like a real drum), and two inputs if you have high-hat and controller pedals/triggers.
Pros
Pros
Great pad with 909 snare, kick and hi-hat sounds.

Can connect to a laptop to trigger VST drum input plugin.

Can connect to headphones or amplifier.

Heavy duty durable pads and internal triggers make it very velocity-sensitive.

MIDI/USB and standard MIDI out, plus audio out, and headphone jacks.
Cons
Cons
Only has 4 pads (Limited Kit sounds).

Not programmable.

Only AC powered.

At 4.7lbs it can be considered pretty heavy.

---
⑤

Alesis SamplePad Pro 8 Pad Percussion & Sample Triggering Instrument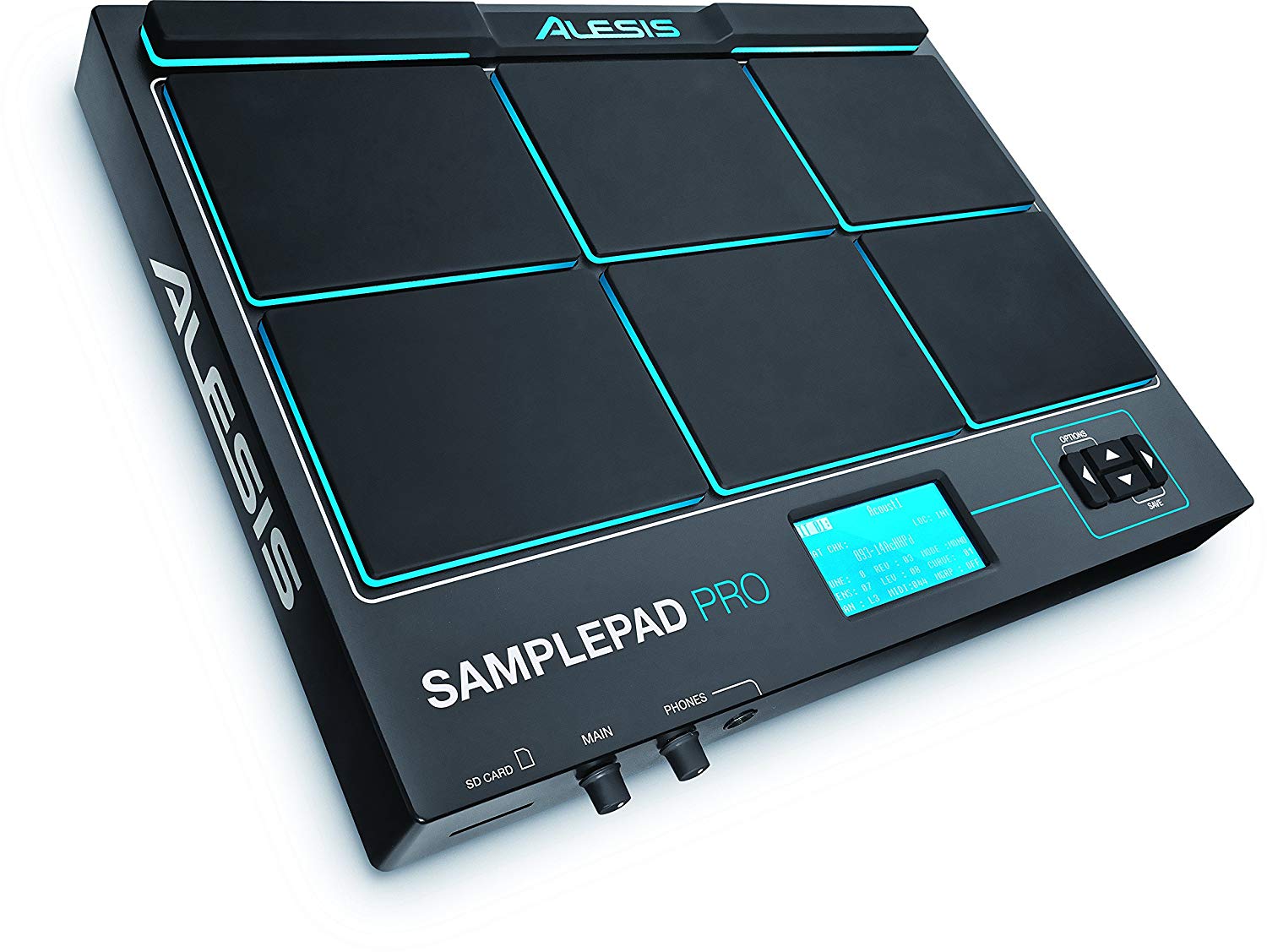 Alesis has done it again, and has the SamplePad pro with an 8-pad percussion and sample triggering instrument. This item is perfect for using the 200 included sounds or the 10 drum sets, as well as having the ability to use kick and hi-hat pedals with it. You can use up to a 32GB SD card in the SD card slot that you can pack full of extra sounds and loops, as well as having responsive pad sensitive pads that are slightly illuminated around the borders to make it a great instrument both for digital studio use and even playing it live!
Pros
Pros
Numerous sounds with effects from a marketplace giant brand.

Hi-hat and kick pedals can be integrated into it.

USB MIDI and Five-PIN MIDI input and output compatible. Also has a 1/8" audio input and headphone jack.

SD Card expandable for more sounds!
Cons
Cons
Numerous users complain about pads triggering other pads when hit with high velocity.

No internal speakers in the product.

Product is not built durable for hard hitting.

---
⑥

PAXCESS RP-ED02-BG Roll-up Electronic Drum Kit
PAXCESS offers a fully controllable solution with their RP-ED02-BG rollup drum kit. You get 1 snare, 3 toms, 1 crash, 1 ride, 1 hi-hat, and 2-foot pedals in a portable electric drum 5 timbre sounds, 8 demo songs, and 3 different programmed rhythms built in. One of the best features though, is that you can use a USB/DC 5v (micro-usb) cord to charge it and power it as well, and it has an internal battery that has approximately 10 hours' worth of wireless play time. At the same time, you can plug in an MP3 player with the mp3 input, and it has an earphone jack, as well as both a 5-pin and USB MIDI out jack. It also has a built-in speaker that allows you to listen while practicing without headphones. You can even change the hi-hat and snare drum locations if needed to help customize it to your playing style. The best feature yet though is that you can take it quickly by just rolling it up!
Pros
Pros
Professional drum sounds to choose from.

Includes a 1-year limited warranty.

Durable rubber mats and triggers.

Compact and convenient all in one item!

MIDI compatible for gaming or recording.

Rechargeable via micro-USB cable included.
Cons
Cons
Most users recommend it for kids.

Sometimes other pads trigger at the same time when hitting hard.

You have to force-redirect the audio for MIDI use.

Doesn't handle extremely rapid play well.

---
⑦

Pyle Pro Portable Drum Set – PTED01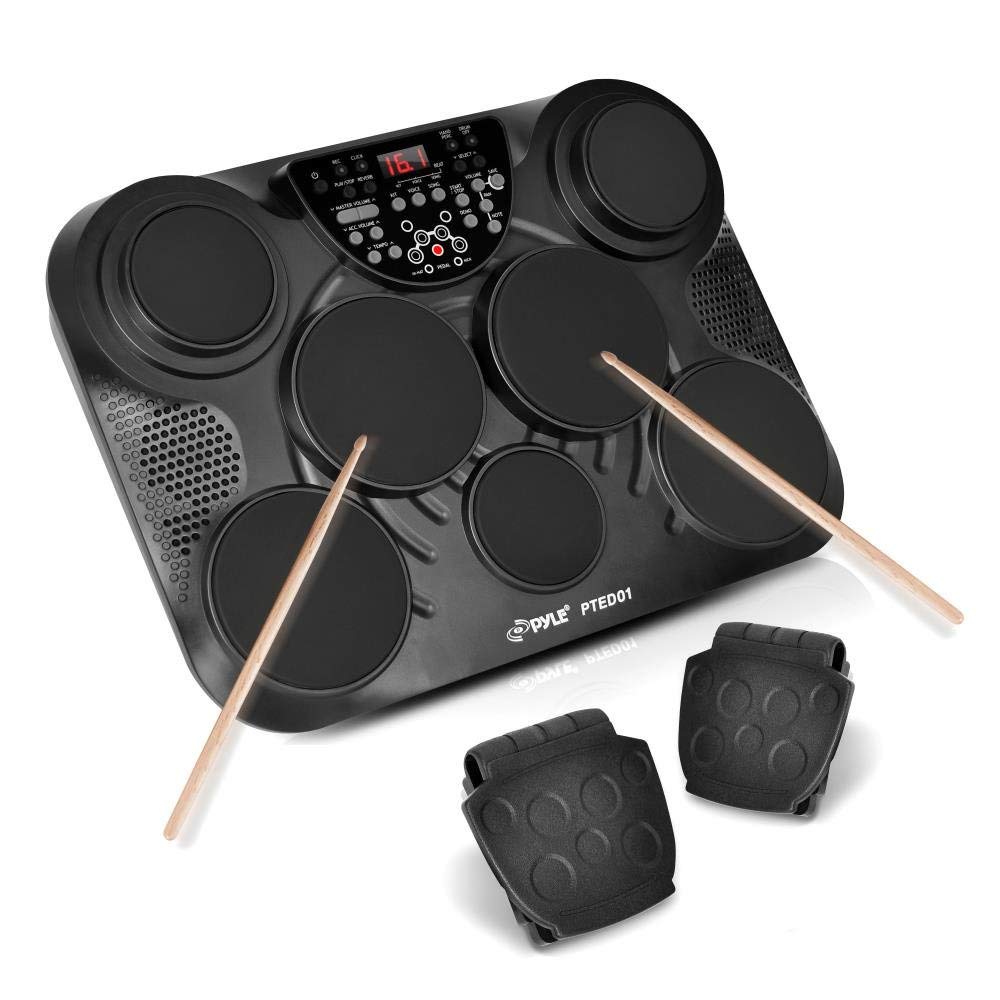 The Pyle PTED01 is pretty similar when it comes to the model we have featured at number one on the list. You get drum pedals included, as well as the ability to play the drums whether they're powered with the AC adapter or 6 "C" sized batteries. You can play with or without a headphone jack (which can be used as an audio-out as well), and record/edit beats as well. This makes a great practice pad and it even has USB outputs for MIDI capability as well. It6 comes with 2 different metronome sounds, as well as kick/hi-hat inputs and 215 percussion sounds plus 128 GM sounds. You can program up to 5 user kits, or use one of the 25 preset ones as well.
Pros
Pros
Perfect practice solution in one kit.

Pyle Pro has a pretty standard reputation.

You get almost all of the same features as the PTED06, just in a slightly older model.

Comes with pedals and sticks.

Great for learning and compact play, or songwriting too!

You can reset and program each pad for the custom drum sets.
Cons
Cons
Must have batteries for mobile play.

Not very small even though it's considered to be compact.

Does not come with a USB cord for MIDI.

Built-in speakers are not designed for louder play (short out at high volumes).

---
⑧

Ivation IVADRMKSPB30 Electronic Drum Kit (USB Chargeable)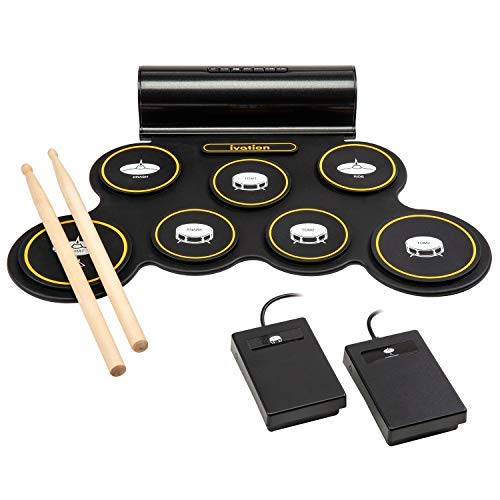 Ivation has released a similar drum kit that has a roll-up rubber pad that allows you to have 7 pads to hit. By offering 7 pads (and the included bass and hi-hat pedals included), it allows you to mimic a real drum kit. You can use headphones or the built-in tunnel speaker, or use headphones (or use a 1/8" audio cable for audio-out capabilities). It does not have a MIDI compatible USB port however, so you would need something like EZDrummer or another Drum DAW VST software. On a more positive note though, you can charge the SPB30 with a regular micro-USB cable/charger for about 20 hours per charge. Not only this, but you get a decent product for the price.
Pros
Pros
A fun toy for beginners and kids alike.

Plenty of sounds and drum pads to choose from.

Great at teaching hand-eye coordination.

Rechargeable (this model only. The other two are battery powered, or USB-cord without internal battery).

Can be rolled up to be compact and convenient.
Cons
Cons
Many users complained about the USB port issues.

Must make sure to purchase the right model number for your power needs.

Not meant for extremely heavy play or live performances.

---
⑨

YISSVIC Roll-UP Electronic Drum Kit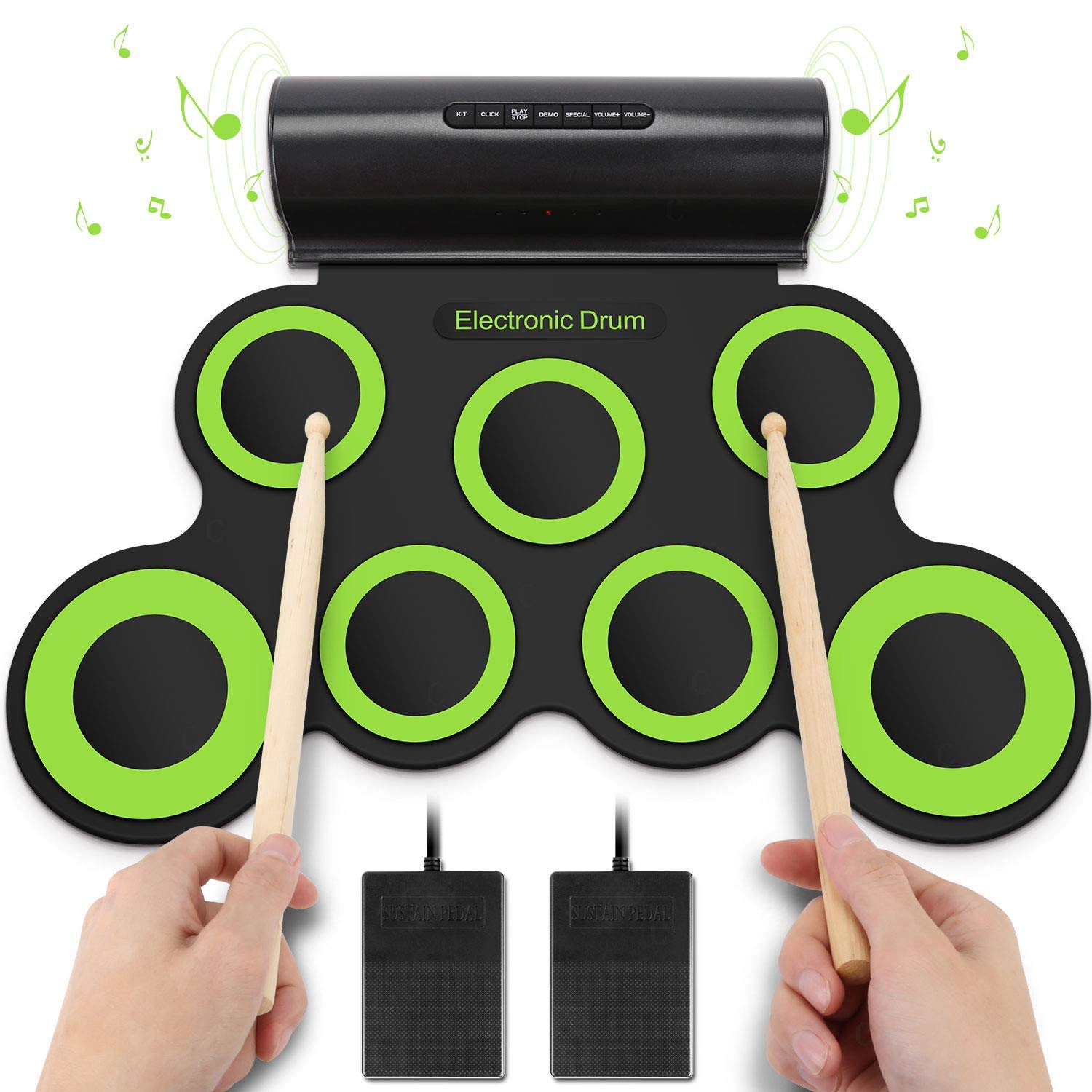 This YISSVIC drum pad kit is an excellent solution for kids to learn how to play the drums. Has 7 pads with 1 crash, snare, 3 toms, 1 ride, and 1 hi-hat as well as pedals to boot! The USB Charging jack can be plugged into a PC as a MIDI USB connection as well to record songs. It's quite smaller than other drum pads, which is perfect for little hands! You also have a built-in speaker, or a headphone jack for quieter play/listening.
Pros
Pros
USB Chargeable. Has multiple modes (including a Game mode for DTX games).

Comes with sticks and can literally plug & play while charging.

Has a lot of pre-loaded sounds.

Great for kids for play and learning.
Cons
Cons
Great for kids, but many adults don't like it.

Not for hard and heavy hitting.

Does not support recording, so you must use external software.

USB can be used as MIDI connection.

Does not have recording mode.

---
⑩

QStyel Portable Electric Drum Set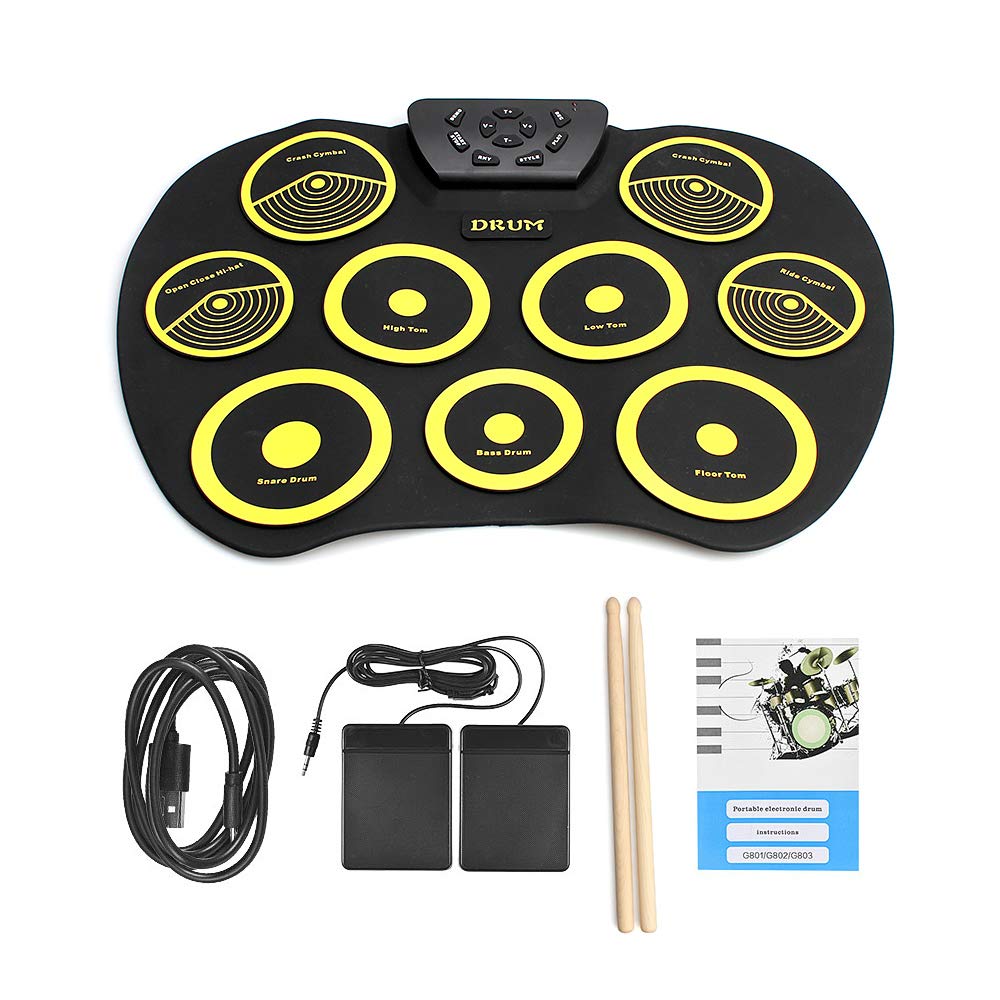 Qstyel's electric drum kit is a full-fledged drum set with literally every drum you can think of, and includes both bass and hi-hat pedals build in. You get a crash, ride, and hi-hat cymbal pad, bass drum pad, snare, and 3 toms (the most standard for an 8-pc. drum set), and you can use the USB power connection to power it. It doesn't have a built-in speaker, but you can use the headphone jack for audio output, as well as plug in your MP3 player in order to play along with your own music. With programmable realistic drum samples, you can get the feel and even re-arrange the drums as necessary for your needs. It even has a loop recording and playback feature, as well as some built-in rhythms too. Just like the other flat silicone-mat drum kits, this one too can be rolled up and used anywhere.
Pros
Pros
Can be conveniently rolled up.

Can play along with your MP3 audio tracks.

USB to plug it in and play.

Great set to start learning to play.

Comes with pedals, sticks, USB charging cord, and user manual.
Cons
Cons
Unknown charging time.

Actual brand name is not on the product.

No built-in battery.

No built in speaker.

Pads and triggers can be flimsy.

Not for heavy hitting.

---
Conclusion & What is the Best Electronic Drum Pad
It's no wonder why in this post we're going to put the Pyle Pro Electronic Drum Kit – PTED06 (CHECK BEST PRICE HERE) as the winner. For the price, and also for the usability, this pad kit is definitely one of the best drum kits that is more than just a regular toy. Aside from the fact that is has a large number of sounds to choose from, and the MIDI capability, it's just an overall well-spaced drum pad kit that offers a viable solution for both personal performance and practice. Some people recommend that you use it with it. The drum sounds also sound rather professional and realistic, and you can choose whether you want an electronic drum set style, or mimic an acoustic one. The fact that you can incorporate a mix of both into your own programmable drum sets is also a nice touch, and the looping feature is pretty solid, which is why it's the top choice of 2019.
The Alesis does come in second place, but it's no surprise, as Alesis has been one of the top makers of sound effect modules and electronic drums for years. The only downside that wasn't mentioned in the product description above is that the price is a little higher. Both drum sets however are viable solutions, but the PTED06 is definitely our top choice.