What is the Best Reverb Pedal for Guitars? Top Guitar Reverb Pedals Review for 2020
One of the earliest guitar effects in existence, reverb has its place in the rig of every serious guitar player. This unique effect naturally enriches the sound of your playing. And with a high-quality reverb pedal for guitar, you can tap into the many other applications of it as well.
Some guitar players may tend to emphasize the rhythmic aspect so much that their playing starts to sound rather dull. Likewise, some styles of playing the guitar have a natural disposition to sound a bit too calculative and washed out.
When the playing feels dry, many guitar players use delay pedals to compensate for the lack of tone and atmosphere. The use of delay, however, may often do more harm than good, interfering with the rhythm to a significant extent.
Unlike delay pedals, reverb pedals do not disrupt the rhythmic structure of your playing. They do, however, enrich your music with a sense of ambience and give it an extra reach. Essentially, reverb pedals give your playing a pleasant wash.
A high-quality reverb pedal is also indispensable when you want to fill the space between various sections in your playing. Eliminating the awkward gaps in your playing, the use of reverb gives your music more texture and a smooth feel.
Not every reverb pedal, however, can deliver the above benefits equally well. In this guide, we review the top eight that can. Below, you can learn more about them. And discover what reverb pedal for guitar can serve you better.
Best Reverb Pedal List
---
①

BigSky by Strymon *Best Reverb Pedal*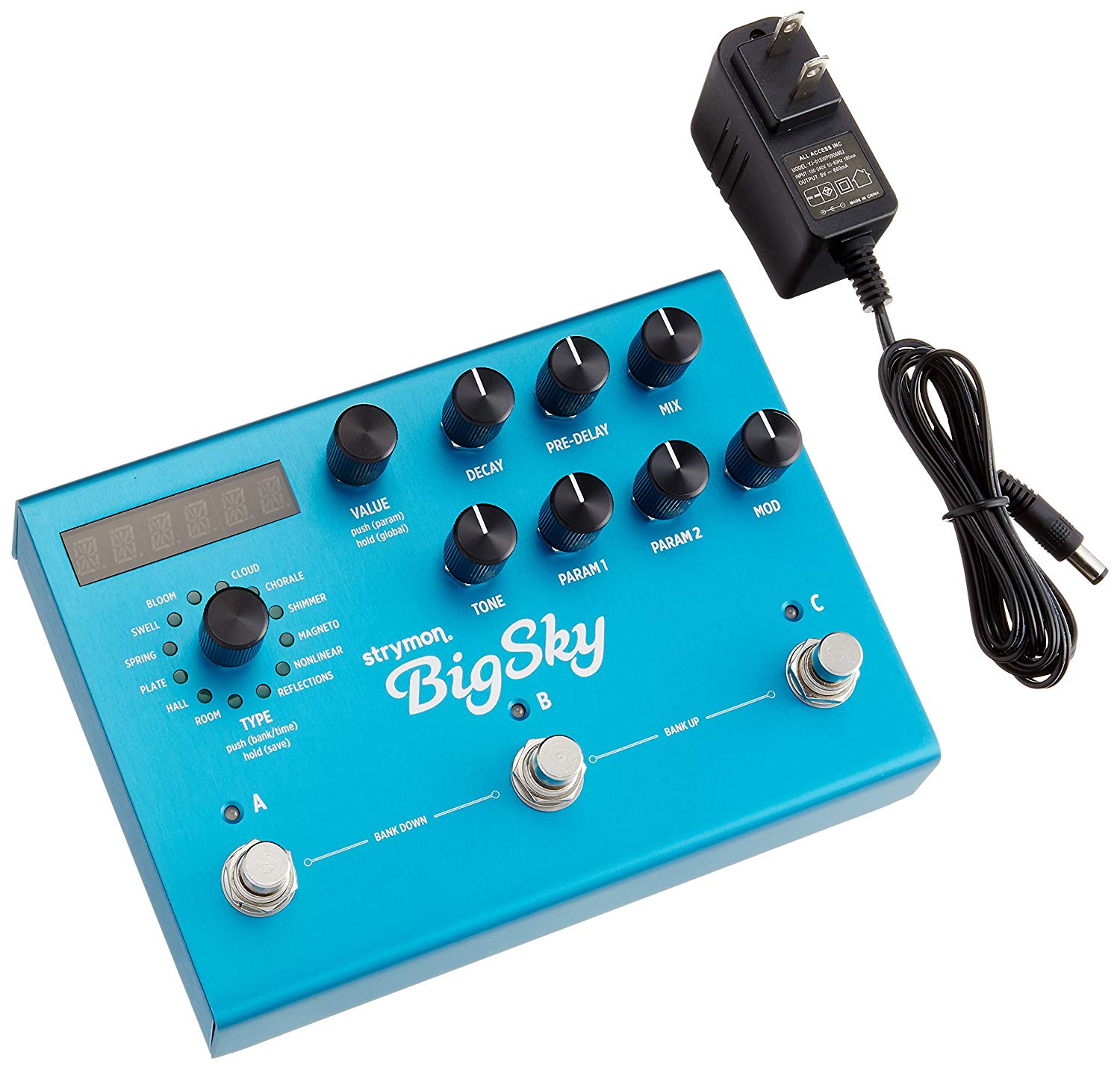 This multidimensional reverb pedal offers 12 studio-class reverb machines to select from. They include: Room, Hall, Plate, Spring, Swell, Bloom, Cloud, Chorale, Shimmer, Magneto, Nonlinear, and Reflections. These hand-crafted algorithms are further customizable with additional menu parameters.
BigSky by Strymon contains 7 tone shaping knobs. They are: Decay, Pre-Delay, Mix, Tone, Mod, and Param 1 and 2 knobs assignable per preset. The pedal also has 300 available presets, Infinite Sustain and Freeze functions, and Spillover, Reverb Persist, and Kill Dry modes.
The pedal's sturdy but lightweight design features three rugged metal footswitches that allow preset selection and effect bypass. It also features stylish anodized aluminum chassis and knobs as well as multi-colored preset LEDs.

Pros
Pros
Diverse sound library and rich functionality.
Elegant and durable design.
High-performing audio hardware and powerful processor.
Cons
Cons
High-priced.
Has more features than some amateur guitarists may have the use for.

---
②

Météore Lo-Fi Reverb by Caroline Guitar Company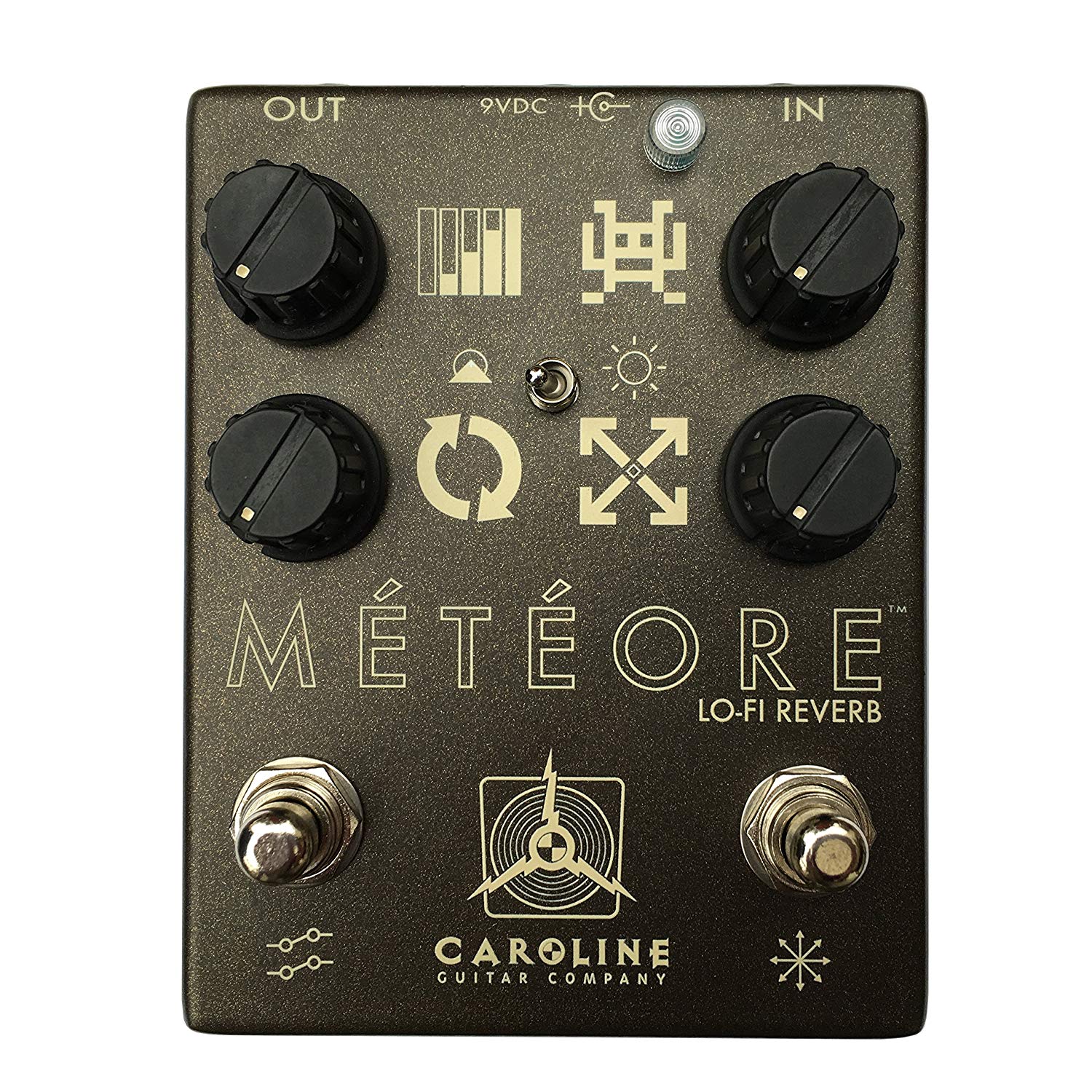 Météore by Caroline Guitar Company uses a digital spring reverb "brick" that delivers a nice spectrum of traditional sounds. Made by hand, this reverb pedal uses a frame that is very similar to the company's acclaimed Kilobyte Lo-Fi Delay.
The pedal features four control knobs, inviting you to take full charge of the reverb effect. Keeping your dry unaffected, the controls distort, magnify, extend, and intensify the reverb effect to the extent that you like.
Next to its Bypass control, the pedal also features the Havoc control that overloads the pedal, ramping the reverberation effect. The pedal's front panel also has the Dark/Bright control that changes the reverb tone without limiting the effect itself.
Pros
Pros
The original signal path stays pure.
Nice range of tones.
Great level of interaction between controls.
Cons
Cons
Relatively high-priced.
May not be a complete solution for some professional guitar players.

---
③

Topanga Spring Reverb by Catalinbread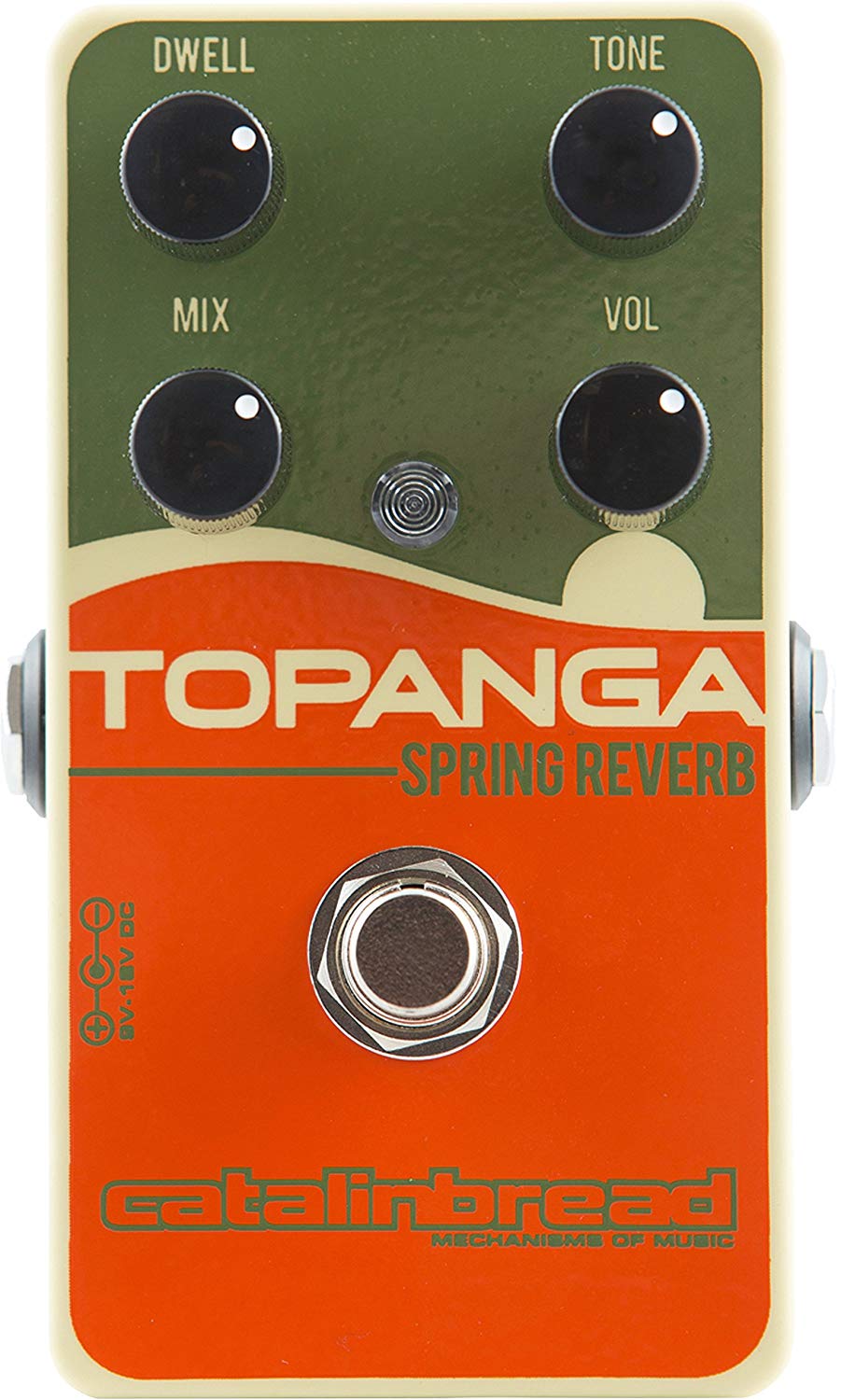 Featuring minimalistic design, this reverb pedal reproduces the feel of an authentic old school outboard spring reverb unit. As such, it delivers a saturated reverb effect, enriching the dry sound with a splashy wet.
The Topanga's front panel features four control knobs. The Dwell knob adjusts how hard the guitar signal drives the springs. The Tone knob controls how distant reverb appears in relation to the dry guitar sound. The Mix knob saturates the wet sound, extending beyond the original reverb tank units.
The pedal also features the Volume knob that allows you to tap into clean boost when you need it. It also has an internal switch that alternates between the true-bypass operation and the "Buff" aka "trails" modes.
Pros
Pros
Functions like a real outboard spring reverb unit.
Simple to use.
Delivers an authentic old school spring reverb sound.
Cons
Cons
Pricey.
Lacks in versatility.

---
④

Hall of Fame 2 Reverb Pedal by TC Electronic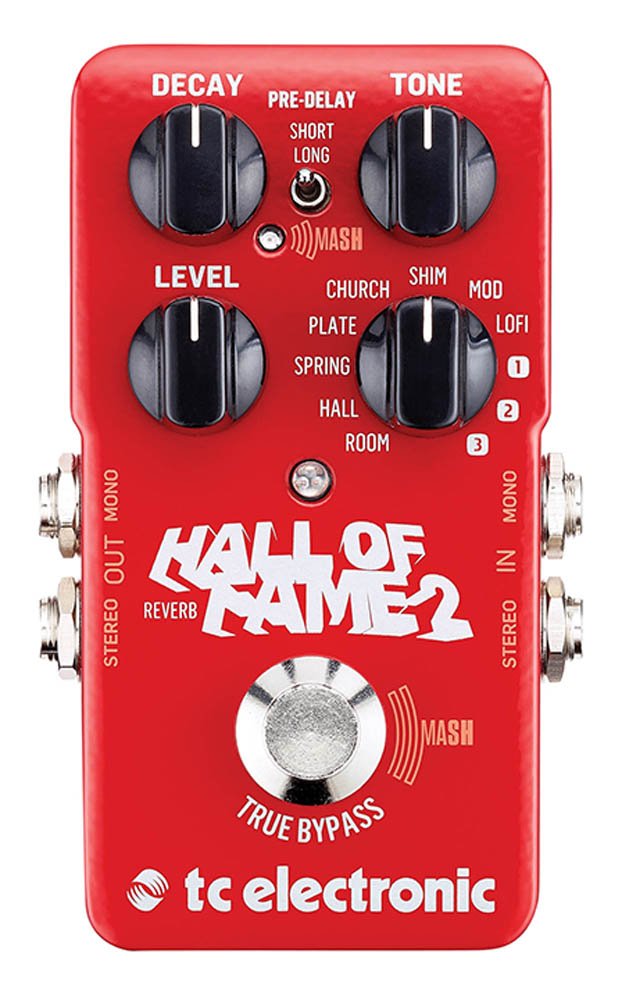 This pedal offers 10 different types of reverb that encompass a wide range of reverb sounds. Along with such versatility, the pedal's Shimmer reverb algorithm and its MASH footswitch allow for the true freedom of expression.
Besides the reverb type selection knob, the Hall of Fame 2 features three more control knobs: Decay, Tone, and Level. Decay extends reverb, reproducing the natural feel of a room or a canyon alike. Tone adjusts the effect between brighter and darker sounds. Level controls the intensity level of reverb.
The pedal features 3 dedicated TonePrint slots for your own customized reverb effects. And its free TonePrint App and TonePrint Editor provide help in designing such effects on your own.
Pros
Pros
Diverse selection of realistic reverb sounds.
Integration with PC, Mac, and iPad.
Relatively low-priced.
Cons
Cons
Power cord not included.
May have too much functionality for amateur guitar players.

---
⑤

RV-6 Digital Reverb by BOSS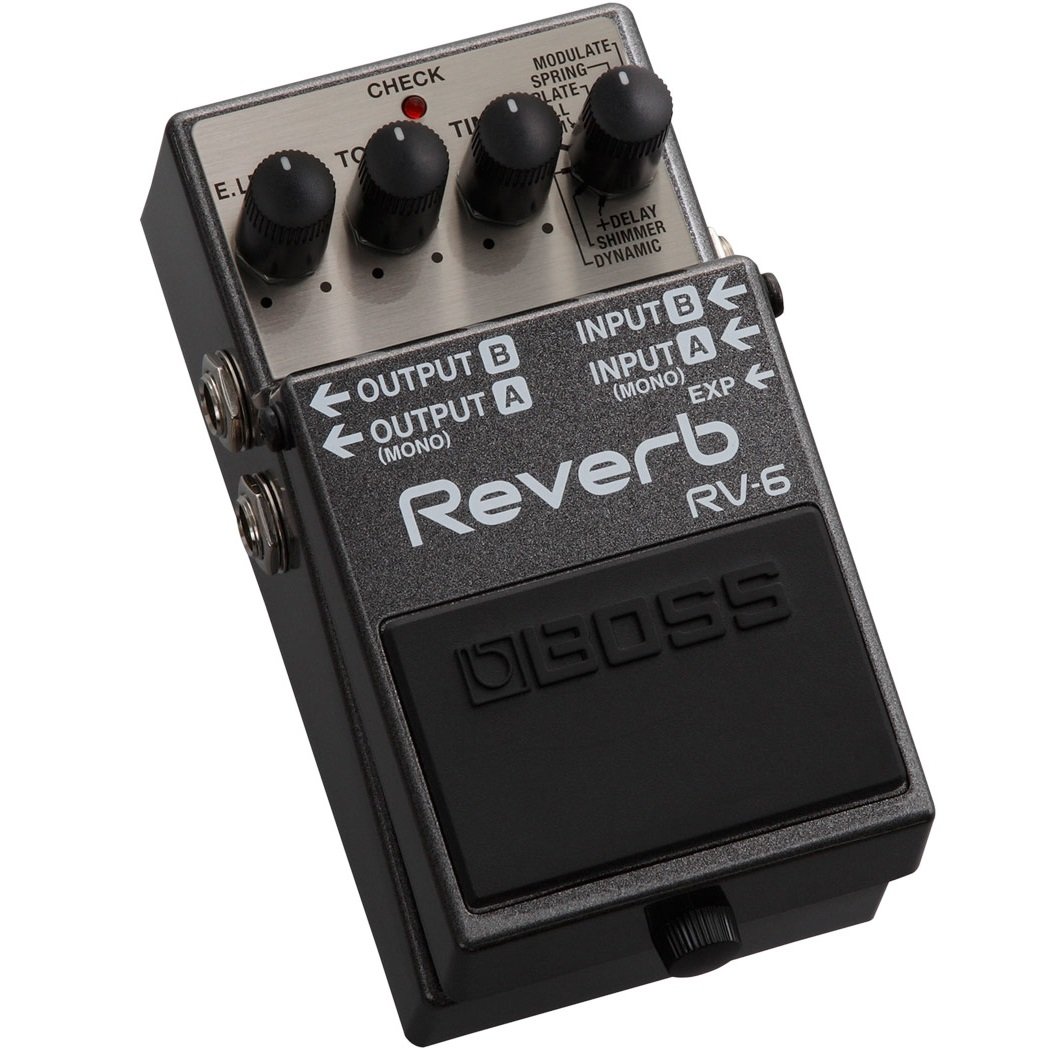 The RV-6 is a digital Delay and Reverb guitar effects pedal. It provides a range of ready-to-play reverb effects and combined Reverb+Delay modes. From the vintage-style Spring reverb to the rich Modulate setting, this pedal allows you to explore reverb in every way.
Besides the easy navigation between reverb types, the pedal features additional controls: E.Level, Tone, and Time. With their help, you can further adjust the parameters of each reverb mode down to the finest detail.
As the pedal blends in the calibrated reverb effect, it keeps the original guitar signal unaffected. It also has support for mono, mono-to-stereo, and stereo-to-stereo operation, fitting in nicely into almost any setup.
Pros
Pros
Nice selection of reverb sounds and parameters.
Interactive controls.
Suits almost any guitar playing setup.
Cons
Cons
May not be as versatile as some of its alternatives.
May seem sophisticated to some amateur guitar players.
---
⑥

Marine Layer Reverb Pedal by Fender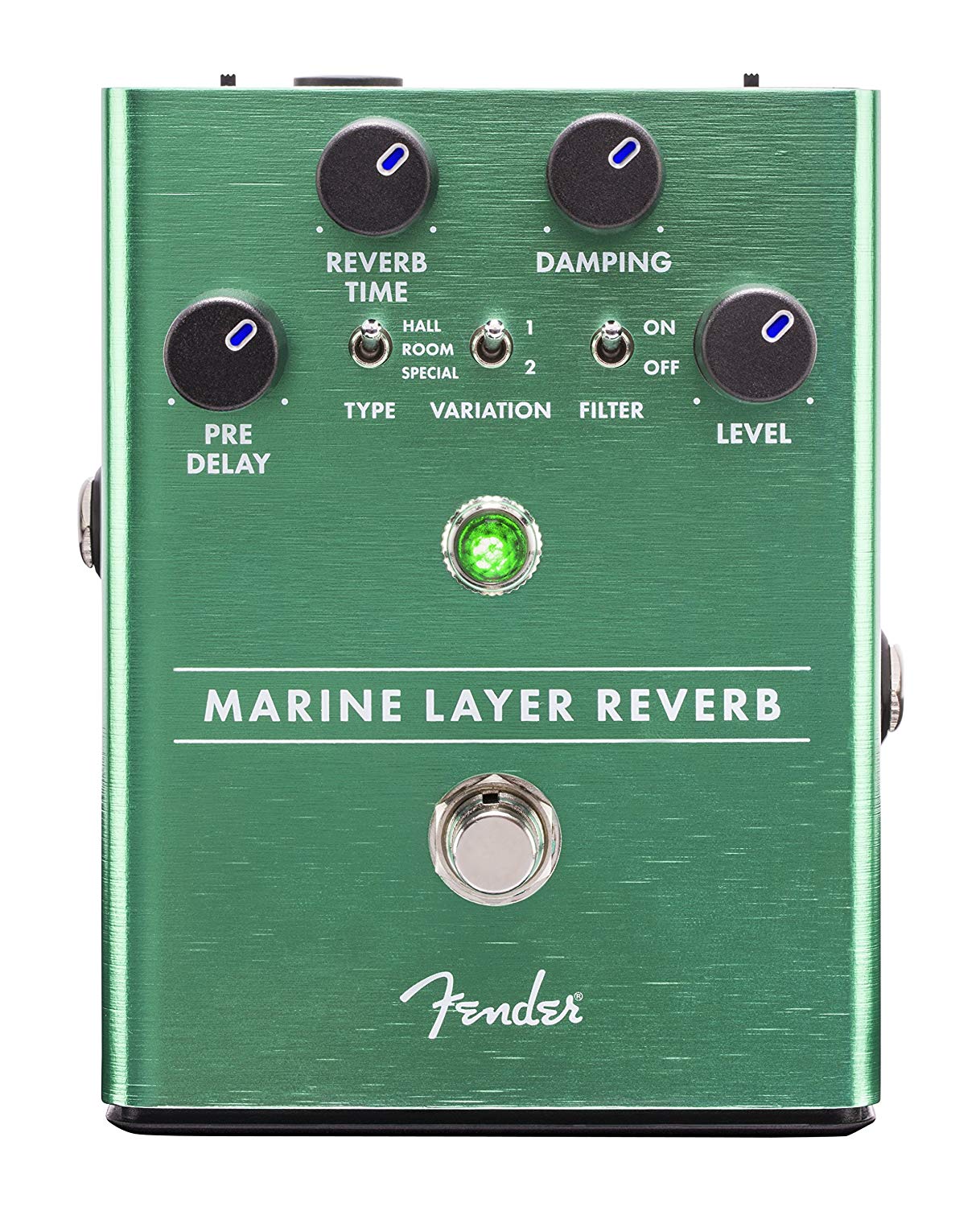 Part of the Fender series of Effects Pedals, this reverb pedal comes with three reverb types: Hall, Room, and Shimmer. As the Hall and Room algorithms reproduce the two classic reverb sounds, the Shimmer setting provides an ethereal-sounding pitch shift.
The pedal's front panel features the special Variation and Filter switches that allow you to modify the selected reverb effect. It also features four control knobs – Pre-Delay, Reverb Time, Damping, and Level – that calibrate the fine parameters of your reverb.
At the bottom, the pedal has a footswitch for the so-called "tails" mode of bypass operation. As such, this mode allows the reverb tails to fade out naturally as opposed to being cut off artificially.
Pros
Pros
Reverb algorithms have a realistic feel.
Simple in use.
Stage-ready design with LED backlit knobs.
Cons
Cons
Lacks in diversity compared to some of its alternatives.
Not the lowest-priced option.
---
⑦

Ethereal Delay and Reverb Pedal by Wampler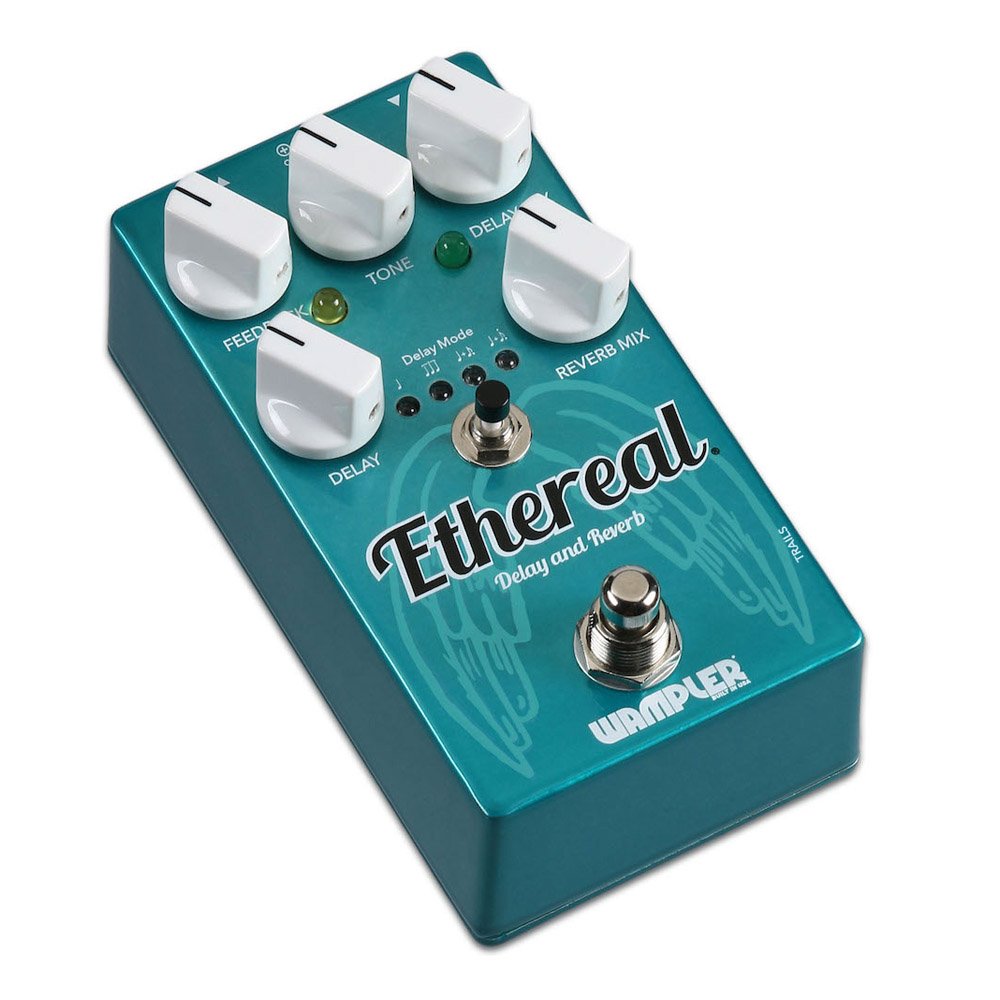 The Ethereal guitar pedal combines delay and reverb into an all-in-one effect. And gives you five control knobs to take charge of the effect: Feedback, Tone, Delay Mix, Delay, and Reverb Mix.
As a result, you can adjust a variety of fine effect parameters. They include the reverb decay, the number of delay repeats, the overall volume of delay and reverb, and many others. Being able to tweak the effect as you like allows you to find your perfect tones.
In addition, the pedal comes with four suggested settings: Rinse Cycles, Slap Happy, Ebb and Flow, and Dark Multi Cathedral. The Ethereal also features the trails button that allows the effect to gradually fade out after you mute the pedal.
Pros
Pros
Great control over a variety of fine reverb effect parameters.
High-grade components.
Much room for exploration.
Cons
Cons
Pricey.
Doesn't feature various types of reverb.

---
⑧

Levitation Reverb Machine by EarthQuaker Devices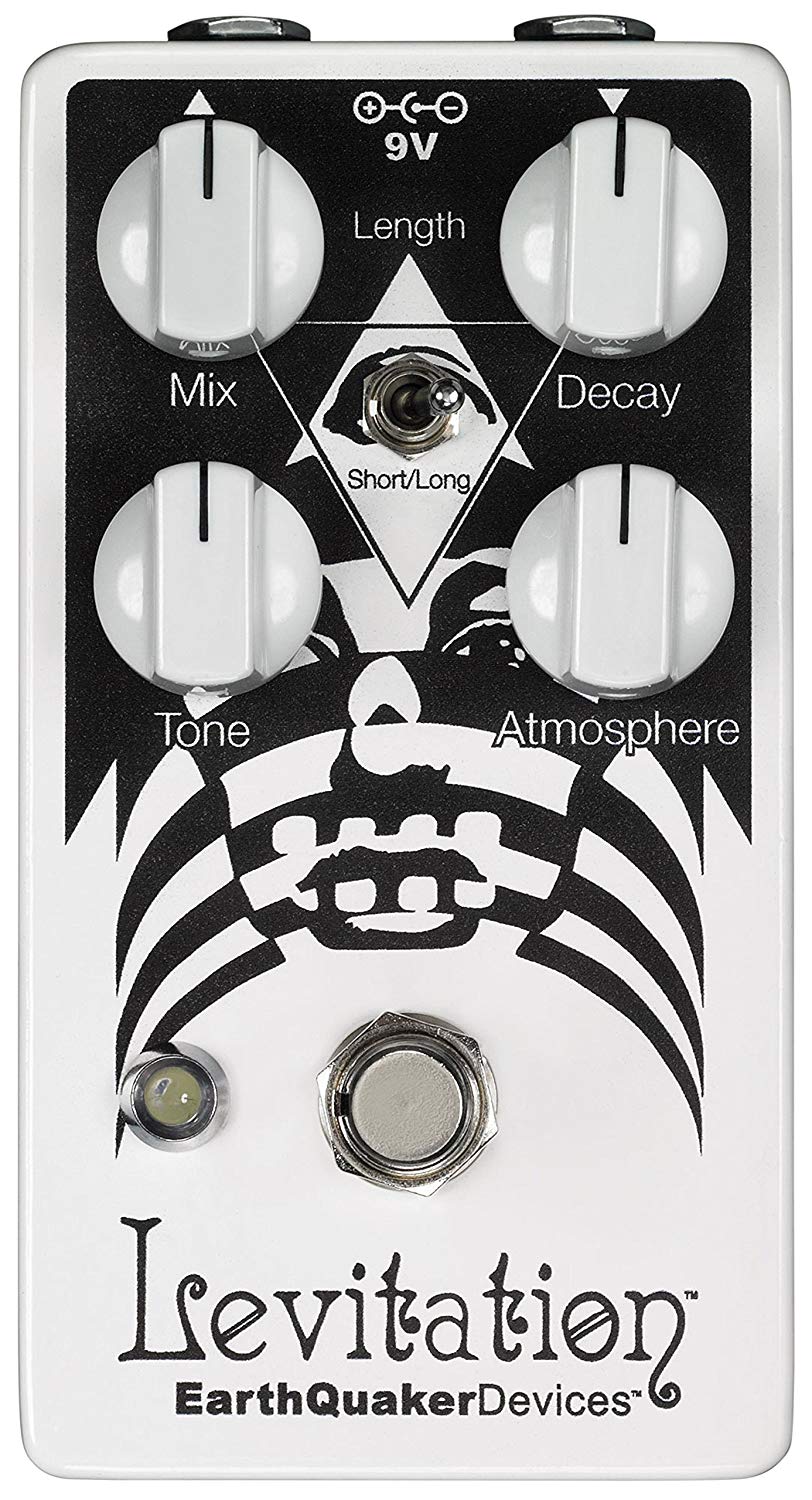 Leaving plenty of room for experimenting, this vintage voiced reverb pedal features a user-friendly design. As such, the pedal provides you with four control knobs – Mix, Decay, Tone, and Atmosphere – and one switch.
The Mix knob adjusts how much wet signal blends in with the dry sound. The Decay knob determines the length of the reverb decay. The Tone knob controls the amount of bright and dark tones present in reverb. The Atmosphere knob makes the effect less or more harmonic.
The switch in the middle of the pedal's front panel gives you control over the length of the reverb effect. As such, it allows you to alternate between a short and a long reverb.
Pros
Pros
Authentic vintage-style reverb sound.
Straightforward design.
Nice option if you want a psychedelic feel.
Cons
Cons
Limited range of reverb types.
May not be a complete solution for professional guitarists.

---
What Exactly Does a Decent Reverb Pedal Look Like?
The number of reverb pedals available on the market today is immeasurable. And deciding which one can serve your needs better can be frustrating. But it doesn't have to be. With the help of the criteria below, you can make an informed buying decision.
An ideal reverb pedal for guitar:
Features multiple reverb algorithms

From the natural room and hall effects to the modern shimmer effect, high-quality reverb pedals offer multiple types of reverb. The more reverb algorithms you can use, the more you can experiment with the effect.

Provides many controls over fine parameters

High-quality reverb pedals provide you with means to adjust every algorithm as you like. Being able to fine tune as many reverb parameters as you want allows you to discover your own perfect tones.

Does not have a low price

Low-priced reverb pedals often have a poor choice of reverb algorithms and control parameters. They may also feel artificial and produce inferior sound quality.

Has an easy-to-use design

Even though you want as much versatility as you can get, you don't want your pedal's design to confuse you. High-quality reverb pedals couple rich functionality with user-friendly design, that doesn't frustrate you with sophisticated features.

Is ready for use on stage

If you plan to use your reverb pedal on stage, a durable design is a must. In addition, stage-ready reverb pedals use dedicated power cords instead of batteries for their power supply.

Is an out-of-the-box solution

A high-quality reverb pedal allows you to enjoy reverb from the get-go, providing all the presets and accessories you need.
These criteria are reasonable if you want a complete solution. But many reverb pedals for guitar do not live up to all of them. Luckily for you, our guide has discovered the one pedal that does. And as such, it exemplifies everything that we want to see in an ideal reverb pedal.
BigSky by Strymon: The Entire World of Reverb in One Pedal
Each of the reverb pedals that our guide reviews has something to boast of. It can be the blend of rich functionality and low price in Hall of Fame 2 by TC Electronic. Or the extreme authenticity of sound in Topanga by Catalinbread. No matter what makes it unique, every reverb pedal in our guide has merits.
Yet, it is the BigSky by Strymon (CHECK BEST PRICE HERE) that stands out the most. Delivering top-of-the-range quality and superior functionality, it provides a complete reverb effect solution for professional and amateur guitar players alike.
With BigSky by Strymon, professional guitarists can finally discover the tones of reverb that can be uniquely their own. While amateur and beginning guitar players get to explore the infinite range of reverb dimensions that BigSky by Strymon contains.