What is the Best Guitar Distortion Pedal? Top High Gain Distortion Pedals for 2020
Once seen as rebellious, distortion is now a well-established guitar effect. Having inspired numerous genres of music, distortion has won the universal love of amateur and professional guitarists alike. It comes as no surprise that the distortion pedal for guitar is now part of almost every serious playing rig.
Despite what its name suggests, though, distortion is not as straightforward as simply twisting the sound in a certain way. As the legendary Jimi Hendrix has shown, distortion is a sophisticated effect, and the avenues of exploring it clearly abound.
As such, distortion suits a rich variety of musical genres, from heavy metal and classic rock to blues and country. And each particular musical genre uses a style of playing guitar that employs the distortion effect in its own way.
Because of this, most distortion pedals for guitar don't have the capacity to fit in with every guitar playing style. And you may be hard pressed to find those that allow you to explore an almost unlimited range of distortion.
Furthermore, the market today has no shortage of distortion pedals, and they all differ in terms of quality and functionality. While some offer great control over the effect and amazing sound, others sound inauthentic and leave you with shallow options.
Luckily, you don't have to spend any of your time trying to find the right distortion pedal all by yourself. Our guide has already reviewed the top seven distortion pedals, selecting the one that seems to do the best job.
Best Distortion Pedal List
---
①
Pugilist Distortion by Fender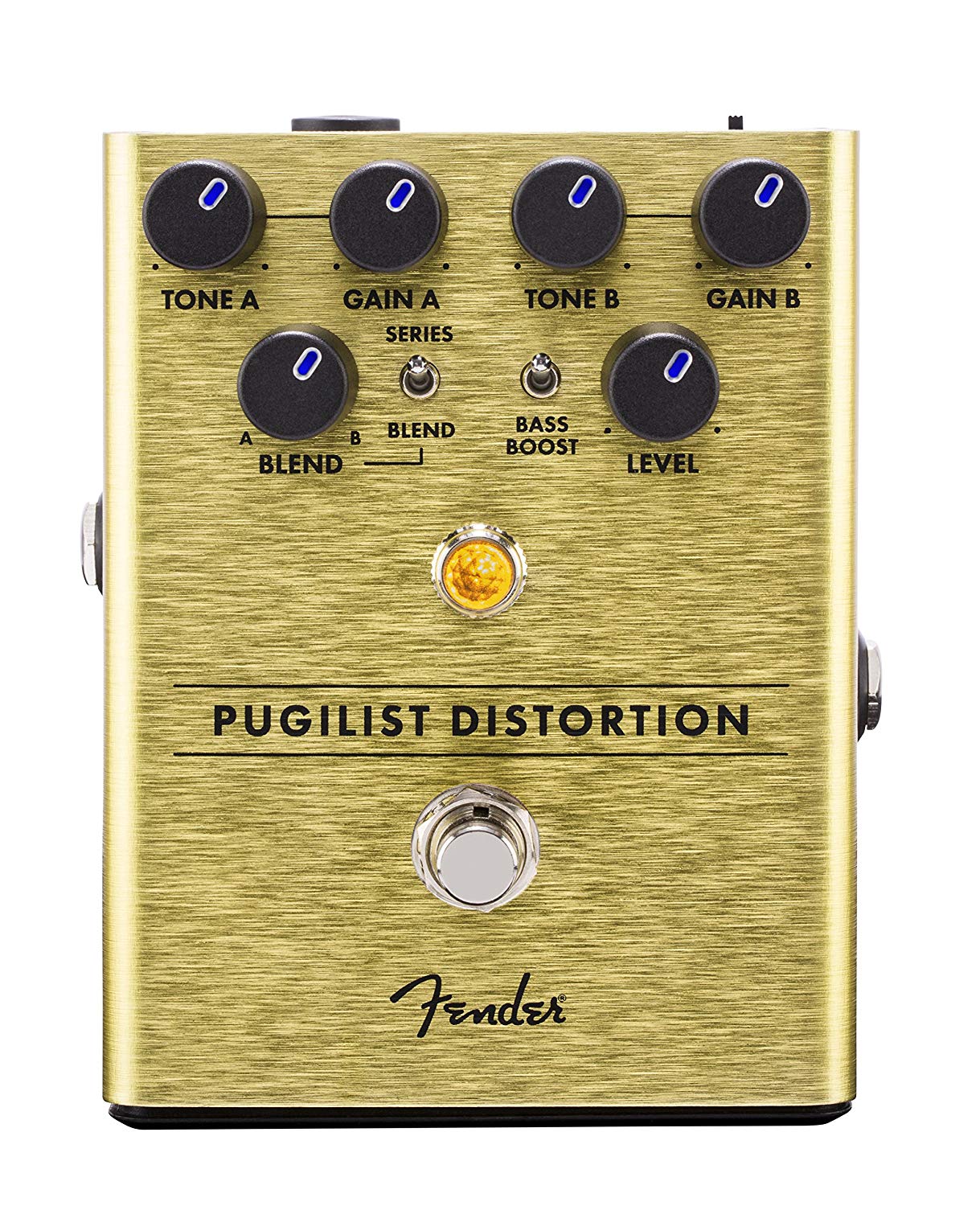 Made by the world-renowned brand, this pedal features dual gain engines with a separate tone control for each distortion channel. It also has a Series/Blend switch that stacks the gain engines and changes the tone in a more distinct way. With these features combined, fine-tuning distortion becomes a bliss.
In addition, the Pugilist Distortion includes a Blend control that mixes the dry sound with the effect as you like. The pedal also has a Bass Boost switch that smooths out the tone of the distortion.
Furthermore, this lightweight distortion pedal has a stage-ready construction, featuring LED-backlit control knobs and durable anodized aluminum built. The pedal's design can also boast of its exclusive magnetic battery door that allows to change batteries effortlessly.
Pros
Pros
Full command of key sound parameters.

Highly interactive controls.

Multiple variations of distortion.
Cons
Cons
Power cord not included.

Not the lowest-priced option.

---
②
MT-2W Waza Metal Zone Distortion by BOSS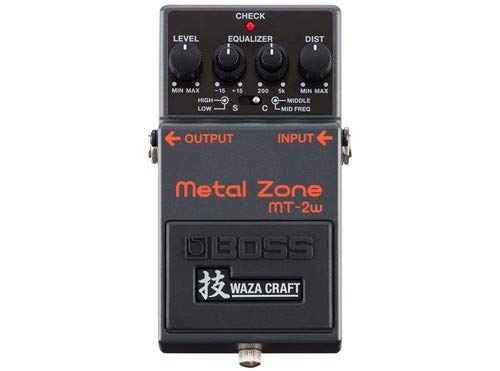 Featuring its all-analog audio circuitry, this distortion pedal uses an innovative dual-stage gain circuit built that contains discrete analog components. As a result, the MT-2W Waza Metal Zone pedal is capable of operating in two distinct modes: Standard and Custom.
Standard mode improves the sound of the company's acclaimed MT-2 Metal Zone pedal, increasing its clarity and diminishing the noise. Custom mode gives full access to rich dynamic gain tones that can boast of broader range and thicker low end.
In addition, the equalizer in the MT-2W Waza Metal Zone distortion pedal allows for a high level of sound customization. As such, it features three bands – High, Low, and sweepable Midrange – with each band capable of up to 15dB boost/cut.
Pros
Pros
Clear sound and low level of noise.

Versatile control over the distortion effect.

Japanese quality.
Cons
Cons
Rather high-priced.

The control bands have no LED-illumination.

---
③
M75 Super Badass Distortion by MXR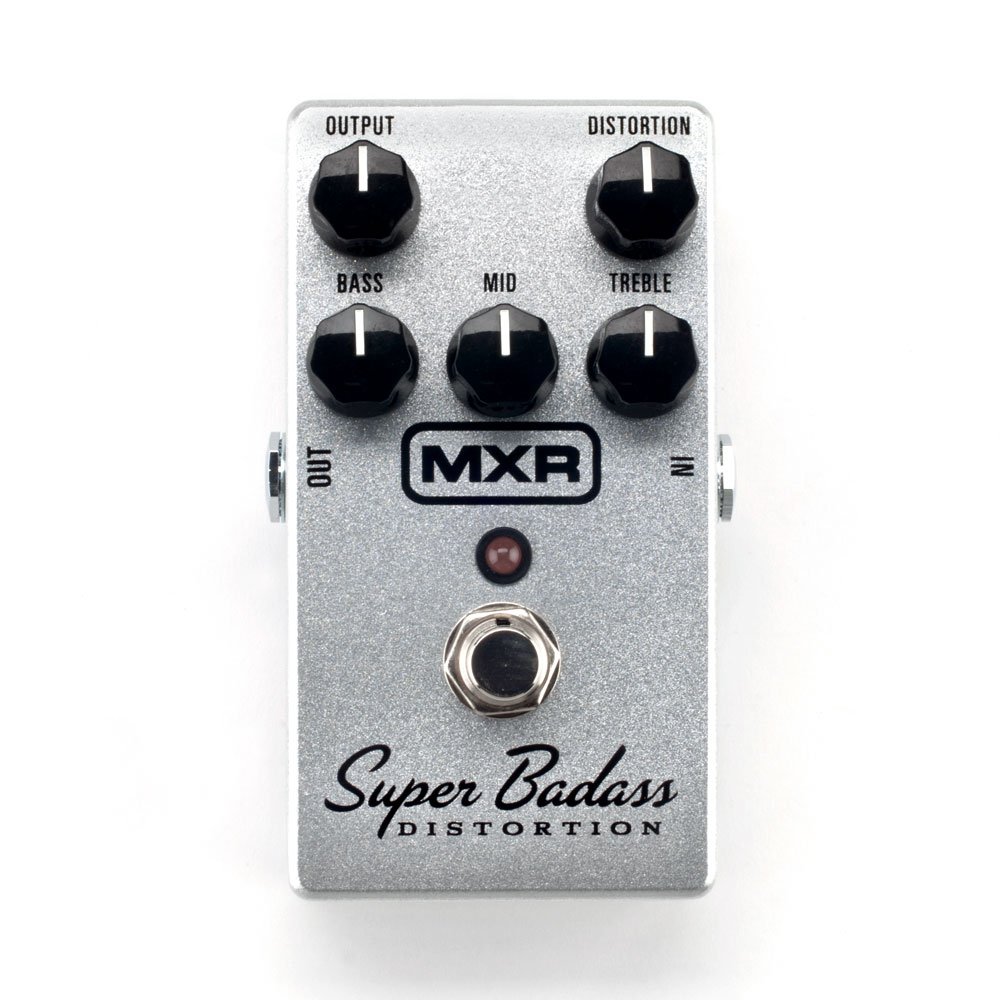 This 100% analog distortion pedal provides access to multiple variations of distortion, encompassing whole decades of the effect's rich history. As such, it delivers almost any shade of distortion, from the lower-gain 70s classic rock to the higher-gain modern metal.
On top of that, the M75 Super Badass Distortion features a 3-band equalizer with the Bass, Mid, and Treble controls. As a result, you can further shape the effected sound once you've zeroed in on the desired amount of distortion.
The pedal also has true bypass mode that allows you to keep the dry sound completely unaffected whenever you want. It also features a durable built, lending itself easy to being used on the road and on the stage alike.
Pros
Pros
Controls have good level of responsiveness.

Diverse range of distortion tones available.

Sturdy design.
Cons
Cons
Not the lowest-budget solution.

The bands are not LED-backlit.

---
④
Metal-End King by Biyang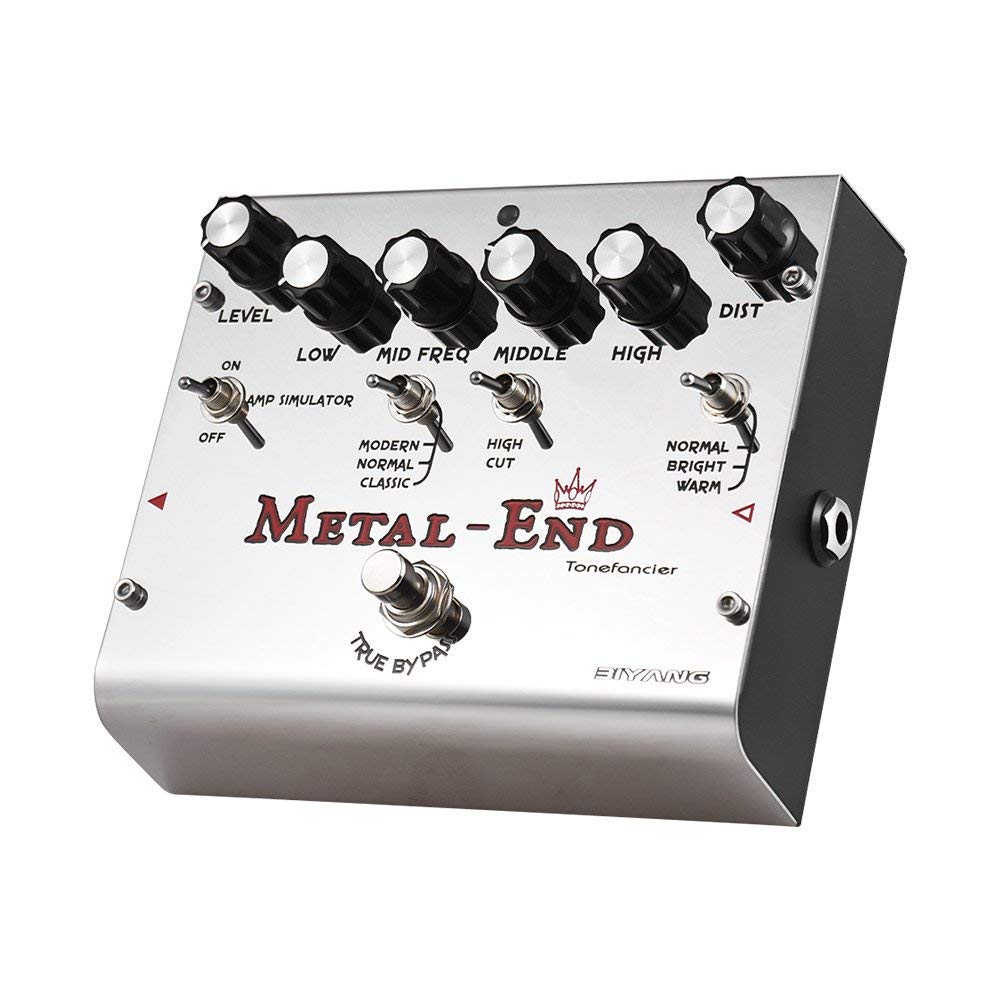 Part of the company's Tonefancier series of effects pedals, the Metal-End King features 3 distortion modes: Modern, Normal, and Classic. Along with distortion degree knob, the toggle switches further adjust each mode with 3 distinct tones: Normal, Bright, and Warm.
The Metal-End King can also boast of coming with a built-in amplifier simulator that has support for high-frequency cutting function. The pedal also has an EQ that features 4 control bands: Low Boost, Middle Boost, Middle Frequency, and High Boost.
Furthermore, the pedal has a true bypass footswitch that allows you to keep your dry guitar sound unaffected during bypass. At the same time, the pedal's durable design features stainless steel shell and sealed potentiometers that ensure longer service life.
Pros
Pros
High degree of customization.

Durable built and components.

Low-budget.
Cons
Cons
Power cord must be bought separately.

Has no LED-illumination for the pedal's tone controls.

---
⑤
RAT2 by Pro Co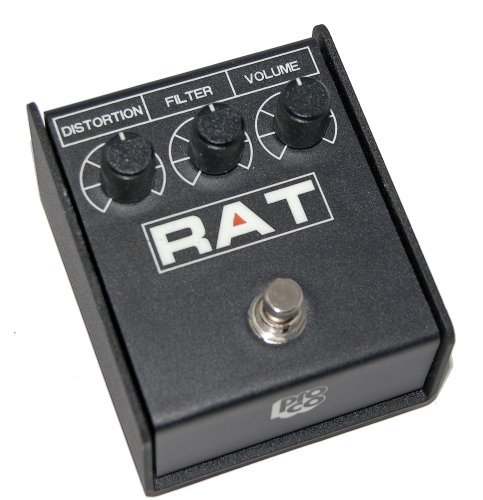 Featuring a user-friendly design, the RAT2 by Pro Co allows you to quickly tap into your preferred tone of distortion. As such, its front panel has a rather classic setup of only three main control knobs: Distortion, Filter, and Volume.
The Distortion control knob allows you to zero in on the desired amount of gain in the pedal's op-amp circuit. The Filter knob adjusts the tone of the effected sound, allowing you to increase or decrease the amount of treble. The Volume control knob determines the level of the sound output.
The pedal's simplistic design also features a true bypass footswitch that preserves the quality of the original dry guitar sound.
Pros
Pros
Great for those who look for authentic tones of distortion.

Simple user-friendly design.

Good functionality at a relatively low price.
Cons
Cons
Limited range of distortion tones available.

Does not include a power cord.

---
⑥
DS-1 Distortion by BOSS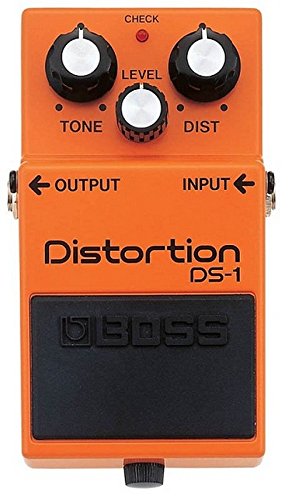 Despite its seemingly minimalistic design and low price, the pedal offers a unique range of distortion tones to choose from. As such, it features the original shades of distortion back from 1978, providing the staple hard-edged attack and smooth sustain.
The pedal's compact front panel design features the classic setup made of three key control bands: Tone, Distortion, and Level. As the Distortion control band adjusts the amount of gain, the Tone control knob allows you to shape the effect.
In addition, the DS-1 Distortion pedal keeps the original tone of the dry guitar sound unaffected. As a result, it doesn't mask the unique sound characteristics of your playing style or your guitar.
Pros
Pros
Clear sound at maximum distortion settings.

No effect muddiness when the volume is low.

Good ratio between the quality and the price.
Cons
Cons
Limited effect customization options.

Controls have no LED-illumination.

---
⑦

Dark Matter Distortion by TC Electronic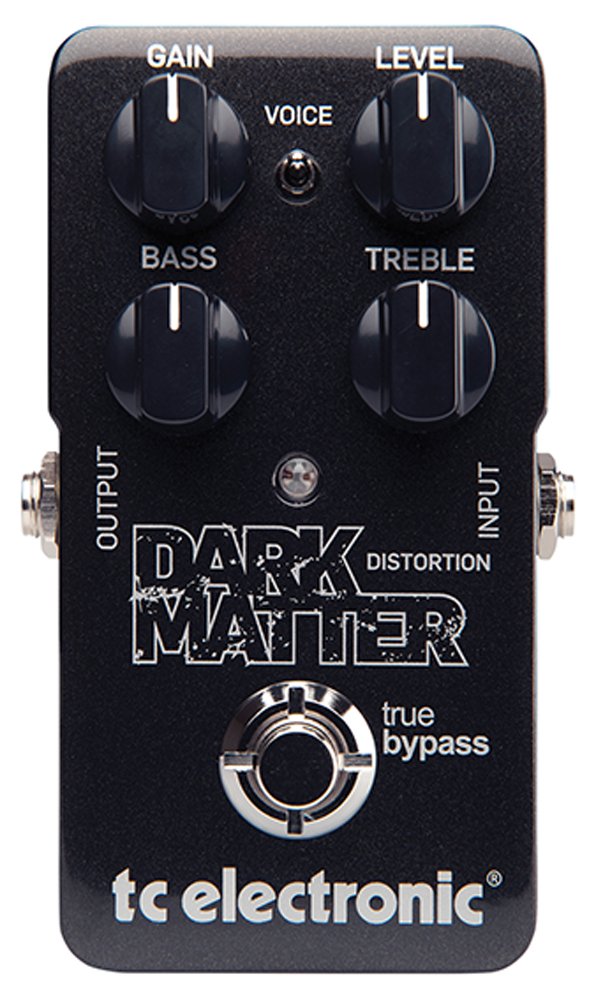 Based on an all analog-drive circuit, this distortion pedal can produce both classic and modern tones of distortion. The pedal's four-knob front panel's design provides an opportunity to narrow down the distortion tone to the desirable one.
As such, the Dark Matter Distortion features a two-band equalizer with Bass and Treble control knobs for fine tuning. It also features an additional Voice switch that allows to bias the pedal's sounding towards either modern or retro tones. Altogether, these features provide decent control over the effect.
Furthermore, the pedal has support for true bypass. As a result, the Dark Matter Distortion steals nothing from the original dry tone when the distortion pedal is off.
Pros
Pros
A low-budget option with good functionality.

Dynamic range of authentic distortion tones.

Vintage-voiced distortion sound.
Cons
Cons
No LED-illumination in control knobs.

Gain range isn't high enough for modern metal distortion tones.

---
Why Use a Distortion Pedal to Begin With?
Discovered by accident, the distortion effect has quickly conquered the hearts and minds of guitar players across many different styles. From rock and metal to blues and country, almost every guitar style has grown to appreciate the sustain distortion provides.
By forcing the guitar signal to appear a lot thicker, distortion helps to extend the sounding of every single note. As a result, the distortion effect gives the guitar sound more overall density, allowing for a bulkier and weightier feel.
Thanks to these unique qualities, distortion has become indispensable to those guitarists who need their parts to be more pronounced. Not to mention that such guitar playing styles as rock and metal are unimaginable without the routine use of distortion.
Modern-day distortion pedals leave no shortage of ways to explore the effect. As such, they produce diverse variations of distortion that range from smooth and pleasant sustain to harsh and spiky tones. A well-chosen high-quality distortion pedal can help you to tune in to the exact distortion tone you desire.
Yet, despite the abundance of distortion pedals today, choosing the one that fits in with your needs still remains hard. Luckily, all high-quality distortion pedals have similarities that you can take note of before buying one for your guitar rig.
How to Pick the Best Distortion Pedal for Your Guitar Rig
The array of distortion pedals on the market today is almost endless. And knowing what to look for can save both time and effort. The points below will help you to zero in on the distortion pedal that you rig can truly benefit from.
A decent distortion guitar effects pedal:
Offers multiple distortion variations

Best distortion pedals feature more than just one gain engine. Furthermore, they also let you stack the gain engines when a prompt change in distortion tone is desirable.

Provides enough tone controls

Facing too many tone controls can be confusing. But a nice selection of them is the feature of every high-quality distortion pedal. When you have good control over the effect, you can tune in to the exact tone of distortion you like.

Comes in user-friendly design

The pedal's versatility is of little use if all it does is cause you frustration. Top-quality distortion pedals manage to pack their elaborate functionality into straightforward designs.

Features stage-ready construction

If a distortion pedal is top-of-the-range, chances are it can boast of having LED-illuminated tone controls and a sturdy built.

Works right off the bat

Tweaking the distortion pedal can be fun. But the best distortion pedals let you enjoy and explore the effect from the get-go.

Has reasonable price

Low-budget distortion pedals may seem very appealing, but their functionality is often inferior compared to higher-priced alternatives.
Essentially, these points represent signs of a high-quality distortion guitar effects pedal. Below, our guide uncovers which one of the distortion pedals we have reviewed before matches all these points the most.
Conclusion & What is the Best Guitar Distortion Pedal
Our guide has reviewed seven top distortion pedals, taking a close look at their merits as well as their drawbacks. But although each distortion pedal in our guide offers something unique, many of them don't seem to be complete solutions.
Fender's Pugilist Distortion makes for a nice exception. And it is for this reason that our guide recommends it as the best distortion pedal. Boasting superior quality assured by the world-renowned guitar brand, Fender's Pugilist Distortion (CHECK BEST PRICE HERE) delivers rich functionality at a reasonable price.
Providing bountiful control options, Fender's Pugilist Distortion makes finding the right tone easy and turns exploring the effect into bliss. And the pedal's stage-ready construction and LED-illuminated knobs allow you to enjoy everything it has to offer anywhere and anytime.