What is the Best Guitar Delay Pedal? Top Analog & Digital Delay Pedals
When it comes to playing guitar, whether professionally, or just as an amateur, you'll notice that one of the most common sound effects that are frequent on guitar is definitely a delay-type effect. There are numerous delay effects, but with today's technology, while analog is preferred by some, digital delay pedals have been more in full swing for years, as they can often emulate the analog sounds that we know and love, from past to present day music. In this article, we're going to give you a top five list and show you just what the best delay pedal is, because while multiple competitors are out there, you want a delay pedal that gives you not only the best bang for your buck but offers the most quality, is the easiest to use, and offers more than just one little preset (of course that is more user preference as some people like having a pedal board with hundreds of effects pedals. You know you're a pedal junky if you have 30 pedals instead of an effects processor) sound.
Top 5 Delay Pedals
Digital Delay vs. Analog Delay Pedals
While both analog versions of delay effects and digital delays have their similarities and strong points, the main thing to realize is how different each of these pedals are when it comes to how the sound is actually delivered. We'll get into this a bit for you so you can better understand how they work to deliver similar but different sounds.
Analog delays have a special bucket-brigade chip that makes the analog signals from your instrument into the capacitors (often multiple) at a block per cycle interval, then noticeably you can tell analog because the sound gets either brighter or darker, and sometimes quieter, plus more broken with each cycle step. Because of this, analog delays often don't have as much capacity in delay times available (like looping for 8 seconds) as a digital delay pedal would have.
Digital delay uses digital signals that can be processed as long or short, and they can have tone adjustments in their modality as well, making them bright, dark, full, treble, bass, or otherwise quieter or louder. Digital pedals are often more customizable and have longer ranges of delay, which can even be routed a lot of times into MIDI controllers in some models. The difference though is that rather than being fully digital or fully analog, the digital pedals have a converter that converts the analog signal at the input into a digital signal, then back to an analog signal at the output of the pedal. In the beginning of digital processing, it was pretty common to have some terrible audio-to-digital and digital-to-audio converters in your pedals, but with modern technology, they've been able to offer excellent audio quality when it comes to the conversion process, so well in fact, that many digital pedals, plugins, and processors today can completely mimic the old analog converters of yesterday.
Best Guitar Delay Pedal List
Here's our contender's list. While it's not a top 10, 20, or even more than that, we're going to comprise a top 6 list for you of the best guitar delay effects pedals on the market today. While we have picked a number one on our list, you can be the judge.
---
①

Boss DD-500 Digital Delay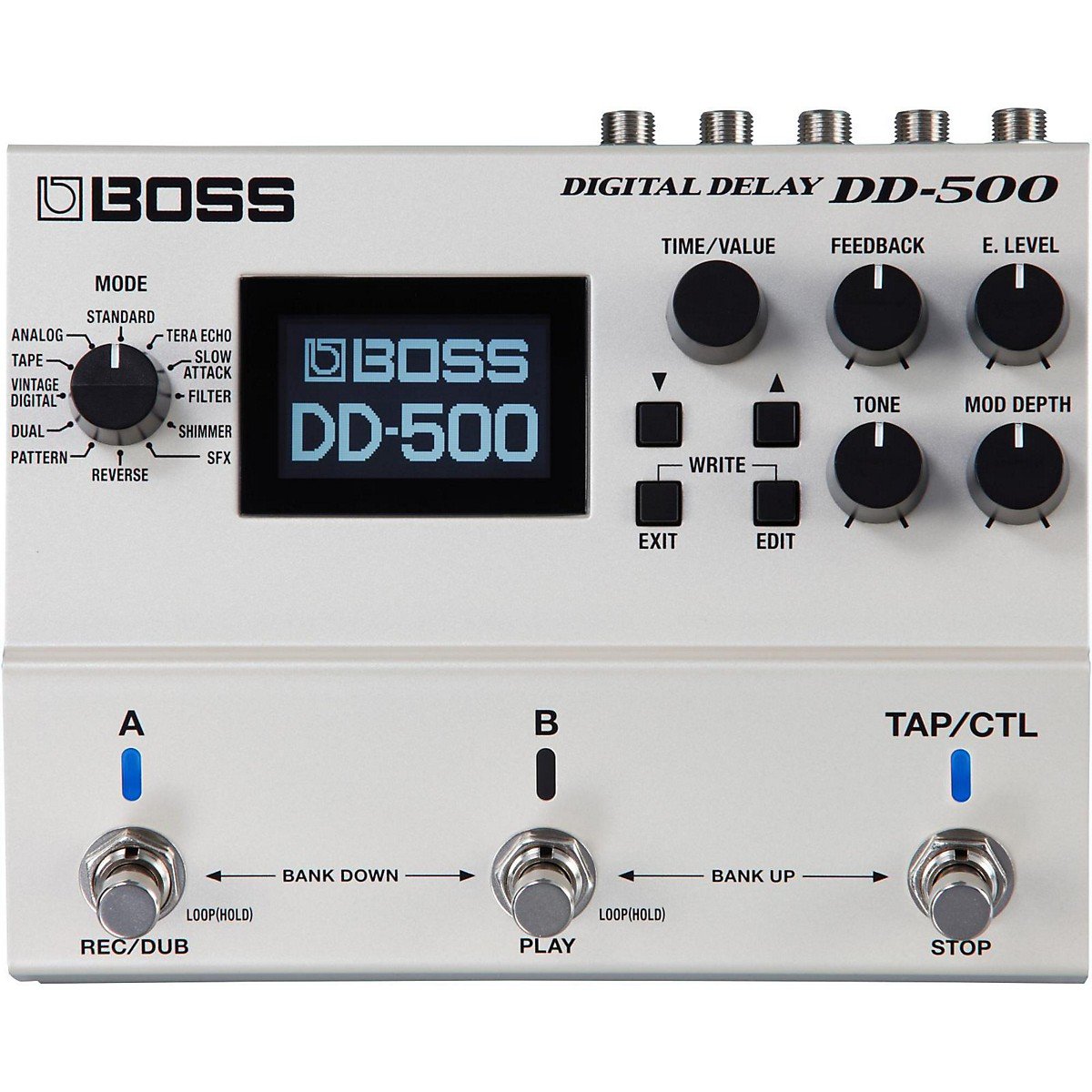 Super Guitar Effects Giants, BOSS has done it again by delivering yet another astounding digital delay pedal. You can use 32-bit processing and utilize 12 customizable delay modes to get sounds from old school, all the way to new school sounds. Everything is placed in convenient locations and you can even record, overdub and make your own loops with their special looper. This fully functional MIDI controller also allows both 5-pin MIDI in and out as well as USB, as well as analog input and output (dual channel or mono), and you can easily see your settings and presets on the blue LCD screen. Just by your 9V power supply and you're ready to rock out like a pro, using this delay pedal which is perfect for in the studio, practicing at home in peace and quiet, or even your live performances.

Pros
Pros
A ton of tweaks available at the palm of your hands.
Boss is one of the most reputable makers of digital guitar effects.
You can record and loop your own overdubs for custom guitar sounds.
Great for use live or in the studio.
Cons
Cons
Having too many settings can be daunting and overwhelming.
The pedal is pretty heavy and bulky.
Doesn't come with its own 9V power supply.

---
②

Strymon Timeline Delay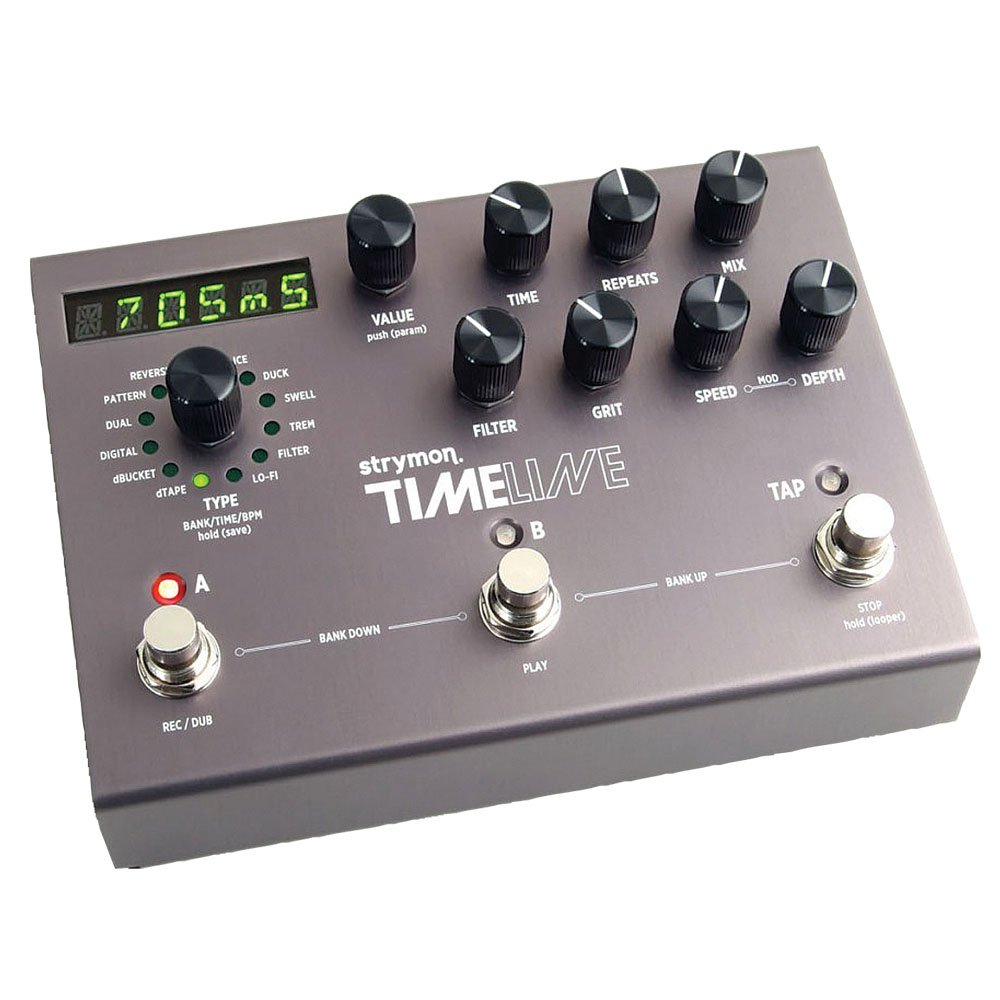 Strymon has done it again with one of the best-timed delays on the market in this unique pedal with numerous effects settings. While being more of a delay effects processor, this delay offers delay types from digital delay styles all the way to emulating numerous analog delays with a high-quality converter. You can save up to 200 presets of your favorite sounds, and just like the BOSS, it's completely stereo (for live and studio use) and digitally MIDI capable (it only has 5 pins and not USB though). You can also send MIDI into the pedal's looper function. While it may cost a little more than other popular brands, you definitely get one of the most durable petals built to look and stand like a tank for your needs.
Pros
Pros
Numerous settings and effects make this pedal unique.
Durable and rugged design is nearly indestructible.
12 Delay types and MIDI functionality.
Create 30 second loops easily.
Comes with a 9V DC Power Supply
Cons
Cons
Too many features can make this pedal confusing.
Analog to Digital Converters aren't the best out there.
Can be considered costly.
A pretty big machine with only the time in milliseconds on the display.

---
③

TC Electronic Guitar Delay Effects Pedal (960910005)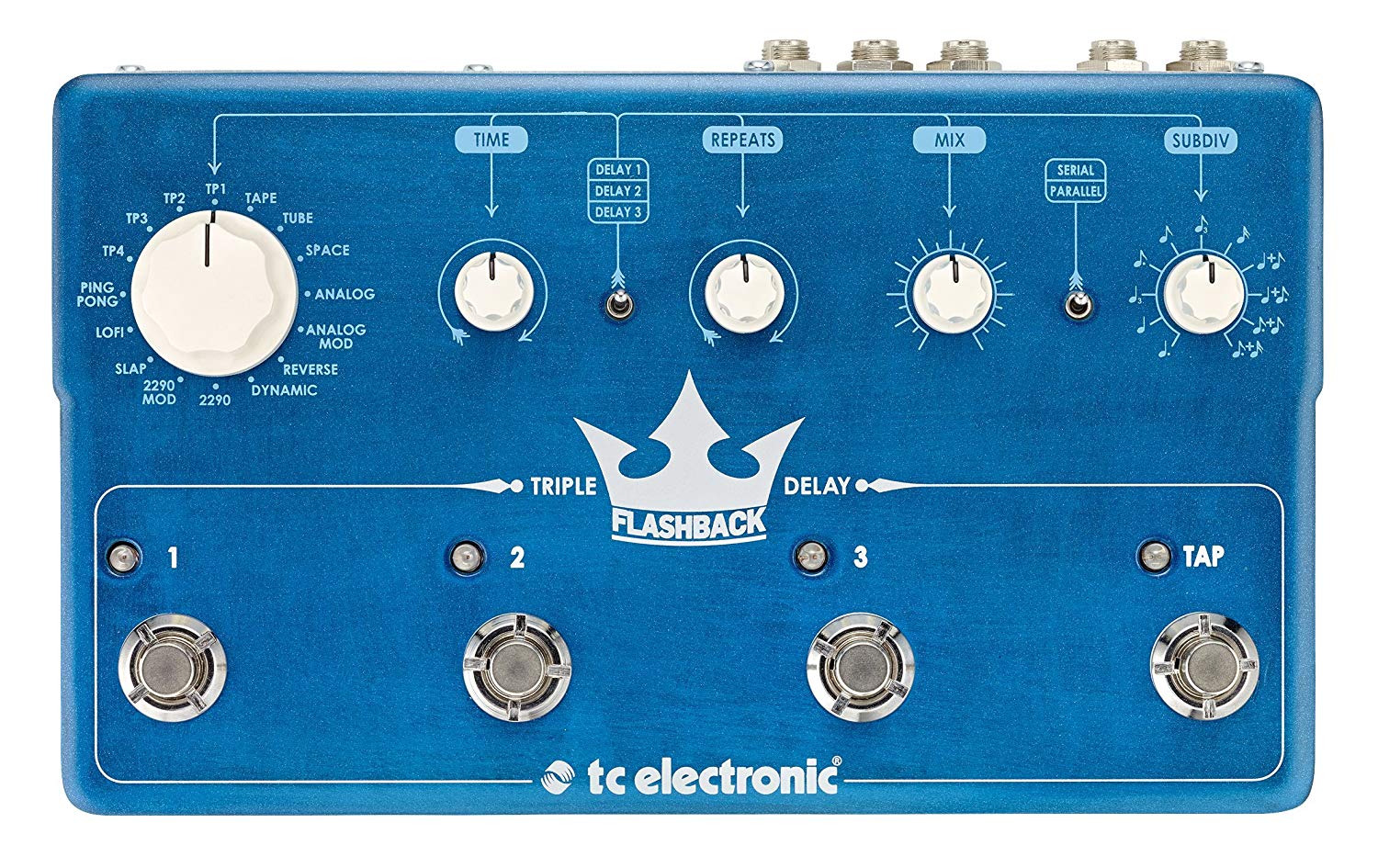 TC Electronics has created a decent competitor to Boss when it comes to functionality and MIDI capabilities (both USB and 5-PIN ins and outs). You can use up to 3 of the delays at the same time, and even use their patented TonePrint technology in their DC adapter (included). You can bypass any of the delay settings at any point by the tap of a footswitch. This machine also offers 12 delay types and allows 4 different spots to enable your TonePrint delays. You can also control the mix from the dry sound to the wet sound using their innovative bypass abilities. What's even better is the price tag for such a powerful machine.
Pros
Pros
May not deliver quite so many customizable delay sounds (like tape rewind, etc.).
You can use 3 flashbacks in separate switches all on one pedal processor.
Switches turn on and off very quietly.
It's one of the few delay pedals that comes with its own power supply.
Uses their tone print technology also for making your own settings.
Cons
Cons
Does not have a looping function.
Does not have literally all popular (like tape rewind) delay sounds.
The digital to analog and analog to digital converters could be better.

---
④

Wampler Ethereal Delay and Reverb Pedal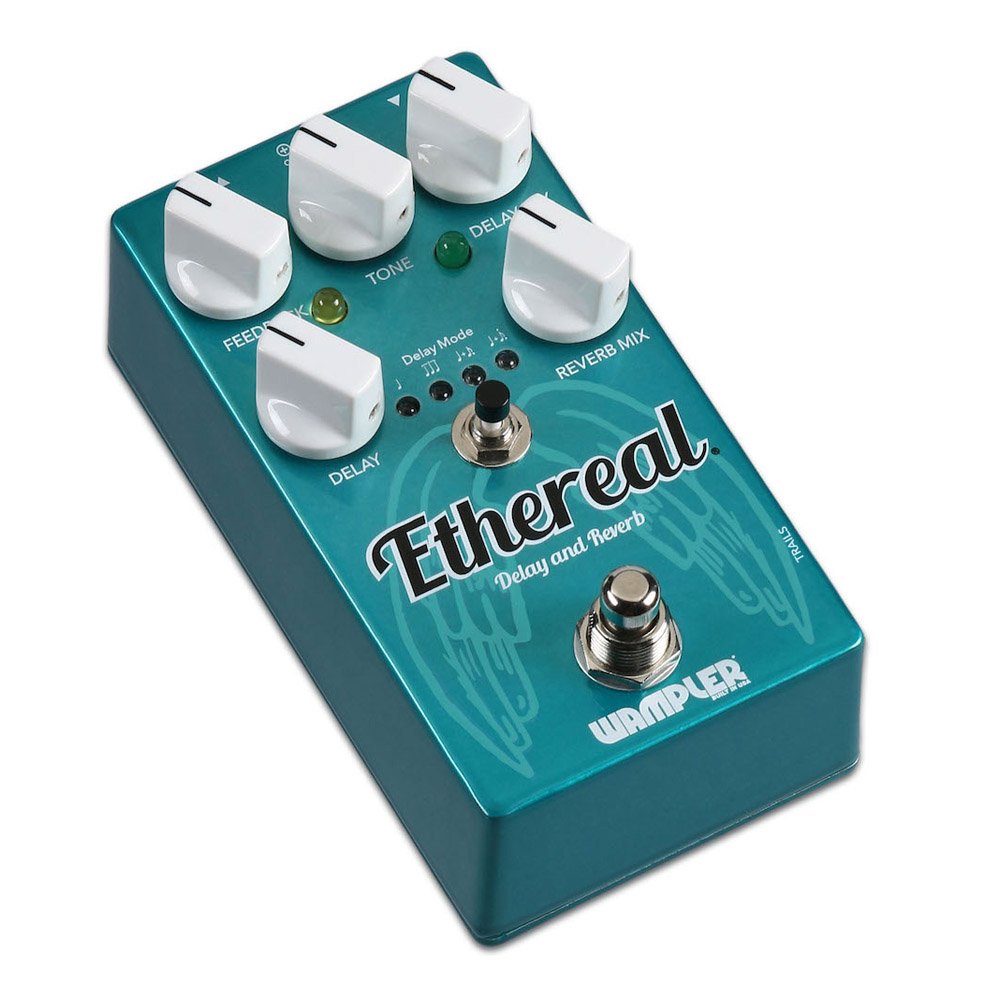 Wampler is pretty close in the market when it comes to their Ethereal Delay and Reverb pedal, which combines a mix of toned reverb and delay into one small and compact pedal. It has a handful of delays and two at a time can be layered on top of the other one. This can allow for more of a randomly customized delay sound. Not only does this tool have delay, but it also is able to provide a nice solid ring with its special built-in plate reverb. This pedal is also like many others, being completely powered with a regular 9V power supply.
Pros
Pros
Pedal has excellent features despite being so small.
Up to 1s of delay and a warm reverb.
Wet and Delay Mix makes it easy to allow more dry/wet sound.
Minimal effects are easy to use.
Additional built-in plate reverb.
Cons
Cons
Like most effects pedals, it doesn't come with a 9V adapter.
Not very good when mixed with distortion.
Doesn't keep tone consistent.

---
⑤

Fender Mirror Image Delay Pedal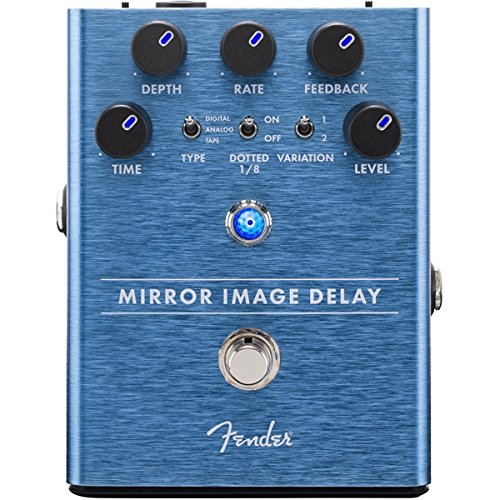 The Fender Mirror Image Delay Pedal is a very complex unit despite its small size. Don't let it fool you on how powerful it is though. With analog, digital, and tape delay all wrapped into one pedal, the Mirror Image is exactly what you would expect when it comes to the essentials you need in a delay effect. You have options like adding tailed delays to your sound so the audio fades out rather than being cut off like standard digital delay effects. The dotted eighth note can help increase lead guitar tones when playing or make your rhythm parts packed full or more power. Fender uses their common battery door which latches magnetically in order to house a 9V battery that the pedal gets its power from, or you can always add it to your 9V power adapter. You can switch the LED lights on or off (great for saving power), and the special "Dry Kill" switch makes it so your input guitar sound doesn't go through the output at all, leaving you with the mix of just the delay pedal.
Pros
Pros
Standard and easy to use with simple features.
Fender has been making guitars and accessories for years.
LED lights can be turned on or off to save battery.
Jewel light to show when it's on or off.
Cons
Cons
This pedal doesn't come with a power supply.
The jewel light is extremely bright.
Battery life isn't very long.

---
⑥

MXR M169 Carbon Copy Analog Delay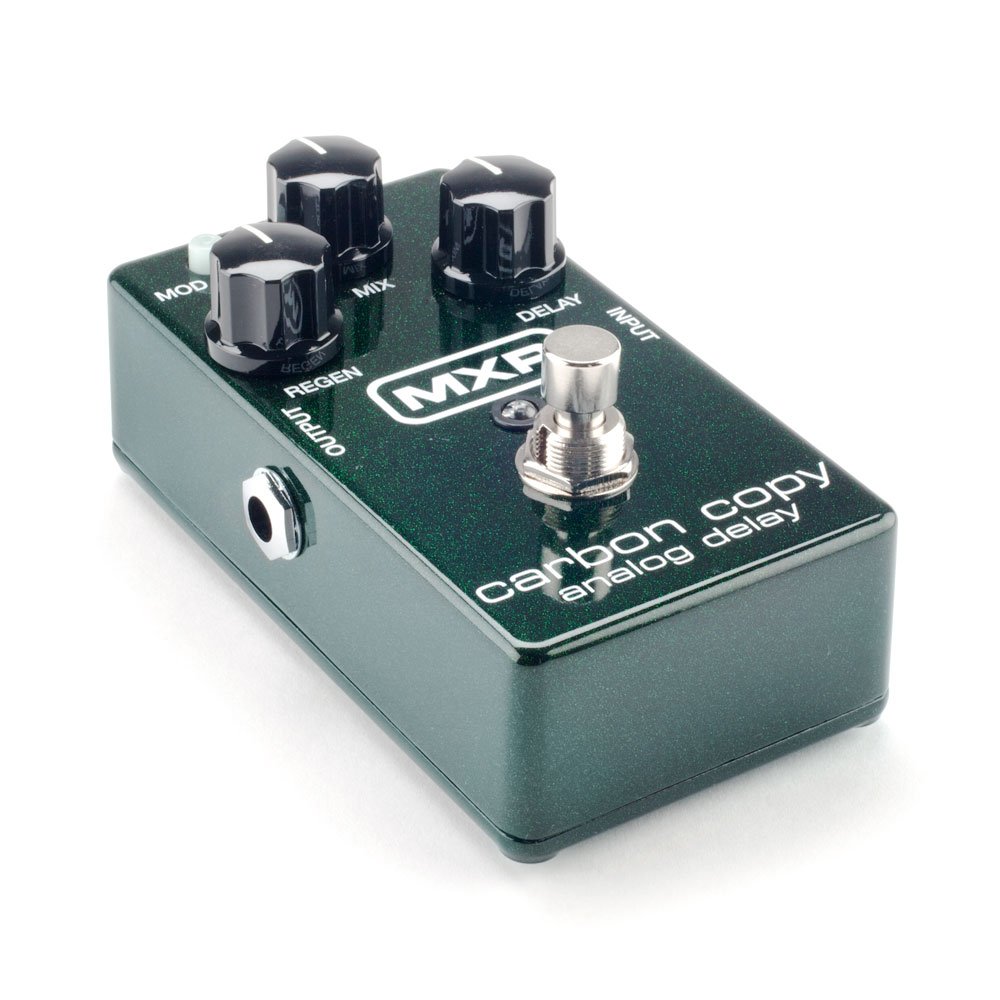 The MXR by Dunlop is right up there in the list as a top competitor with special effects pedals for guitar. They specialize somewhat more in authentic tones and sounds, so it's no surprise that this pedal is a true analog delay pedal. You can perform and tune up to 600ms of delay, which is pretty standard when it comes to analog pedals. It allows you to use analog modulation in order to manipulate and duplicate tape echo tones. MXR uses their common bucket-brigade technology in order to give you a true analog sound. You can power the delay with a standard 9V battery or a 9V power adapter.
Pros
Pros
Has many authentic true-analog effects to give you crisp delays.
Delays can be adjusted up to 600 milliseconds for some unique sounds.
Dunlop is a very reputable and commonly used brand for guitar accessories.
Carbon copy can truly mimic your guitar's sound in one tiny pedal.
Cons
Cons
Modulation function can be confusing.
Lights are really bright on it.
Does not have tap tempo delay control.
Does not come with a power adapter upon purchase.

---
Conclusion & What is the Best Delay Pedal for Guitars
The winner in this guitar effects delay battle is definitely BOSS (CHECK BEST PRICE HERE) taking the top pick. While many of us still love the sounds of analog, Boss has really taken the step forward in being able to replicate good digital to analog sound, and the DD-500 definitely doesn't shy away from doing so like a true champion. The only thing that people had troubles with is the extensive features that you can choose in order to create presets and use them, but that's nothing new. Once you figure out the ins and outs, you can learn how to change presets on the fly since changing patches is incredibly easy. Not only this, but Boss has been in the digital effects pedal industry for years. The world has come a long way since the digital effects processor, and by using this pedal, it's like having all of the Boss standalone pedals at your fingertip.
Digital delay is taking storm over analog functionality anymore, and with Boss, it's no wonder why either. You can't really have the best of both worlds unless you have a great pedal that can deliver both analog and digital sounds in conjunction with each other. Not only that, but the recording and looping function is definitely a great asset which is not new to Boss's arsenal either.