What is the Best Guitar Overdrive Pedal? Top Overdrive Pedals for 2020
Being a close counterpart of distortion, overdrive is a distinct guitar effect in its own right. Deforming sound in a similar way, overdrive makes for a gentler and purer version of the popular effect. As a result, many guitarists use overdrive pedals in their rigs no matter what their guitar styles are.
Many contemporary genres of music, especially classic rock and modern blues, identify strongly with the use of the overdrive effect. Delivering propelled clean tone when you need it, overdrive can enhance your playing in a variety of ways. And enrich virtually any guitar style.
For instance, using an overdrive pedal can intensify the guitar input and magnify the resulting sound output from the amplifier. Helping to distinguish the solo from the rest of the mix, this feature proves to be indispensable to lead guitarists.
When used along with the distortion channel in an amplifier, overdrive pedals can give the distortion a more focused feel. Thanks to their ability to saturate the amp's distortion, overdrive pedals have become favored by metal guitar players.
Clearly, there are many ways to put a well-chosen overdrive pedal to good use. The market certainly has no shortage of overdrive pedals available. Yet, despite such an abundance, overdrive pedals vary in functionality and quality. And many of them suit only specific guitar playing styles.
Best Guitar Overdrive Pedal List
Our guide has narrowed down the choice to just seven overdrive pedals. Below, you can find out what they are. And discover which one we believe to be the best.
---
①
OCD by Fulltone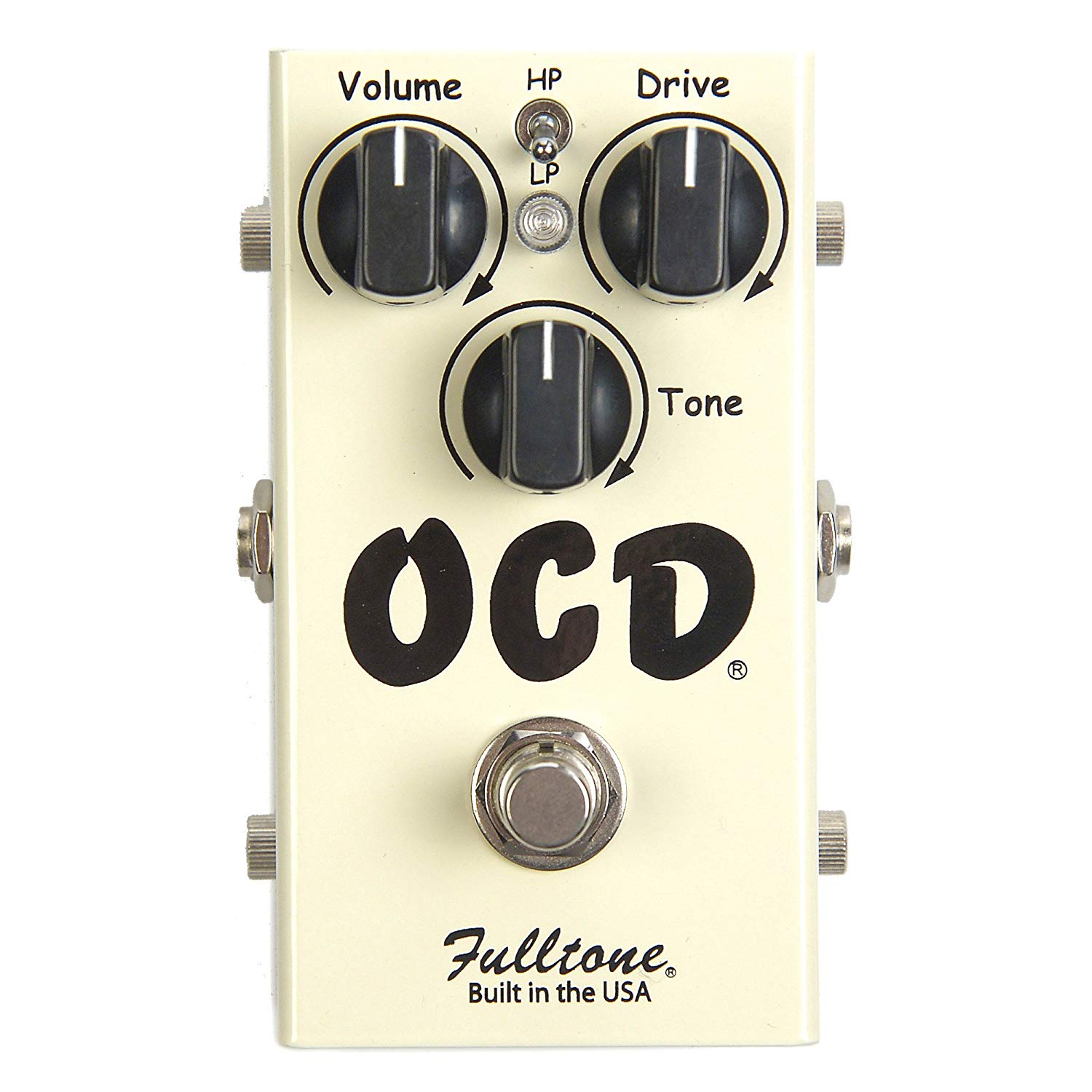 Standing for Obsessive Compulsive Drive pedal, the OCD by Fulltone emulates the sounding of a driven tube amplifier. Aiming to deliver an authentically close feel, the pedal offers unique functionality that many guitarists can benefit from.
Namely, the OCD features its one of a kind Enhanced Bypass mode, that you can choose with the internal switch. With this mode activated, the output buffer preserves the sound integrity irrespective of the pedal's placement in the signal chain.
The pedal's user-friendly design includes three control knobs: Drive, Tone, and Volume. As the Drive determines how much signal becomes amplified, the Tone adjusts the amount of treble. The OCD also features its HP/LP switch that alternates between threshold frequencies used for the Tone control.
Pros
Authentic sound and feel.

Exclusive Enhanced Bypass mode.

Interactive controls with good effect customization.
Cons
Not the lowest-priced option.

Control knobs aren't LED-illuminated.

---
②
Santa Ana Overdrive by Fender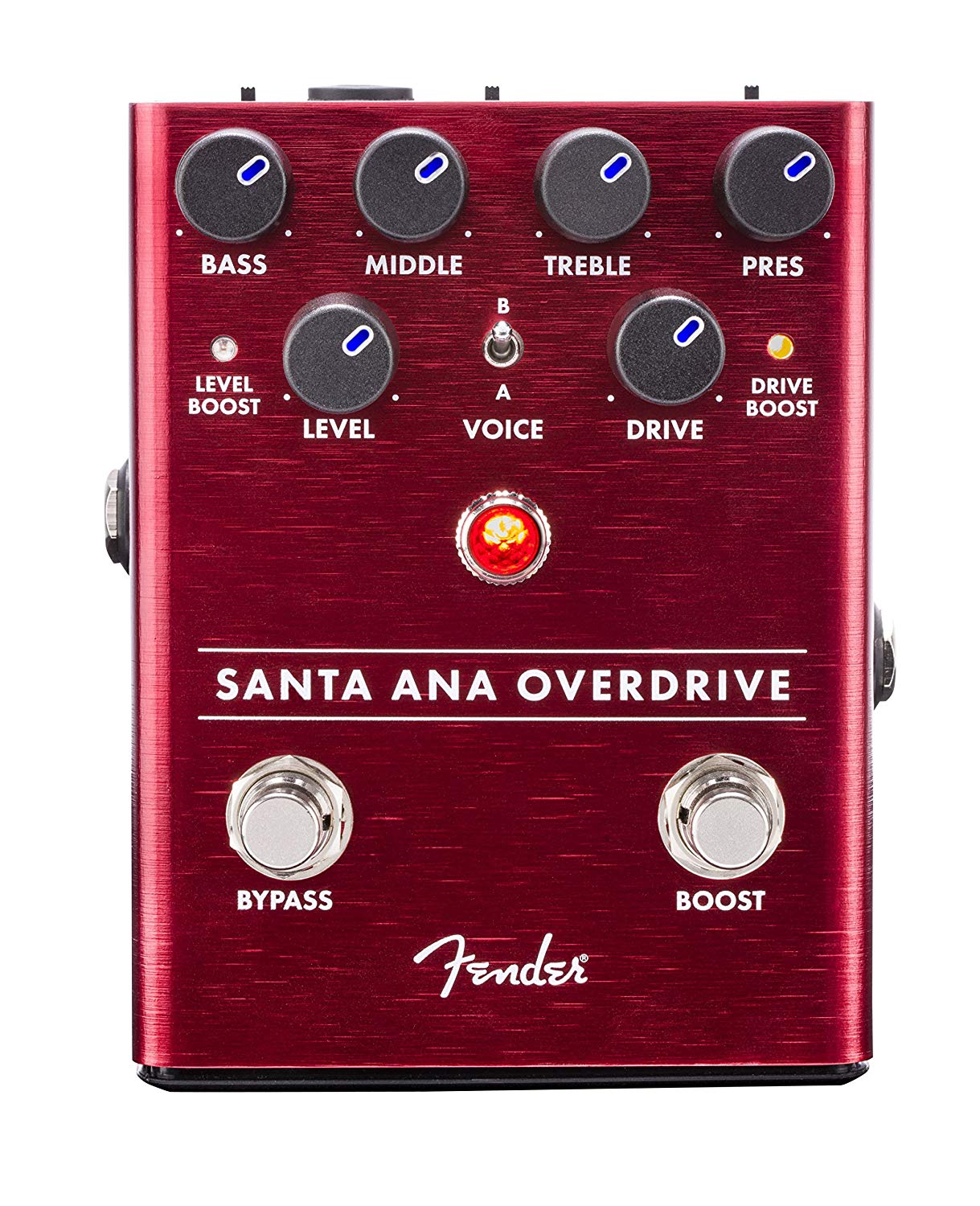 Based on the latest FET technology, this pedal reproduces the sound of a vintage-voiced tube overdrive with no corresponding noise. And it does so in two distinct ways, making it possible to alternate between the overdrive voicings A and B.
In addition, the Santa Ana Overdrive pedal features its potent 3-band equalizer that includes Bass, Middle, and Treble tone controls. Along with the Presence control, the pedal's EQ allows you to zero in on the exact overdrive tone you're after.
Furthermore, the pedal lends itself easy to flexible use, since its front panel design includes two footswitches: Bypass and Boost. At the same time, the Santa Ana Overdrive features a lightweight durable built from anodized aluminum and LED-backlit control knobs.
Pros
Rich control over the effect variations.

Durable stage-ready built.

Original vintage-voiced sounding.
Cons
Relatively high-priced.

Design may be too sophisticated for amateur guitar players.

---
③
Bonsai by JHS Pedals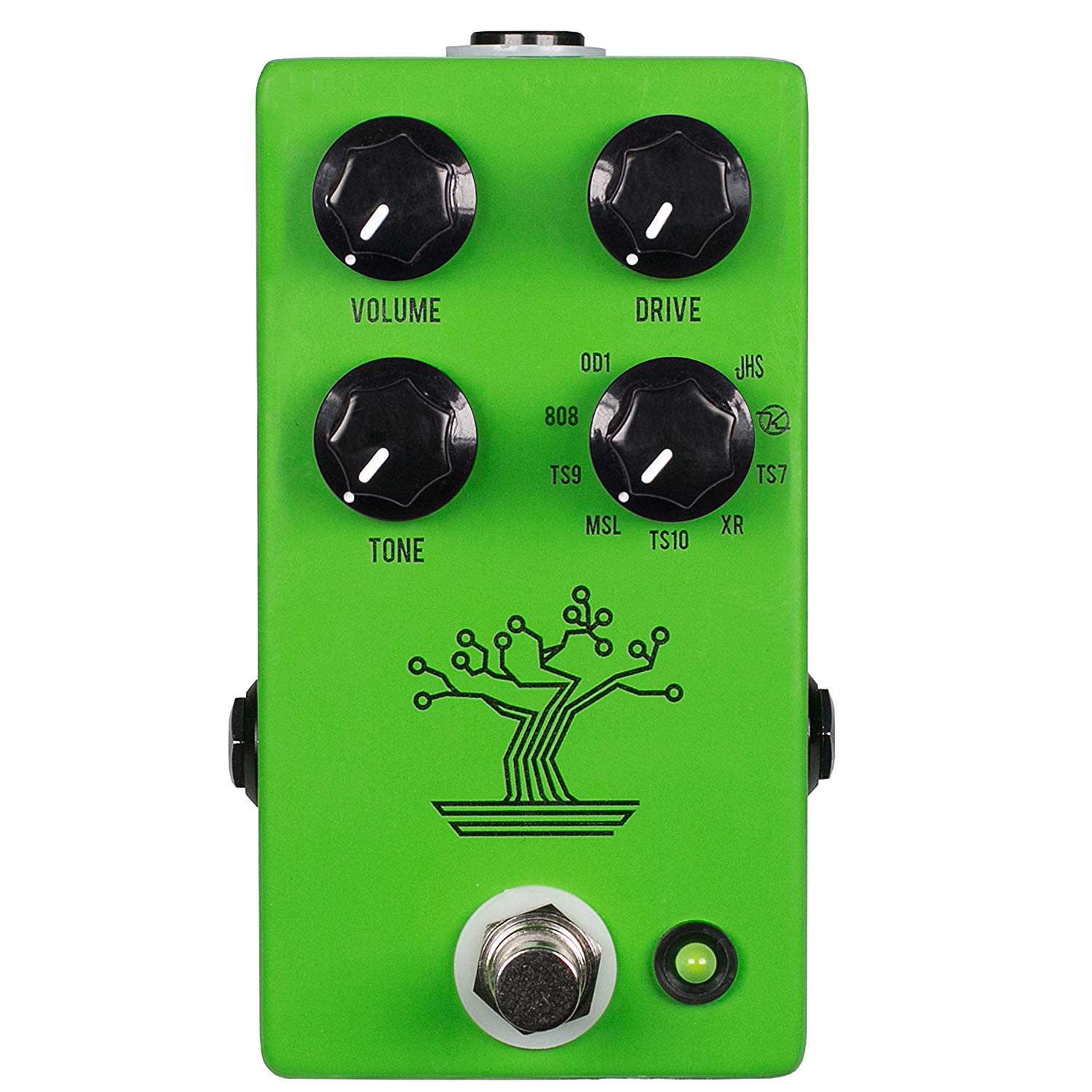 This 9-way screamer overdrive pedal gives access to nine distinct overdrive modes, each representing a unique variation of the effect. From the higher gain OD-1 to the TS-808 with noticeable mid range, the Bonsai offers rich selection of overdrive modes.
At the same time, each of the built-in overdrive modes that the Bonsai provides lends itself easy to further customization. Using the pedal's Drive, Tone, and Volume control bands, you can shape each overdrive variation into the one you want.
On top of the above features, the Bonsai pedal also has support for true bypass mode. As such, it keeps your dry guitar sound integral when you have no use for overdrive in your guitar playing.
Pros
Nice range of preset overdrive variations.

Simple and straightforward design.

A lot of room for fine tuning the effected sound
Cons
High-priced.

Does not include a power cord.

---
④
TS-9 Tube Screamer by Ibanez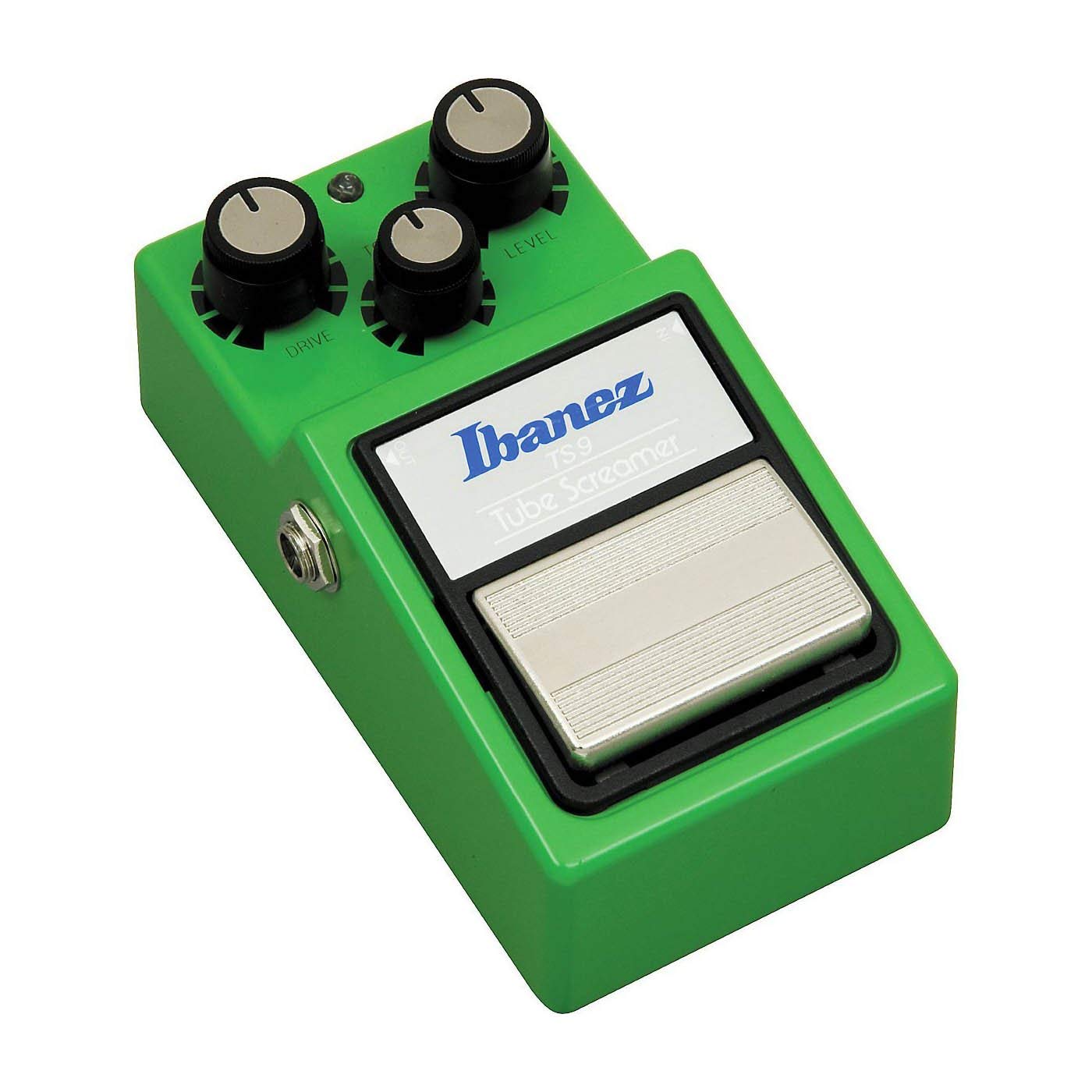 Having helped a myriad of guitarists to develop their signature sounds, the TS-9 Tube Screamer is a legendary overdrive pedal. Thanks to its distinct mid-boosted overdrive tone, the pedal has become widely popular among blues and classic rock guitar players.
The TS-9 Tube Screamer's front panel features classic overdrive pedal design, having three key control knobs: Drive, Tone, and Level. The Drive controls the gain, the Tone adjusts the amount of treble, and the Level determines the pedal's volume output.
What makes the TS-9 version of the classic Tube Screamer pedal special is its noticeably brighter and somewhat rougher sound. In fact, the TS-9 Tube Screamer has been used by such guitar legends as Stevie Ray Vaughan and Carlos Santana.
Pros
Suits a diverse range of guitar playing styles.

Genuine overdrive effect experience.

Easy-to-use minimalist design.
Cons
Comes without power cord.

Bands have no LED-illumination.

---
⑤
SD-1 Super Overdrive by BOSS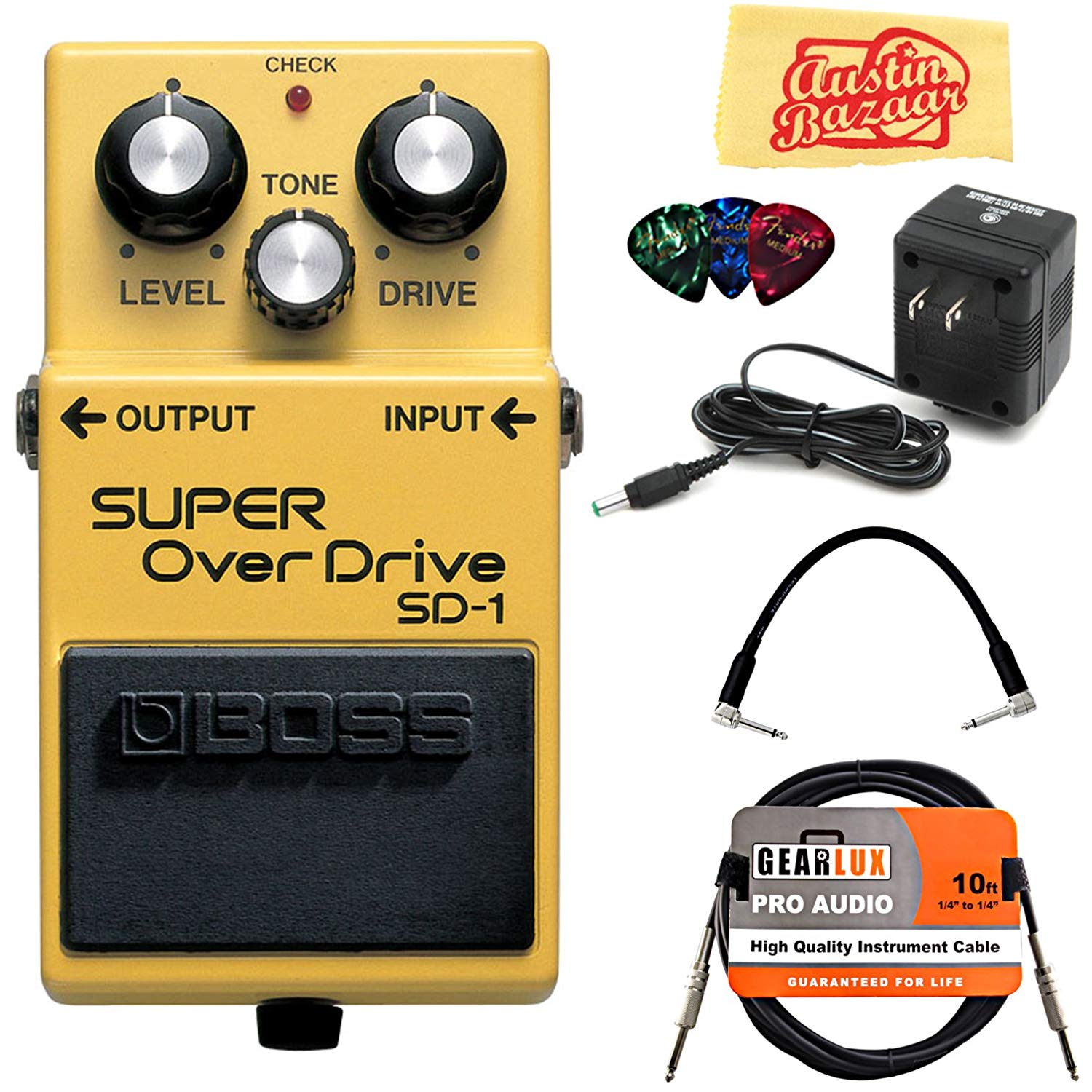 Implementing its unique asymmetric overdrive circuitry, the SD-1 Super Overdrive pedal emulates the sound of a classic overdriven tube amplifier. As such, it produces smooth overdriven sounds that are naturally warm and fit in especially well with blues and rock.
The pedal has three standard but highly responsive bands for adjusting the effect: Drive, Tone, and Level. At the same time, the SD-1 Super Overdrive uses buffered bypass which makes the signal even more responsive and pronounced.
On top of the above features, this overdrive pedal comes with BOSS five-year warranty and serves as an out-of-the-box solution. It includes everything you need to use the pedal right away, from input and output jacks to an AC adapter.
Pros
Highly sensitive tone controls.

Low-priced.

Comes with everything you need out-of-the-box.
Cons
More suitable for blues and rock than other guitar styles.

No LED-illumination for control knobs.

---
⑥
MojoMojo Overdrive by TC Electronic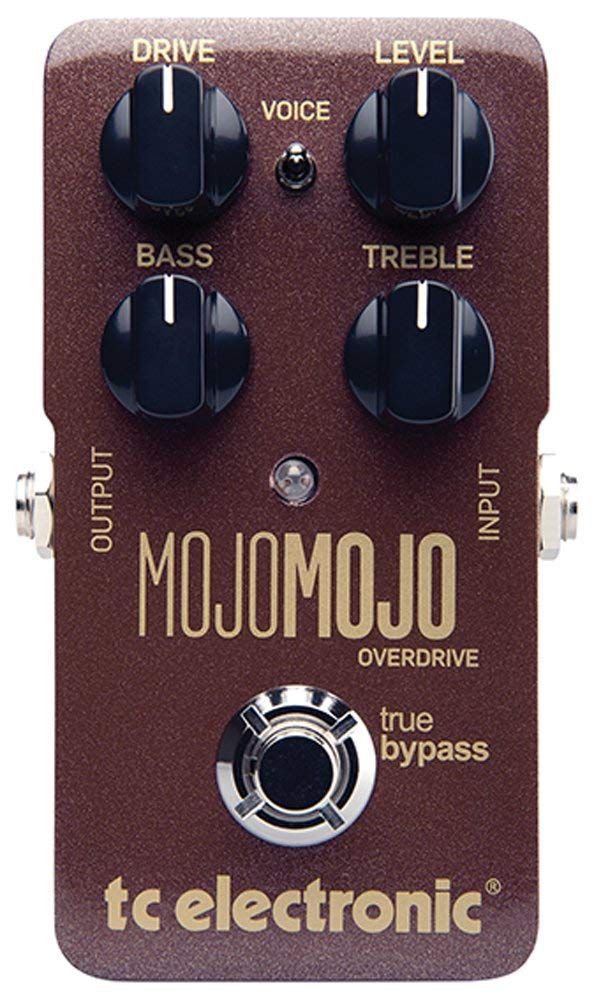 The MojoMojo Overdrive pedal keeps compression to a minimum as it aims at sounding like an authentic overdriven guitar amplifier. As a result, it produces a sound that feels natural from the get-go while conveying every subtlety of your playing.
The pedal features a 2-band EQ that consists of Bass and Treble control knobs. It also features a voicing switch. Along with the Drive and Level controls, these features allow to easily tune in to the desired shade of overdrive.
Furthermore, the MojoMojo Overdrive pedal supports true bypass mode, featuring a true bypass footswitch at the bottom of front panel. Thanks to this feature, the pedal keeps the signal clear even when the pedal is off, preventing any high-end loss.
Pros
Versatile control over the effect parameters.

Low-budget option.

Natural overdrive sound and authentic feel.
Cons
Includes no power supply cord.

The controls aren't LED-backlit.

---
⑦
Dirty Little Secret by Catalinbread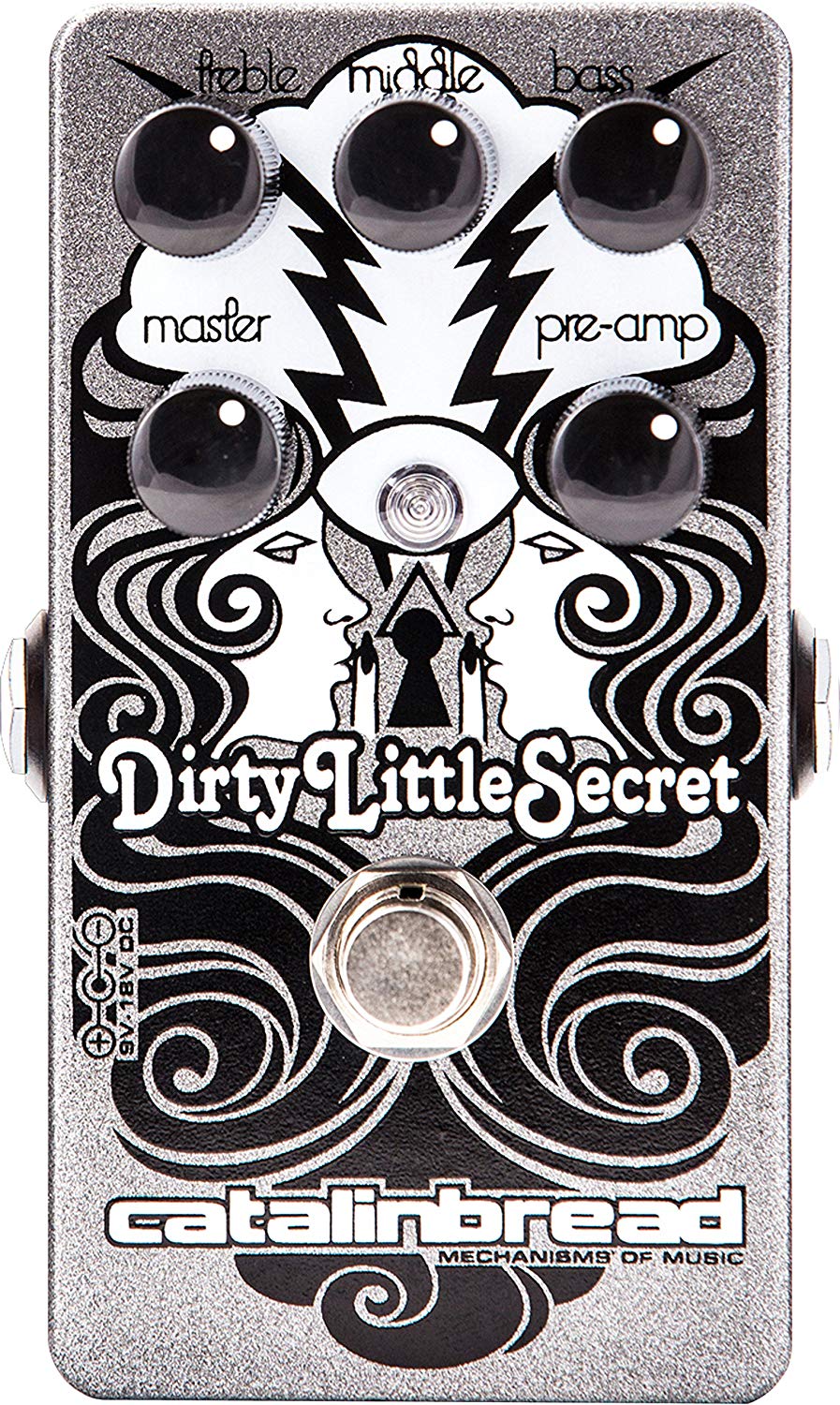 Emulating the sound of the Marshall amps from the early 70s, the Dirty Little Secret pedal produces authentic overdriven tones. Namely, the pedal features two distinct overdrive modes – Super Lead and Super Bass – essentially being two overdrive pedals in one.
The pedal's Super Lead mode reproduces the tone sensitivity and the incredible harmonics of the authentic Marshall Super Lead amplifier. Conversely, the Super Bass mode mirrors the gain structure and the overdrive tone inherent in the Marshall Super Bass amplifier.
At the same time, the Dirty Little Secret pedal features its 3-band EQ that includes Treble, Middle, and Bass controls. Along with the pedal's Pre-Amp control, that adjusts the gain, the Dirty Little Secret makes fine tuning the effect simple.
Pros
Sounds authentically close to vintage guitar amplifiers.

Diverse control over sound.

Controls have good interactivity.
Cons
Rather pricey.

Features no LED-illumination for the controls.

---
What an Overdrive Pedal Can Bring to Your Guitar Rig
In its essence, overdrive serves as a more subtle form of distortion. As such, overdrive has a more natural sounding and produces a rich pleasant tone that so many guitar players favor. Providing the guitar sound with a noticeable mid-range boost, overdrive makes it more saturated and pronounced.
The use of overdrive has won much popularity among those guitar styles that need only a limited amount of distortion. Namely, overdrive has become the mainstay of such genres of music as blues, country, and various softer sub-genres of rock.
At the same time, overdrive is not of limited use with only the above styles of playing guitar. On the contrary, harder genres of music can benefit from overdrive too. Placing overdrive pedals before distortion pedals in the signal chain increases gain, enriching solos and lead parts with more sustain.
Overdrive pedals can also boost the gain and the volume of guitar amplifiers without taking much from the original tone. When needed, an overdrive pedal can push the amplifier's tone with a clean boost, helping guitar sound to stand out.
Sadly, even though overdrive pedals abound in this day and age, the decent ones are still few and far between. If you follow a few simple guidelines, though, choosing the right overdrive pedal for your rig will not be hard.
How Do You Find the Best Overdrive Pedal?
Navigating through the slew of overdrive pedals available today can try patience. But being aware of what points to a high-quality overdrive pedal can be very helpful. The following key criteria will help you to spot the overdrive pedal that makes it easy to enjoy the effect.
A high-quality overdrive pedal for guitar:
Retains the original sound

Top-quality overdrive pedals steal nothing from the original guitar signal, employing features that help to preserve its clarity and integrity.

Produces diverse overdrive tones

Best overdrive pedals provide access to a diverse range of tones, allowing you to explore the effect from every angle.

Has all the essential controls

Having the right number of tone controls at your disposal is key to finding the overdrive tones you can enjoy. Inferior overdrive pedals either overwhelm you with too many options or give you insufficient control over the effect.

Features simple design

Some overdrive pedals feature sophisticated designs that seem rather enchanting. Yet, best overdrive pedals boast intuitive designs that are simple in use.

Comes at a fair price

Price is rarely an accurate indicator of quality. Many low-priced overdrive pedals, however, produce a rather mediocre sound and have limited functionality.

Performs well straight away

Decent overdrive pedals sound great right off the bat, allowing you to enjoy the effect without endless tweaks.
By and large, not every overdrive pedal lives up to these criteria. But the high-quality overdrive pedals do. And below, we determine which of the overdrive pedals our guide has reviewed earlier matches these criteria to the fullest.
OCD by Fulltone: The Push Your Tone Has Been Missing
All the overdrive pedals that our guide has reviewed offer unique benefits. But most of them still have their downsides. Some, like Fender's Santa Ana Overdrive, have richer functionality but cost more. Others, like BOSS's SD-1 Super Overdrive, are lower-priced but provide less features.
Fulltone's OCD, however, seems to be a complete solution despite the odds. Exemplifying what we want to see in an ideal overdrive guitar effects pedal, Fulltone's OCD (CHECK BEST PRICE HERE) is our guide's recommended choice.
Despite the authentic sound and feel it delivers, Fulltone's OCD is mid-priced, being neither cheap nor expensive. Providing only the most essential effect controls, it fits them all in a compact intuitive design. And on top of all its merits, Fulltone's OCD features one of a kind Enhanced Bypass.